Explore Augustana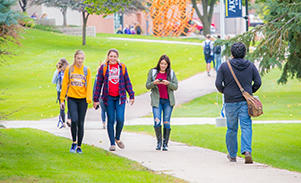 During the 2018-19 academic year, Explore Augustana is scheduled for Thursday, October 18, 2018; Friday, October 19, 2018 and Friday, November 9, 2018.  When registration is available for Explore Augustana, it will be available here.
You are cordially invited to attend our campus visit program called Explore Augustana. The day is designed to acquaint you with the variety of academic and student life opportunities that are available at Augustana.
The day will include student and parent sessions, a campus tour, faculty discussions, and time to discuss the university's scholarship and financial aid programs.
We look forward to hearing from you and hope you will take the time to Explore Augustana!
Explore Augustana includes:
Welcome and University Presentation
Student/Faculty Panel
Chapel (optional; available during morning sessions only).
Campus Tour
Academic Open House — Learn more about majors of your choice.
Scholarships & Financial Aid
Student Life & Activities Fair — Financial Aid, Music, Theatre, Athletics/Intramurals, Study Abroad, Campus Ministry, Student Life, Civitas (Honors Program).