Classmate Responds to Need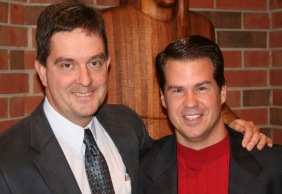 It all started with a simple e-mail in 2005.
Kraig Mickelsen, a 1991 Augustana graduate, contacted his old friend and fellow college classmate, Chris Croghan, '91, who was teaching religion at their alma mater. Kraig, the head of his church's call committee in Geneva, Illinois, was looking for help in finding a pastor. He thought Chris might be a good resource because of his role at Augustana leading a new program called the Luther House of Study, which helps foster leadership in Lutheran congregations.
Kraig laughs when he remembers the succinct reply: "We have shortages of our own and can't send you anyone. Good luck."
It was at that moment Kraig realized his difficulty in finding a pastor for their own congregation was not just confined to the Greater Chicago area but was symptomatic of a nation-wide clergy shortage. And he knew he must help. After learning more about the mission of the Luther House of Study, he and his wife, Debbie, donated $100,000 to jump-start the program.
Supporting the College is nothing new for the couple. They have faithfully contributed to scholarships for many years because of Kraig's experience as a student. He credits the liberal arts education and the support and mentoring of his professors Duanne Weisshaar, Emil Knapp and Arlen Viste with his success in life: "At Augie I was taught critical thinking skills and I credit that foundation for giving me an incredible edge in my practice where my clients seek solutions to problems every day."
Kraig graduated magna cum laude with a degree in chemistry, finishing in 3 ½ years. He considered going to medical school but found his true passion in the financial services industry, and started his own company, KRM Financial Services, in 1999. He has become a well-known financial educator, providing integrated financial, tax, wealth management, and estate planning services.
The Mickelsens are excited about the impact Luther House of Study will have on encouraging people to become leaders in ministry. They are also excited about providing an example of giving to their four children: Kayla, 11; Kyle, 9; Konner, 6 and Kollin, 3. Kraig says, "My wife and I purposely live beneath our means because we believe giving should be a significant part of our lives. We want to teach our children about philanthropy and the lessons of the Gospel through the example of how we live as opposed to words we could simply preach. Kids are amazingly observant."
Kraig came back to campus recently and was presented the Tuve award in a special ceremony during Chapel. The Tuve award is given to donors who reach a lifetime giving level of $100,000 to the College. Kraig says that he was very moved by the experience. "When I visited the campus again for the first time in many years, I was reminded of what a special place Augustana is to me. I want to encourage my fellow alumni to remember their own experiences and seriously consider giving something back in order to ensure that generations to come will be guaranteed their own special and unique Augustana experience."
When asked about how the problem of finding a pastor at his church was resolved, Kraig laughs, saying, "As a matter of fact, shortly after we gave the gift to Luther House, we found our pastor. When you give, you get it back multifold. Isn't that the way it always is?"