Couple Understands Importance of Annual Giving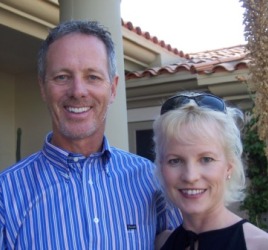 Joe and Jennifer Kirby have been quietly and consistently making an impact at Augustana for many years through their support of the Augustana Fund, the heart of the College's annual giving program.
Both alumni, the couple has maintained a strong connection to Augustana. They have been longtime donors and Joe was also a member of the Board of Trustees from 1986 to 1999.
Joe says that his experience on the board helped him appreciate the importance of annual giving: "It taught me the types of issues the College faces. I learned that the entire cost of a college education is not paid for by tuition, even when a student pays the full amount without financial aid. Alumni and friends are needed, and annual giving is one of the most effective ways to help Augustana be successful."
Jennifer explains that they make a conscious choice to give to the Augustana Fund. "We believe that Augustana's leaders are the experts who know best where the money should be spent. We know that sometimes it can be problematic for an institution when there are too many restrictions on a gift—we just want what is best for Augie."
Augustana remains a priority for the couple for several reasons. They both feel their time as students was significant in their lives. For Jennifer, it was "memorable and transformative." She says that Augustana also did a good job preparing her for business school at the University of Chicago: "I felt as ready for the challenging curriculum as any student there. I developed both my writing and critical thinking skills, which helped me get into graduate school and do well in the program."
Joe says that while his time as a student was important in his life, his tenure as a board member and chair was even more so, "My board experience gave me a different perspective and an even stronger sense of loyalty and closeness to the institution. I am proud of having the distinction of perhaps serving the longest of any board member at 13 years. I finished out someone else's term and then served the full limit of four more three-year terms."
Jennifer is currently working as Vice President of Business Development and Marketing at Palm Desert National Bank. After graduating from Augustana, she began her career at Norwest Bank before getting her MBA from the University of Chicago Booth School of Business.
Joe is the former President and CEO of Western Surety Company, a bonding firm in Sioux Falls that was owned by the Kirby family for 100 years before it was sold in 1992. He just completed a three-year term as president of his country club and currently serves on the board of the Bob Hope Classic Golf Tournament. Upon graduation from Augustana, Joe went on to earn his law degree from the University of South Dakota and shortly thereafter his CPA license.
The couple lives in California, and although they are busy working and raising their three daughters, they maintain close ties to South Dakota. "We love Sioux Falls and the community, and appreciate the important leadership role that Augustana can play in the city. This may sound strange, but the longer we are away, the more nostalgic we feel about Sioux Falls and Augustana."
When asked why they have continued their strong and loyal support for the College through the years, Joe says, "I feel a debt of gratitude to those who have gone before me, created this institution and provided the opportunity for me to get my education. Augustana gave me many of the tools that have allowed me to be successful in life. I want to give back as a sign of my appreciation."
Jennifer echoes her husband's sentiment before adding, "You can really make a difference at Augustana. There are many important causes out there, but sometimes your contribution can feel like just a drop in the bucket. Not at Augustana. Your gifts can make a huge impact."
The couple hopes they can serve as role models for other givers, especially to the Augustana Fund: "Consider trusting Augustana to make the best use of your gifts. It is good to give to Augustana, but even better to let them decide. The College is headed in a great direction, has excellent leadership and deserves strong support."