Friends Indeed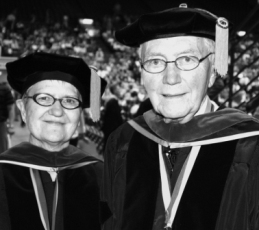 V.R. and Joyce Nelson were honored with one of Augustana's highest forms of recognition, the Friend of Augustana Award, in 2005.  But Best Friends is probably a more accurate description.
The Nelson's service to Augustana has touched every part of the campus.  Their generous support of the Mikkelsen Library, the Center for Western Studies, the Nelson Service Center and student scholarships have impacted countless students and enhanced the quality of life on campus.
The couple has a combined 79 years of service to Augustana.  V.R. joined the faculty in 1946 and worked for 50 years as a professor in the physics department and led one of the country's few college aeronautics programs.  Joyce taught nursing at Augustana for 29 years.  She has mentored nurses working in every hospital in the region.  They represent the first of three generations of their family to attend Augustana.  Their daughter, Cynthia, and her husband, Robert Ellsworth, are both graduates, as is their grandson, Andrew.  Their other grandson, Adam, also attended. 
If left up to the Nelsons, their generosity would be a well-kept secret.  Neither desires recognition, but they understand that they can serve as a role model for others.   When asked to speak of their passion for Augustana, the couple talks more about the importance of the liberal arts than anything else.  "We loved the integration of the disciplines that is the liberal arts.  How does one separate nursing or physics from history or religion?  Augustana is a place that broadens perspectives and changes minds," reflects the couple. 
Augustana has benefited in so many ways from the presence of the Nelsons.  The entire campus community and alumni can agree that it is V.R. and Joyce Nelson who are, indeed, gifts to Augustana.