New Endowed Chair Established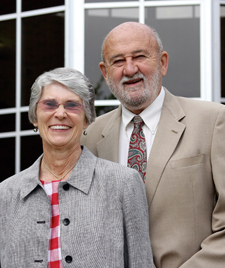 Rudy and Marilyn Nef had a vision for business education. When their vision met with the right opportunity at Augustana, they were moved to establish an endowed faculty chair, the Nef Family Chair of Political Economy.
The Nef Chair will advance the study of market economies and representative democracies, both within the campus community and in the general public. "Between my wife and I and our family, it was the right thing to do," Rudy Nef told the Watertown Public Opinion. "Our goal is to have people better understand the business role and the government role."
He said he envisions the program stimulating students and others toward independent business development and independent thinking. "It's basically designed to help students get a good education and teaching them how to think and get along in the world."
The Nef family is one of two founding families of Valley Queen Cheese, an award-winning, nationally recognized cheese production company. The enterprise was founded in 1929 by Rudy's father, Alfred, and his friend, Alfred Gonzenbach, two Swiss immigrants with a knack for cheese-making and the drive to bring their version of the "Great American Dream" to life. The company is based in Milbank, SD, and now employs more than 150 people.
"The Nefs have built a remarkable presence by embracing the basics," said Augustana President Rob Oliver. "Vision, integrity and much hard work take you a long way along the path to success, regardless of the enterprise. We celebrate their success and the wonderful gift of the endowed Nef Family Chair of Political Economy."
Valley Queen Cheese was named the 2009 South Dakota Business of the Year by the South Dakota Chamber of Commerce and Industry for its outstanding record of excellence, economic impact, job creation, growth potential, strategic planning, and community service.
Rudy Nef said his family sees in Augustana some of those same qualities; strong leadership, visionary planning, an excellent workforce (the faculty and staff), outstanding academic reputation across disciplines, and a willingness to be entrepreneurial. "I'm impressed with President Rob Oliver's stewardship of the College and vision to create the Augustana like never before," he said.
In addition to his business dealings, Rudy Nef has served as mayor of Milbank and as a Grant County commissioner.
"We are deeply grateful for the opportunity to become associated with the Nef family and their legacy as successful business entrepreneurs, dedicated community leaders, and generous investors in South Dakota's future," said Jon Henkes, Vice President for Development at Augustana. "Their leadership gift is a blessing to Augustana that will live on to enrich many students and the region."