Soli Deo Gloria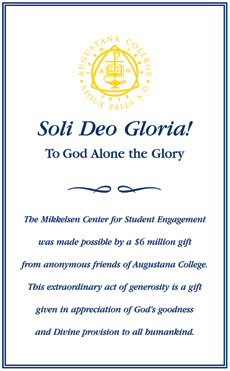 The gift itself was given quietly, without fanfare or need for recognition. The impact of the gift, however, resounded clearly throughout the college community and beyond. In September 2007, anonymous donors made the largest contribution in College history when they donated $6 million for the Mikkelsen Library redesign and reconstruction project.
"We celebrate the incredible generosity of friends of Augustana whose desire it is to bless the College in a significant way," President Rob Oliver said. "We thank God for the provision of this investment in Augustana's future. It continues our tradition of excellence in academics."
The donors wish to remain anonymous, intending any recognition be given to God.  They have requested a simple plaque be placed near the entrance that will read Soli Deo Gloria! To God alone the glory. President Oliver explained that the phrase is rooted in Lutheran tradition. Renowned composer Johann Sebastian Bach signed many of his works with the initials "SDG." Author Roland Bainton writes in his book, Here I Stand, "It could be said that all of Bach's work was musical praise. It became Bach's habit to sign each work with the initials 'SDG,' signifying for whom and through whom the inspiration of each work had been accomplished. It was an expression of appreciation and faith."
The $7.4 million project will result in the re-creation of a traditional library. The new facility will feature enhanced services and reconfigured study areas to promote and accommodate the many ways in which students learn.  The intent is that the building will be a true "destination place" on campus where students can study independently or in groups, research, collaborate with classmates, meet friends, work on media projects or read just for pleasure.
In a brief statement, the donors said, "This gift is given to honor the goodness and glory of God, and in gratitude for Augustana College and its journey to become a premiere college of the church in America. It is a joy to make this gift at such an exciting time for Augustana."
Read more about the library project.