The Sciences at Augustana
After months of planning, architectural renderings for Augustana's new Froiland Science Complex are now complete.

Designed by SmithGroupJJR and TSP, the $35 million project will begin with a 41,000-square-foot addition to the existing Gilbert Science Center (GSC) and will include a complete renovation of the current building.
When it's complete, College officials say the new, LEED-certified 125,000-square-foot facility will enable Augustana's Natural Science Division faculty to incorporate modern pedagogies proven to equip students with enhanced critical thinking skills and hands-on experience.
The project comes at a key time for the Natural Sciences division.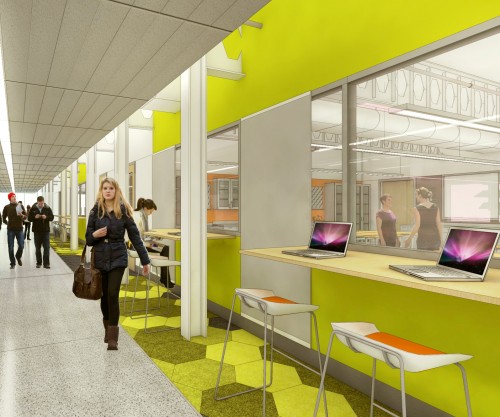 For the 2013-14 academic year, Natural Science majors represented 36 percent of all majors at Augustana – up nearly 10 percent from a decade ago. College officials cite a number of reasons for the growth, including an increased demand for health care professionals, a growing interest in the natural sciences among high school students and Augustana's reputation for delivering high job placement rates among its graduates.
Named in honor of Dr. Sven Froiland, longtime biology professor and a champion of scientific research at Augustana, the new facility will feature multiple new, technology-rich "classatories," rooms featuring traditional classroom elements and laboratory components.
These rooms will enable faculty to build "active learning" philosophies into their curriculum – a proven teaching method pairing traditional lecture with group work and hands-on exercises.
The new facility will also feature core research areas for faculty researchers and their student collaborators and glass-enclosed laboratories, designs College officials say will put "science on display" for all students and further enhance the culture of research that exists on the campus today.
Along with more research space, the Froiland Complex will include numerous open study areas for students near faculty offices.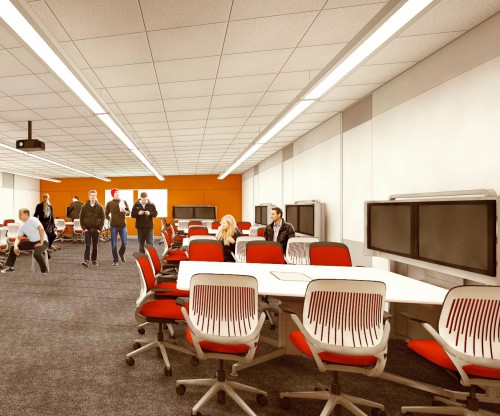 Mark David Kranz, principal and design director for Smithgroup JJR, said the design of the study spaces will encourage the exchange of ideas and build community among students and their faculty mentors.
"These spaces will have tack-able surfaces, wipe boards, tables and chairs, and the technology students need to study and collaborate," Kranz said. "And, they'll be flooded with light."
"The Froiland Science Complex will absolutely position Augustana as a center for undergraduate scientific research and discovery," said Rob Oliver, president. "We already have the best faculty teaching the brightest students. Now, we'll have a facility that will support and enhance all the amazing teaching and learning that happens today."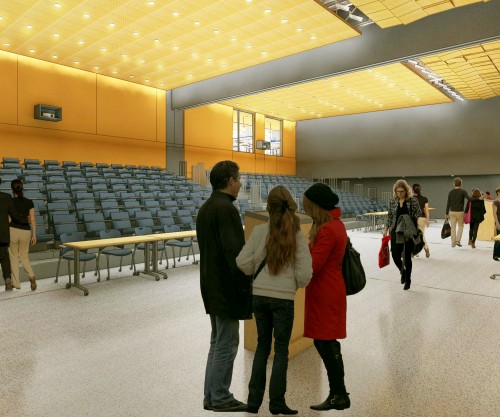 "Augustana is already revered as the training ground for many of the country's top doctors, nurses, scientists, engineers, teachers and wellness professionals," Oliver said. "Just imagine how we'll be able to impact tomorrow with this new facility."
"We are incredibly grateful to all those who have made gifts or pledges in support of this project, the largest and most complex building endeavor in our 154-year history," he said. "And we are excited beyond measure to break ground and begin construction."
An early leadership gift for the Froiland Complex was generously provided by Augustana Trustee Dr. Greg Schultz (class of 1974) and his wife Karen Devick-Schultz (class of 1975). "Augustana is such an extraordinary place to learn and grow — intellectually, spiritually and physically. For those of us whose careers were shaped and launched at Augie, giving back is a joy and a privilege."
A more recent gift, the "Paul Mohrman Family Lab,"  will focus on ecological research, an initiative alumnus Paul Mohrman, class of 1972, and his wife, Julie, hold close to their hearts.
Learn more about the project in this video: