Students, Donors Connect at Scholarship Event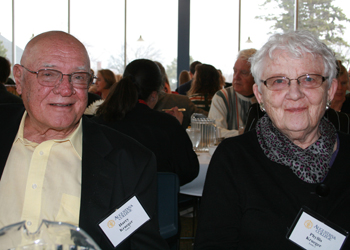 When Dr. Harold "Doc" Krueger, professor emeritus of Music and founder of the Brass Choir, joined Augustana in 1965, he hoped to inspire students to develop a life-long love of music and learning.
Nearly 50 years later and long after his retirement, he's doing just that through his support of endowed scholarships at Augustana.
Krueger and his wife, Phyllis (pictured, right), joined 185 other endowed and annual scholarship donors at the 2013 Scholarship Event and Luncheon on Sunday, April 21, in Augustana's Morrison Commons. More than 250 student recipients also attended and got the chance to meet the donors who support their scholarships.
"It's just a great event, we love it," Krueger said.
The event included messages from President Rob Oliver; Attorney, past member of the Board of Trustees, and endowed scholarship supporter Vance Goldammer '72; and senior Erin Schoenbeck of Watertown, S.D. Entertainment was provided by the Augustana Keyboard Ensemble.
Learn more about the Scholarship Event, view photos and see a video featuring student scholarship recipient Erin Schoenbeck '13.
Augustana alumnus Vance Goldammer '72, an attorney, endowed scholarship supporter, and past member of the Board of Trustees, shares his thoughts on "giving back" at the 2013 Scholarship Luncheon, held on Sunday, April 21, on campus. View more videos from the event.