Hands-On Learning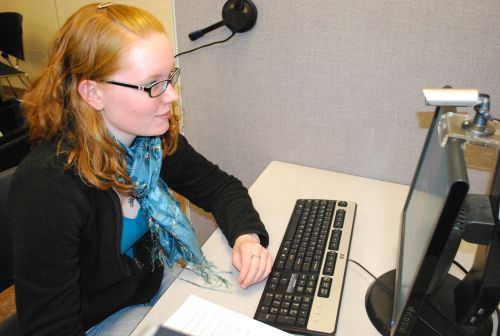 Mentoring:
Our Sign Language Interpreting majors begin working one-on-one with an ASL mentor during ASL 210 class and continue throughout their program. Most students meet with their mentor once a week year-round. This additional personal attention enhances the learning capabilities of all of our students.
The South Dakota Department of Human Services supports mentoring in order to promote certification and to support the advancement of interpreters to the highest level possible in order to assure quality interpreting services for individuals who are Deaf and hard of hearing.
Service-Learning:
Beginning junior year, students have an opportunity to bring their new founded skills out to the community to interpret in front of a live audience of willing deaf participants. We work very closely with the local Deaf community to provide opportunities for our students to work in live interpreted situations. These activities range anywhere from Boy Scout meetings and churches to Pampered Chef parties. The Deaf community in Sioux Falls, SD has really taken on the responsibility to assist Augustana in creating an exceptional training program.
"Augustana College was an amazing experience for me and I am extremely grateful for the wonderful professors and classmates that I met while I was there. The professors at Augustana are very encouraging, supportive and always had faith in us. The professors are passionate about what they teach and encourage students to work hard to become successful." - Nicki Hutchinson, Class of 2012