HECUA: Community is Our Classroom
This year, the Higher Education Consortium for Urban Affairs (HECUA) celebrates its 40th anniversary of engaging students with social justice issues in communities spanning the globe—and a 40-year relationship with its founding colleges, like Augustana. With programs running both fall and spring semesters, during January-term and over the summer, there is a flexible time for a student of any discipline to have an off-campus experience while staying on track for graduation. All programs have been approved for credit on campus and align for credits in most majors.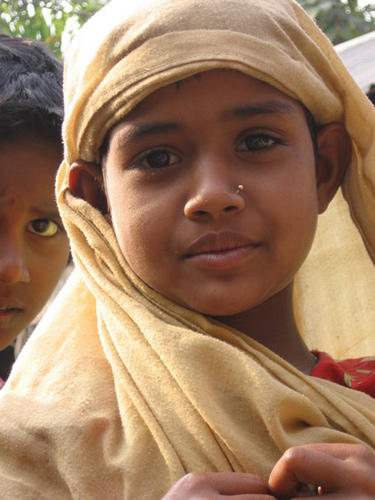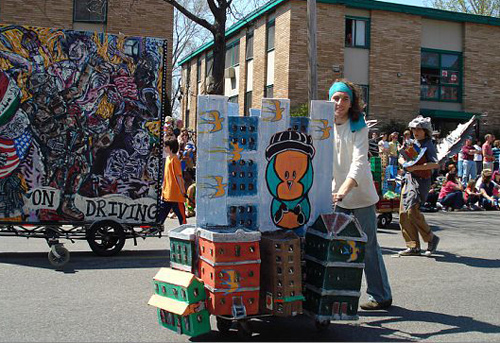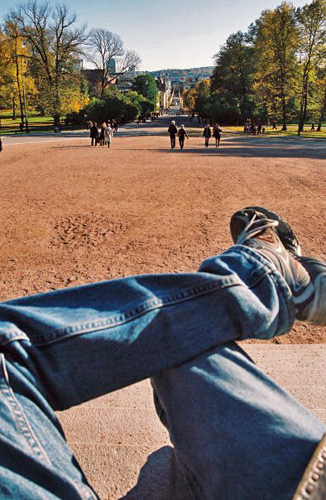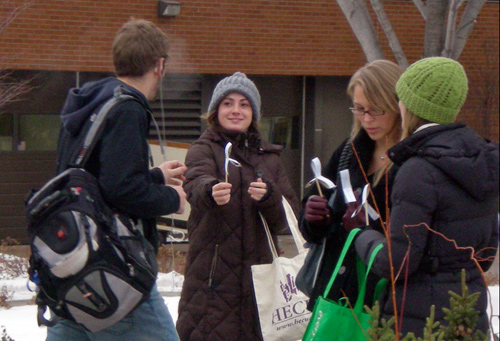 Semester-long HECUA Programs
Art for Social Change:  Intersections of Art, Identity, and Advocacy (Twin Cities)
Art for Social Change:  Intersections of Art, Identity, and Advocacy immerses students in communities working for social change through art and artistic culture. Students learn to appreciate artistic expression as a part of everyday existence, how we relate and understand shared and personal experience. Set in the vibrant arts scene and culturally diverse neighborhoods of Minneapolis and St. Paul, the program immerses students in communities working for social change by using art as a catalyst for dialogue and civic engagement.
Community Internships in Latin America (Ecuador)
The Community Internships in Latin America program focuses on community participation and social change in the Andean region. Ecuador, characterized by some of the greatest geographical and ethnic diversity in South America, reveals a complex scenario of social, economic, and political phenomena.
Democracy and Social Change (Northern Ireland)
Northern Ireland offers an example of a society that is attempting to move out of deep and painful division in order to secure a "shared future" for all its people. Students examine the historical, political, and religious roots of the conflict in Northern Ireland, the prospects for peace, and the progress being made.
Environmental Sustainability: Science, Public Policy & Community Action (Twin Cities)
Environmental Sustainability addresses key processes of ecosystem degradation and rehabilitation, the social and economic underpinnings of conflict over environmental change, and public policy and community-based strategies that strive towards sustainability. This dynamic investigation unfolds within a complex urban setting, home to one of the most active environmental networks in the country, where questions of equity, justice, and sustainability lead students to discover careers, life directions, and new ways of thinking.
Inequality in America:  Policy, Community and the Politics of Empowerment (Twin Cities)
In the program  Inequality in America: Policy, Community and the Politics of Empowerment, students actively delve into the major challenges of our time: poverty, inequality, and social change. What are the root causes of increasing levels of poverty and inequality here in the U.S.? Why does inequality persist, and why is it increasing? What can we do to change it?
The New Norway:  Globalization, National Identity, and the Politics of Belonging (Scandinavia)
Twenty-five percent of Oslo residents are not ethnic Norwegians. The New Norway:  Globalization, National Identity, and the Politics of Belonging tackles the changing Northern Europe by investigating Norway's welfare state, Scandinavian national identity and the many definitions of citizenship.  Through field excursions, trips to other Scandinavian capitals, and numerous influential field speakers, students unravel national identity theories in both Norway and the United States.
Writing for Social Change (Twin Cities)
There is a longstanding tradition in Western culture of using literature as a tool for social critique, as a means of calling for social change, and as a tool for social transformation. Writing for Social Change combines traditional methods of literary analysis with HECUA's approach to interdisciplinary, reflective critique. It offers a balance of creative writing workshops (in fiction, poetry, and creative nonfiction) and critical reading/reflection sessions.
January-Term HECUA Programs
Development and Community in Bangladesh
In Development and Community in Bangladesh, students hear from Bangladeshi and non-Bangladeshi development theorists and practitioners. Then, together with urban Bangladeshi college students, they do field study in rural villages and meet directly with the intended beneficiaries of development programs. Bangladeshi and HECUA students live together in a dormitory of an internationally known development organization and jointly conduct field interviews in the villages, learning firsthand what the materially poor hope for themselves and their nation.
Social and Political Transformation in Ecuador
Social and Political Transformation in Ecuador explores the socioeconomic issues in Ecuador as manifested in the country's growing inequality and the proliferation of new social movement to address this crisis. Particular emphasis is placed on indigenous rights, gender equality, the protection and management of natural resources, and Ecuador's new constitution. Students compare and contrast the Ecuadorian experience with developments in other parts of Latin America.
Summer HECUA Programs
Race in America Then and Now:  "Post-Racial" Perspectives on the Civil Rights Movement  (Minnesota and the American South)
The southern United States is a region rich in history and culture as well as a flash point of racial dynamics in the U.S. It is also the home of the largest nonviolent social change campaign in American history. Throughout this program, students study competing ideas and definitions of justice and freedom in relationship to political struggle.
Environment & Agriculture (Twin Cities and Rural Minnesota)
Modern agriculture is one of the largest contributors to environmental degradation in the United States. We all eat, and yet the disproportionate environmental footprint of agriculture is rarely discussed or understood. This interdisciplinary, field-based course explores the connection between agriculture and the environment, provides a first-hand experience of food systems, and analyzes the environmental, economic, political, social and cultural issues that define modern farming.
For More Information
Visit HECUA's website or contact Kari Pederson Behrends at HECUA.
At Augustana, contact Cathy Lindamood , Ben Iverson or Donn Grinager in the International Programs Office or Augustana's HECUA Faculty Board Representative Scott Parsons.