Highlights, Special Features and Opportunities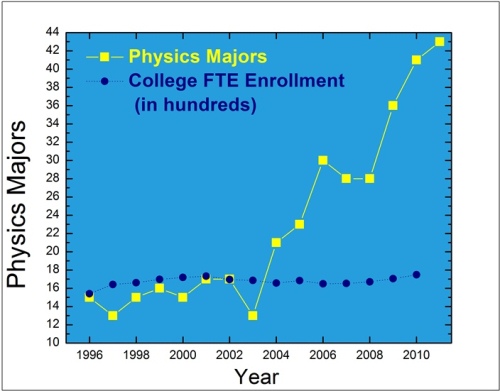 Physicists love data.  In this case, the above data tells an unambiguous story. The physics department is on the move. 
Why is this?
It could be our focus on a personalized, engaging, educational experience. Or it could be the emphasis we place on high level undergraduate research involving as many students as possible. Or it may be that our programs, including dual degree engineering, offer outstanding career paths. Or it may be all of the above.
If you are looking for a challenging educational experience that results in exciting, meaningful career opportunities, we hope you will consider becoming part of the physics department. Prospective students may contact us directly and we will be happy to discuss any of our programs with you. 
The menu at left contains links to information about the exciting things going on in the department. Seminars, news, student groups, and outreach are all detailed, and we invite you to explore further.