Inside the Mind of a Filmmaker
Meet Andrew Kightlinger, class of 2008.
Get to know him now, so you can say 'you knew him when.'
There are filmmakers.
Then there are the filmmakers. Hitchcock, Scorsese, Spielberg, Eastwood, Coppola, Bigelow.
They are the ones who've taken us to the unforgettable places: The Bates Motel, the front seat of a gangster's Ford on a dimly lit street in Brooklyn, N.Y., President Lincoln's White House, and the tense and dusty underground of the Iraq War.
In the dark of the theater, we spend an afternoon or an evening watching their work. We laugh, we cry, we scowl, scream, snort, sigh, grimace, gulp, cheer and jeer, and when the credits start to roll, we discover that we're just a little different than the way we were two hours earlier.
* * *
This is the story of a spirited kid who grew up in Madagascar, who fell in love with movies after seeing "E.T.," and who today is driven to tell stories that "stick with people."
This is the story of Andrew Kightlinger, the world's next great filmmaker, who simply says it like it is: "As long as I'm not living destitute, I'll be happy."
Connections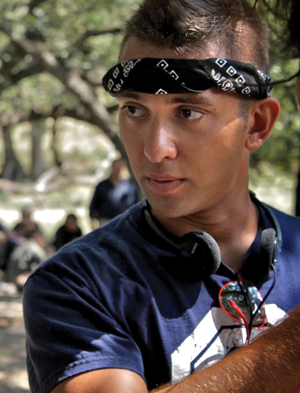 Kightlinger was five years old when he knew he wanted his life to be connected to the movies.
"I saw the movie 'E.T.' and it was filled with love and imagination. This idea that something from outer space could come down and befriend a kid on Earth really connected with me — it stayed with me. The fact that I was living in Madagascar and was watching and relating to a film made 8,000 miles away was really significant for me," he remembers.
Initially, Kightlinger said he wanted to be an actor.
"We were in Madagascar and my dad was working on his Ph.D. It was me and my mom and my dad and a bunch of scientists in the jungle. For entertainment, I'd find a corner somewhere and make up my own movies. My parents called it 'jumping around.'"
In 1998, Kightlinger and his parents moved to Pierre, S.D. The move, he said, had a significant impact on his life.
"I moved to the U.S. in middle school. I was the strange kid from Africa. It was hard for me to make friends. The arts were a good way for me to find an outlet to focus my attention."
In high school, he saw "Lord of the Rings" and transitioned from wanting to be an actor to wanting to be a director.
"I loved the idea of having control over how the story is told. Ultimately, I decided I wanted to be a film director because I have a love for telling stories."
His parents bought him a video camera and he started by making documentaries.
"My first movie was an 88-minute feature length documentary about my junior year as a cross country runner. We edited it on a VHS tape. It was called 'The Pierre Cross Country Documentary.' I made a sequel to it my senior year, but it was banned because of some suggestive content," he says, laughing.
When it came time to choose a college, Kightlinger considered schools that specialize in filmmaking but decided on Augustana, he said, "because I wanted to get a really well-rounded education."
He started out as a Theatre major, but eventually switched to Political Science/Government and International Affairs.Dr. Peter Schotten was his adviser.
"What I ended up discovering is that government is all about human interaction. In a way, that's what filmmaking is. As a director, you're leading a crew, delegating tasks, talking to people in the right way, showing humility here, showing your guns there and, ultimately, sticking to your instincts. It's really all about how you relate to people. To this day, I use all the skills I learned in my government major in my current job," Kightlinger said.
"The Government faculty really did nurture me. Even though they knew I wanted to be an artist, they believed that I could still be passionate about politics. In the end, they let me bring the two together."
Kightlinger is referring to his 65-page senior thesis, "How I Learned to Love the Bomb," which explored the depiction of suicide bombers in film.
"I watched everything I could about suicide bombers and wrote about what compels someone to give their life in such a violent way, and how that process is depicted in film."
During his time at Augustana, Kightlinger said his hunger for filmmaking grew.
"I made a video for Viking Varieties that featured [former] President Bruce Halverson. After that, people started approaching me about doing other videos. I also started making my own short films."
Carpe Diem
Before his senior year, his life took an unexpected turn when his mother died after succumbing to heart disease. She was 59 years old.
"It was kind of this 'oh God, life is too short' moment. The night before she passed away, she and I were talking about what was next for me. After she was gone, my dad and I agreed that I 'needed to do what I needed to do' because life really is too short. I spent my senior year prepping myself for the next step."
After graduation, Kightlinger was one of 12 students selected from around the world for Boston University's "Graduate Concentration in Film Production" program, the same training ground where some of Hollywood's elite filmmakers, including Scott Rosenberg ("Gone in 60 Seconds" and "High Fidelity"), Lauren Shuler Donner ("X-Men" franchise) and Richard Gladstein ("The Cider House Rules" and "The Bourne Identity") got their start.
"I really learned a lot from BU. The program is more interested in the artist rather than the filmmaker. They look for the innate talent, rather than the body of work, and encourage experimental filmmaking."
In addition to learning about the art of filmmaking and honing his skills behind the camera, Kightlinger says his time at BU also taught him a lot about the kind of artist he wanted to be.
"I was interested in more than just exploring my own art. I also wanted to make movies that appeal to people. I'm interested in classical movie-making."
His first short film, "You Don't Know Bertha Constantine," is the award-winning story of a wife who defies both law and convention by burying her dead husband in the Badlands of South Dakota. The film was named Best New Screenplay at the Newport International Film Festival in Wales and Best Original Screenplay at the Honolulu International Film Festival.
Kightlinger wrote the screenplay and directed the film, he says, as a way to deal with the grief of losing his mother.
Behind the Lens
As a director, Kightlinger says his role is to protect the story.
"My job is to pull good performances out of actors. Actors are largely responsible for how an audience connects to a story. Rehearse them. Block them. And make sure they are serving the story."
His latest film, "Dust of War," was filmed on the South Dakota prairie. It's the story of a "lone soldier on the post-apocalyptic American Frontier battling a brutal warmonger to rescue a girl fated as the savior of humanity."
"A lot of the themes I'm drawn to are those that give us hope and make us believe in something — the 'in-betweens' in life. For 'Dust of War,' I wasn't really interested in making a movie about a guy who has to save a girl in a post-apocalyptic world. I was in interested in making a movie about the crisis of faith."
Kightlinger, 26, says he's drawn to South Dakota as a canvas for his films because of the state's rugged beauty.
"I'm really interested in the elemental aspects of storytelling, as in, the elements. Ninety-nine percent of 'Dust of War' takes place outside."
Currently, "Dust of War" is being screened at the European Film Market in Berlin to gauge international interest. From there, Kightlinger will bring it back to the U.S. for screenings at various independent film festivals.
Looking ahead, Kightlinger says he's interested in exploring how to bring Ole Rolvaag's iconic "Giants in the Earth," the heartbreaking story of Norwegian pioneers who struggle against the harshness of an untamed prairie and utter isolation, to the screen.
"Think of 'Per Hansa' in that book, think of what he went through. The idea of wanting something that much really resonates with me."
In a perfect world, if he had the chance to pick any movie star to work with, Academy Award winner Nicolas Cage comes to mind.
"He's so fearless – and never dull. I think he's capable of a lot of subtlety. But, I also love it when he goes over the top. You can always count on him to do something interesting," Kightlinger says.
The Power of Movies
Movies, and the theaters they're shown in, have the power to break down barriers, Kightlinger said.
"The great thing about a movie theater is the darkness. In the dark, everyone in the audience is the same — there's no white, black or brown about it. I saw 'Avatar' in IMAX 3-D in L.A. and I sat next to an 85-year-old woman who just loved it. I never would've expected an 85-year-old woman to love 'Avatar' as much as the 24-year-old guy sitting next to her, but she did."
That 'Avatar' experience, Kightlinger says, is one example of why he is so passionate about filmmaking.
"People see movies to escape; they go to see a different perspective on life, whether or not they agree. Maybe my movies will cause a reaction in someone and they'll change something about themselves for the better. Ultimately, I want to entertain people. From there, I want to evoke something — to stir up something. Even if people don't like a film of mine, if they talk about it, if it causes them to think and to discuss — to have human interaction —well, then that's it. That's what living is all about," he said.
"Film taps into a smorgasbord of emotions — sound, sight, feeling. From those emotions, movies create conversation. Even in the Facebook era, people connect over movies. I hope people take away some sort of catharsis — personal or external. At the end of it all, when the credits are rolling, I hope what they saw sticks with them a day later."
Today, Kightlinger is living in Pierre, S.D., where he's managing the production, marketing and distribution aspects of launching "Dust of War." In his spare time, he still works part-time at the same local movie theater he worked at during high school. 
Looking ahead, he plans to move to Los Angeles to pursue the next step in his career.
"My main goal is to get an agent or a manager so I can keep working in a career that allows me to make-believe. I'd like to follow a career path that gives me the means to balance different ideas — films that illustrate the artistry of filmmaking and films that are made for entertainment."
Kightlinger knows the odds. He knows that countless people trek to Hollywood every day with dreams of making movies. The difference, Kightlinger says, is that for him, it's never been just a dream.
"I've always seen it as a goal. I've always thought it was attainable. My parents always taught me to work hard and go after what you want. By the age of 35, I'd like to be directing something under the guise of a Hollywood studio."
Odds are, he will be.
Next time you're at the movie theater, keep your eye on the credits.