Keyboard Faculty

Dr. Rick Andrews
Keyboard and Theory
605.274.5409
rick.andrews@augie.edu
Rick Andrews is an award-winning teacher and performer whose distinguished career spans more than three decades. He is currently Professor of Music at Augustana, where he is Director of the keyboard area and teaches music theory, applied piano, piano literature and piano pedagogy. In 2015, Andrews earned the Augustana Student Association (ASA) Faculty Recognition Award, which recognizes outstanding teaching and contributions to the Augustana Community by a faculty member.
Known for his innovative performances and lectures, Andrews remains active as a performer of solo, chamber, and concerto repertoire throughout the upper Midwest region. He has won high honors at major competitions and festivals including the Greater Southwest Music Festival, the Mountain View Concerto Competition, the Dallas Civic Symphony Concerto Competition, the Tuesday Musical Club Solo Competition, the Sawhill Piano Competition, and the International Beethoven Sonata Competition. He has also been named a Gold Medalist in the International Piano Recording Competition.
Andrews has appeared as a piano soloist with the South Dakota Symphony Orchestra, the Arkansas Symphony Chamber Orchestra, the Dallas Civic Symphony Orchestra, and the Milledgeville Chamber Orchestra. He has previously taught on the faculties of Georgia College, Arkansas College, and the University of Arkansas at Little Rock, and the Interlochen National Music Camp, the Inspiration Point Fine Arts Colony Piano Camp, and the famed Piano Preparatory Program at Southern Methodist University.
Andrews began his college training as a student of Pierrette Mouledous at Eastfield College of the Dallas County Community College District. Later, his principal studies in performance were with Alfred Mouledous at Southern Methodist University where he earned the bachelor and master of music degrees in piano performance and piano pedagogy. Pedagogy studies were under the tutelage of Louise Bianchi and David Karp. Andrews continued performance studies at the University of Colorado under the guidance of Peter Amstutz and Paul Parmelee and received a doctor of musical arts in piano performance.
---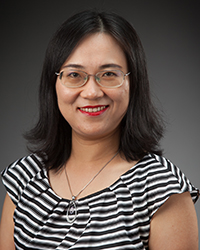 Shu Li, DMA
Visiting Assistant Professor of Piano
605.274.5404
shu.li@augie.edu
Shu Li is currently serving as Visiting Assistant Professor of Piano in Augustana University in Sioux Falls, SD. Over the past few years, she served as Artist Faculty in Omaha Conservatory of Music in Omaha, NE, and on AU's faculty to accelerate her professional teaching experience in piano. Li received her Doctor of Musical Arts in piano performance from The University of Kanas and her Master of Music degree in piano performance from Illinois State University, both with distinction.
Li has successfully organized many music events and festivals internationally. She founded and served as Artist Director of Perpalette Wuyishan International Piano Festival in Wuyishan, China in 2018, and invited world renowned pianists to give sold-out recitals, masterclass, and workshop to international piano students in the festival. The highly successful festival was broadcast and live-streamed throughout eastern China. Also, Li founded International Music Exchange Association (IMEA) in 2010 and worked as president until 2015 to organize and participate for many large international music and culture exchange related activities, such as "Gulangyu 2011 Fall American Music Festival," "KU International Music Exchange Fall 2012 China Tour," "2015 Shanghai Spring International Music Festival" and other musical outreach programs.
Li is active soloist and chamber music performer who has performed throughout the United States, China, and Europe. The world premieres she performed include famous composer David Maslanka's David's Book, A Carl Sandburg Reader, etc. Some of remarkable pieces were recorded by Albany Inc. in 2007-08 and released worldwide. Li's world premiere performances with various symphony orchestra and opera have been highly-regarded. From a list of Li's concert series, the most recent ones include concert tours and music festivals in China between 2010 -2012; performed as the soloist with Ashdod Symphonic Orchestra, Perugia, Italy in 2013; solo recitals through the Midwest US in 2014; Augustana Faculty Recital tour in South Dakota and Minnesota in 2015; and upcoming David Maslanka Piano Concerto No. 2 soloist with Augustana Wind Symphony in March, 2020. In addition, Li has won many honor and prize awards in piano competitions such as 2007's Aria Concerto competition, the First Prize winner of 2009's Kansas Music Teachers Association Collegiate Artist Competition and many more.
---

Marilyn Schempp '79
Organ, Piano Instructor
605.274.5445
schempp@augie.edu
Marilyn Schempp holds a B.A. in Vocal and Instrumental Music from Augustana University in Sioux Falls and a Master's of Music in Organ Performance (with additional study in piano and harpsichord) from the University of South Dakota. For more than 30 years, Schempp has taught piano privately. She also teaches organ and beginning class piano at Augustana University and is the chapel organist.
Schempp is an active member of the American Guild of Organists where she has served as Dean of the South Dakota Chapter, Director of the SD Chapter's Organ Academy, and as a committee member and director of six Pipe Organ Encounter Camps for her chapter. From 2012-18, Schempp served as the Regional Councillor for the North Central Region of the American Guild of Organists — an eight-state region. She is also active in the Music Teacher's National Association where she was the state competition chair for 8 years. In the Association of Lutheran Church Musicians, she was the secretary/treasurer of Region 3 for two years and served on two of the regional convention committees. Since 2017, she has taught organ and piano at the International Music Camp.
As a church musician, Schempp has played organ and directed adult, children, and handbell choirs. She has performed solo organ recitals, oboe with the Sioux Falls Municipal Band, and oboe, piano, harpsichord and organ with the South Dakota Symphony. She also accompanies high school and college students in competitions, juries, and recitals and has accompanied the South Dakota Honor's Choir and All-State Chorus.