King of the Circle
Cody Lensing is committed to tracking down and eradicating disease.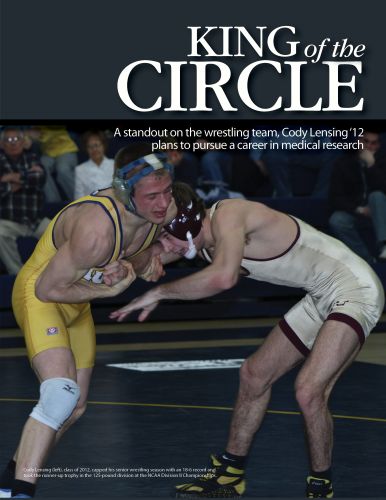 But to some, he will be remembered as a tenacious dispenser of discomfort.
While at Augustana, the native of Moundsview, Minn., flawlessly executed his role as a student-athlete, earning All-America recognition in both endeavors.
Lensing graduated summa cum laude in May with majors in biochemistry and philosophy. In March, he capped his senior wrestling season with an 18-6 record and the runner-up trophy in the 125-pound division at the NCAA Division II Championships.
This fall, he begins graduate studies in medicinal chemistry at the University of Minnesota. By concentrating on drug design and discovery, he heeds a call to advance and create treatments for human diseases.
Once intent on becoming a physician, Lensing altered his career path to concentrate on medical research. And, midway through a stressful sophomore year, he stepped away from the mat.
"Those first two years of wrestling were kind of on and off for me," he said. "After Thanksgiving I decided to take some time off and focus on my classes. Coach (Jason Reitmeier) called it my sabbatical."
A competitive wrestler since kindergarten, it was a safe bet Lensing's sabbatical would be brief. So, armed with a positive attitude adjustment, he returned to the circle for his junior season.
"No one was pushing me," he said. "To wrestle again was my desire, my choice. I was excited and anxious to compete. I was going to take it one match at a time and see what happened."
It can be noted the layoff had no negative impact. Wrestling the majority of his matches at 133 pounds, Lensing finished the season with a 17-2 record. He was named NSIC wrestler of the week after topping Augsburg's Cody Madsen, 13-2, to help the Vikings defeat the Auggies, the top-ranked team in Division III.
He began the 2011-12 season at 133 pounds before dropping to 125.
"It wasn't easy for Cody to drop to 125," said Reitmeier. "After losing weight you tend to get tired by the time the third period comes around. But, I could see Cody was getting stronger as each match progressed."
Lensing turned in an exceptional effort at the National Wrestling Coaches Association (NWCA) National Duals, winning all five of his matches at 125 pounds.  Three came by major decisions.
"When I came off the mat after the last match, Coach grabbed me and told me I was going to be a national champion. When Coach Reitmeier tells you something like that … well … coming from him all I could say was, 'wow!'"
So, Reitmeier was not surprised when Lensing battled his way to runner-up honors at nationals with a style the coach calls "unorthodox."
"On the mat Cody is very physical, and really kind of ornery," Reitmeier said. "He's a punisher when he's on top and has the ability to scramble when he isn't. And, he's really determined."
Classroom success has kept pace with Augustana's wrestling program's many athletic achievements. For 2011-12, eight Vikings were named to the NCAA Division II Wrestling Coaches Association all-academic team, while the team ranked third. Lensing's contributions are notable.
He carried a 3.96 cumulative grade point average for the year. He was named to the Augustana's Dean's List for eight consecutive semesters. In April, he was declared winner of Augustana's Covenant Award for Liberal Arts.
The NSIC honored Lensing with the 2012 Dr. William Britton Scholar-Athlete Award for Academic Excellence, recognizing the league's top male student-athlete. He was named a 2012 NCAA Elite 89 winner at the NCAA Division II tournament, an award presented to the student-athlete with the highest cumulative GPA participating at the finals site for each of the NCAA's 89 championships.
The list of scholastic accolades continues.
Lensing is a two-time Division II All-Academic choice, a four-time Academic All-NSIC selection, and recipient of the NSIC's Myles Brand All-Academic with Distinction Award.
His campus activities included membership in Phi Sigma Tau (Philosophy Honor Society), Beta Beta Beta (National Biological Honor Society), Augustana Outdoor Club, Philosophy Club, and Student Members of the American Chemical Society. He served as a chemistry and biology lab assistant and tutor.
Two summers were devoted to research, one with Dr. Jared Mays, co-director of the biochemistry major at Augustana, and one at Sanford Health in Sioux Falls.
Dr. Mays met Lensing three years ago when he joined the Augustana faculty. He has served as Lensing's research advisor, academic advisor, and instructor. "Overall, Cody is one of the strongest undergraduate students I have worked with – both at Augustana and throughout my professional career – and I have little doubt that he will continue to make waves and be a leader in his discipline throughout graduate school and his own career."
"There were times I would go on just a few hours sleep, Lensing said. "But everyone at Augustana is so good at communicating. If I had to miss practice or a match, or if I had to miss a class or a lab, my coaches and professors were very understanding of my time constraints."
In addition to postgraduate studies, Lensing is likely to continue his many volunteer activities, including instructing and advising young wrestlers. It's what All-Americans do.