Legendary Characters
Dr. V.R. Nelson,
Professor Emeritus of Physics
He is counted among the giants who've helped build the Augustana of today. Dr. V. Ronald (V.R.) Nelson, class of 1944 and long-time professor of physics and aeronautics, passed away on Saturday, April 28. He was 91.
Nelson graduated from Waubay High School and attended the University of Iowa. After graduating from Augustana, he earned his Master and Doctorate degrees from the University of Colorado. He served in the U.S. Navy Air Corps from 1944 to 1946 during World War II. His post-doctoral study was at Michigan College of Engineering; the University of Illinois; and the University of North Carolina.
In 1946, he was appointed instructor in physics and mathematics at Augustana. During a distinguished teaching career, he served as chair of the Physics and Math Department. Under his direction, Augustana operated the largest aviation ground school in the Upper Midwest in the 1960s and, in 1974, the College was selected as the test center for all aviation ratings.
"We've lost one of the truly great professors in Augustana's history. V.R. was beloved by so many students and colleagues over all these years. His generosity with time, talent and treasure has left an indelible mark on the College," said Rob Oliver, president. "When we think of the giants who've helped build the Augustana of today, V.R. is at the top of the list."
Nelson was the designer and builder of the first heart stimulator (defibrillator) used at (Avera) McKennan, Sioux Valley (Sanford), Mitchell and Parkston Hospitals. He was a key figure in the design and installation of the electronic system at Zip Feed Mill, billed as the "world's most modern feed mill," in Sioux Falls. He built the first transmitting equipment for Augustana's radio station, KAUR-FM. He was active as a consultant in accident reconstruction, as well as the design and manufacture of gas controls for furnaces and water heaters.
Dr. Milt Hanson '60, professor emeritus of chemistry from 1964-2004, knew Nelson as both a student and as a colleague. He called him a true inventor.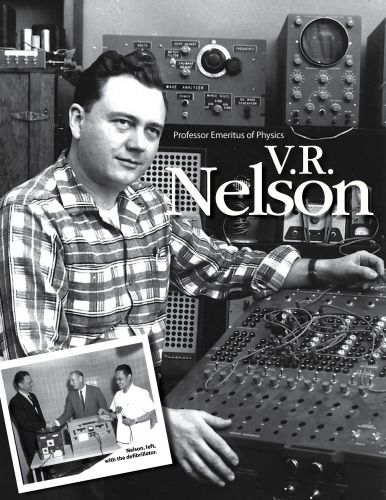 "V.R. was a very modest person. A lot of the things he did, we didn't know much about, until after they were complete. For example, the Zip Feed Mill, I was unaware of it until long after it was done. Same was true of the defibrillator. He was an inventor. He used a great deal of science in his work. He was a teacher of physics but he wasn't a researcher. His interest was more in education than in research."
He had a knack for making things work, colleagues and friends recall, explaining that, because of a tight timeline, the electrodes for Nelson's original defibrillator were made from metal kitchen spatulas.
"Can you imagine a doctor saying to you, 'I need this for Monday … you can invent it?' There's an old joke out there that says the real reason the Zip Feed Mill didn't collapse [during a planned demolition in 2005] was because Ronnie's apparatus was inside, recalls Dr. Ralph Wagoner, professor emeritus of education and Augustana's 21st president.
Dr. Arlen Viste, professor emeritus of chemistry from 1964-2002, agreed.
"When he was asked to build the defibrillator, he was just told what it needed to do. He had the knowledge to build the circuits so it could work," Viste said.
Wagoner, who served Augustana from 1993 to 2000, knew Nelson well. He delivered the eulogy at his funeral where he began his message by saying, "…how does one define Dr. Ronald Nelson: Christian, loving husband, proud father, grandpa and great grandpa, distinguished alumnus of Augustana College, revered Professor emeritus of Physics and Mathematics, mentor, inventor, aviator, philanthropist? How about we settle on 'servant leader and wonderful friend to all who had the privilege to know and love him and to be loved in return.'"
Wagoner recalled the first time he met V.R. and Joyce Nelson. It was 1993 and he was a candidate for Augustana's presidency. 
"During the interview process, I had the opportunity to meet with Augustana retirees. Joyce and Ronnie were among the first people I saw at that meeting. He was very quiet. The minute I looked into his eyes and saw his demeanor, I knew this was where I belonged. This man had devoted his entire life to this institution. That kind of commitment said so much about this place, and about him. I knew more than anything that I didn't ever want to let him down. I would've been crushed to see him be disappointed in me."
"During my time at Augustana, I was blessed to be around some real "giants" – really fine people who always fought for what was best for Augustana. They fought for excellence. V.R. was among those fighters. He set the conscience for us … for this institution. Even when he wasn't on campus, I felt his presence. One of my favorite things to do was to walk the campus every day. One of my great loves was to go into the Gilbert Science Center in the afternoons. Always, there'd be a faculty member there with students – looking at slides; looking through a microscope; discovering science. Ronnie helped establish that spirit."
Dr. Harry Thompson, executive director of the Center for Western Studies, knew Nelson as a colleague, and as a friend.
"Not only had V.R. been a member of the CWS Board of Directors, but he had taken a special interest in my search for information about my father's service in World War II as a member of the Navy's Construction Battalion," Thompson said. "I had mentioned to V.R. that my father had never talked about his almost three years' service in the Pacific, so V.R. immediately began sharing with me books and articles that helped me understand what it must have been like to clear the islands and build and maintain the landing strips for the eventual invasion of Japan, often under enemy fire and horrible tropical conditions (he nearly died from malaria).  The Seabees were usually on the islands before the Marines, he said."
"V.R. was a remarkable man, able to fashion the most intricate scientific devices from household items, such as Augustana's first computer (he donated the control board to the archives a few years ago), and yet take the time and interest to help someone understand his own father's lost military service. He and Joyce have bestowed on the CWS and the College generous gifts of time and treasure – the Nelson Gallery in the Fantle Building and the classroom in Mikkelsen Library are two such examples."
In addition, the Nelson Service Center, which contains the printing center, main post office and assorted maintenance operations on campus, was named after V. R. and Joyce, benefactors of the project."
Nelson was a member of First Lutheran Church, Augustana Fellows, Augustana Booster Club, South Dakota Academy of Science, American Institute of Physics, American Association of Physics Teachers, National Science Teachers Association, Sigma Xi National Research Honorary, and Sigma Pi Sigma National Physics Honorary. He served for many years as Federal Aviation Examiner and was a Certified FAA Ground School Instructor of Private, Commercial and Instrument Pilots. He was active in many local community agencies, including Good Samaritan Society and the United Day Care.
He was the recipient of several honors and awards, which included Augustana Founders Day Award, Alumni Achievement, Friend of Augustana Award, Good Samaritan Society Service Award and the FAA "Spirit of Flight." In 2008, he was inducted into the South Dakota Hall of Fame.
Survivors include his wife Dr. Joyce Nelson of Sioux Falls; one daughter Cindy (Robert) Ellsworth of Madison; two grandsons, Adam Ellsworth of Sioux Falls and Dr. Andrew (Laura) Ellsworth of Boise, Idaho; one great-grandson Eli Ronald Ellsworth; and one sister, Dr. Elaine McIntosh of Green Bay, Wis.; and several nieces and nephews. He was preceded in death by his parents and his first wife Margaret (Meester) Nelson.
Memorials may be directed to the Nelson-Ellsworth Scholarship at Augustana College.
Virgil Sandvig, Professor Emeritus and Coach
Friends remember long-time Augustana faculty member and coach Virgil Sandvig, class of 1949, as a straight-shooter – a man of his word who never beat around the bush and who told it to you straight.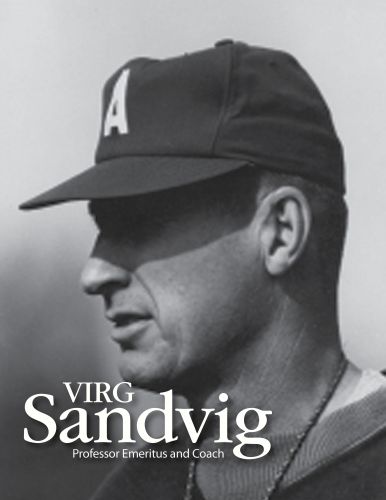 "He was kind of rough and gruff on the outside, but inside he was as soft as butter. He was tenacious and tough if he had to be, but he was really soft-hearted," remembers Rev. A. Richard "Pete" Petersen, professor emeritus of Health, Physical Education and Recreation and former campus pastor.
Sandvig died on Sunday, Feb. 19. He was 87.
He joined Augustana as an assistant football coach in 1960, serving as an assistant under head Viking football coaches Bob Burns, Jim Malmquist, Ralph Starenko and Joel Swisher. He spent the next 30 years at the College, teaching geography and serving in a variety of coaching positions including, assistant basketball coach, sports information director, head men's track and field coach, head men's cross country coach and head men's golf coach. He guided Viking men's track teams to the College's first appearances in the national outdoor championships.
He was inducted into the Augustana Athletic Hall of Fame in 1979 and is the recipient of the North Central Conference's Honor Award (1977), the league's highest recognition.
Prior to his retirement in 1990, he served as athletic director. He received a master's degree in Physical Education at the University of Minnesota and was awarded the first master's degree in Geography from South Dakota State University.
Dr. Ken Kessinger '49, professor emeritus of Health, Physical Education and Recreation and coach who served Augustana from 1954 through 1992, grew up with Sandvig. The two met in third grade at Whittier Elementary and were classmates at Washington High School, graduating together in 1943.
"Our travels through life were very similar," Kessinger said, explaining that after high school, both he and Sandvig enlisted in the military (Sandvig in the Marines, where he served in the South Pacific during World War II on the USS Enterprise; Kessinger in the Air Force) and both taught and coached in small communities after graduating from Augustana (Sandvig in Dell Rapids; Kessinger in Chamberlain).
After graduating from Augustana in 1949, Sandvig worked as a coach and educator at Dell Rapids High School. He later served as athletic director and head football coach for Yankton College.
"Eventually, we both ended up back at Augustana," Kessinger said. "He was quite a character."
A character, indeed.
Sandvig and Kessinger were among the original members of the SXS Chapter of the Natural Philosophy and Literary Society, the official name for a group of Augustana colleagues who enjoyed spending time together, especially during their annual fishing trips to Canada.
It was in Canada, Kessinger said, that Sandvig earned his nickname "Rat's Nest."
"[SXS Chapter member] Dr. Sven Froiland [professor emeritus of Biology from 1946 to 1987] gave every one of us a name," said Kessinger.
"Virg's name was 'Rat's Nest.' He got it because he'd always forget to put his thumb on the fishing reel before he would cast – his line would tangle like you wouldn't believe," Kessinger said, laughing.
Mel Klein, former basketball coach and development officer who served Augustana from 1971 to 2011, knew Sandvig well.
"His family was so important to him. He was so proud of his kids and their accomplishments," Klein said. "Virg really embodied Augustana – he really was one of the pioneers who made the College and its Athletic Department what it is today. He didn't get paid a lot, but he did whatever was asked of him, from driving a bus full of students to a game, to recruiting student athletes."
He made an impression on everyone he met, Klein said, explaining that oftentimes while he was visiting alumni, Sandvig's former students and student-athletes would inquire about him.
"He impacted this place in so many ways," Klein said.
"He always gave you his best," Petersen said. "He was a great guy."
Sandvig served on many committees, including the Sioux Falls Planning Commission, Dakota Relays Committee, The Center for Western Studies, and was a member of the First Presbyterian Church.
He was preceded in death by his parents, his three brothers (Spencer, Kenneth, and Raymond), and his wife, Janet. He is survived by his three children, Scott (Sandy) Sandvig, Stacey (Michael "No-Good") Sanders, Anne Sandvig (Lonnie Hosman), and six grandchildren Jamie (Bridget) Jackson, Anne Marie Sanders, Aaron (Becca) Sanders, Nathan Sanders, Samuel Hosman, Allison Hosman, and three great-grandchildren, Koby, Kyah, and Kate Jackson.
Memorials may be directed to the  Janet Sandvig Scholarship at Augustana College.