Letter from Department Chair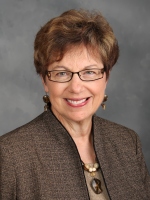 Greetings from the Nursing Department at Augustana! I probably know many of you personally and/or professionally from my years as a faculty member and chair of the department. I have now returned in an interim capacity to chair the department as we consider new directions and search for a visionary new leader. It has been delightful to connect with the faculty and students again — but seeing it all through new eyes.
The most obvious "new" aspect of the program is its space. For those of you who have not visited the redesigned Froiland Science Complex at the site of the former Gilbert Science Center, I hope you will do so soon. The teaching-learning spaces are amazing. Many of the classrooms have been redesigned and equipped for active student learning with tables and computers for small groups of students to work collaboratively and to allow the teacher to show individual student work to the entire class during class discussions. The simulation lab is home to a state-of-the-art high fidelity human patient simulator who can portray myriad conditions through changes in blood pressure, pulse, respiratory rate and lung sounds, heart monitor changes, verbal communication, bleeding, wounds and many other signs and symptoms. Several other mannikins and other equipment inhabit a multi-station campus lab with video capabilities to allow students and faculty to review procedures and scenarios. Simulation technology is interwoven throughout the curriculum both in demonstrations and student validations. To coordinate all of this, Beth Karel is in a new position as the Director of Simulation Learning. She is nationally certified as a Healthcare Simulation Educator (CHSE). 
The nursing wing, and actually the entire complex, is furnished with tables and booths for student collaboration and study. A computer kiosk has replaced the previous hanging files with student photos (searchable by name and year of graduation). The building expansion itself is beautiful, and I have an amazing array of trees and prairie grasses in the courtyard outside my window. Jennie Holland is the chief administrative assistant who helps to keep all the balls in the air.
What has not changed is the creativity and excellence of the faculty. They are dedicated to providing the best teaching-learning experiences possible for our students (now 82 at the junior level and 68 at the senior level with additional students taking Pathophysiology and Introduction to Nursing at the sophomore level). As you can imagine, our area is a beehive of activity! Some of the junior and senior level students are in the accelerated program, pursuing a nursing degree after completing a baccalaureate degree in another area (24 juniors and 21 seniors). 
Also unchanged are the excellent outcomes of the program:  >95% NCLEX pass rate over the last three years, >96% program completion rate, excellent job placement and positive feedback from employers of our graduates. Relationships with clinical partners remain strong, providing stellar experiences for students.
Speaking for all of us in the department, we invite your contacts and updates whether you are former faculty or alumni. Let us know what is going on in your lives, and come and visit!
Wishing you a blessed year,
Margot L. Nelson, PhD, RN
Professor Emerita and Interim Chair
Department of Nursing
Augustana University
margot.nelson@augie.edu
Phone: 605.274.4690