$1 Million Gift Will Support New Student Activities Center, Froiland Science Complex, Endowment
---
Given in honor of former Augustana basketball standout Sam Milanovich '73, the $1 million gift from Dr. Fred and Linda Milanovich will support Augustana's new Student Activities Center, the Froiland Science Complex, and the University's endowment.
---
As early planning continues for Augustana's new Student Activities Center, University officials have announced the receipt of a $1 million gift from Dr. Fred Milanovich, a cousin of the late Augustana basketball legend Sam Milanovich '73.
The gift, given by Fred and his wife, Linda, will name the "Sam M. Milanovich Student Fitness Center," a state-of-the-art wellness center to be located inside the Student Activities Center.
In addition to the fitness center, Augustana's new Student Activity Center will feature an indoor competition track, academic spaces, a retail center, a multi-purpose recreational area and practice spaces. Portions of the gift will also fund lab space inside the new Froiland Science Complex as well as the Milanovich Family Endowment, a new initiative to support Augustana Athletics.
"Sam Milanovich was a man who stood for integrity, kindness, strength and perseverance. The idea of having a center on our campus named in his memory is simply an honor for us," said Rob Oliver, president. "We are deeply grateful to the Milanovich family for their exceptional generosity. This is a gift that will impact countless students in countless ways – in their academic pursuits; in their personal health and well-being; and in their social development."
Milanovich Roots
Growing up in Aliquippa, Pennsylvania, Fred Milanovich always looked out for his younger cousin, Sam.
"In my hometown, there were nine Milanovich cousins and we all grew up within walking distance of each other," Fred said. "Sam was almost like my little brother."
After high school, Fred went on to the U.S. Air Force Academy and then to the University of California-Davis. Sam took a different path, choosing to head west to a little-known school called Augustana.
On campus, he formed a close friendship with his dorm roommate and fellow basketball teammate, Bill Gross '73.
"I've always said that Sam was a master storyteller and a weaver of good times," said Gross, who previously served as Augustana's athletic director and now works as the University's senior director of major gifts. "He had this great way about him – he could make people laugh and feel good about themselves. He was truly a positive influence for all those who knew him."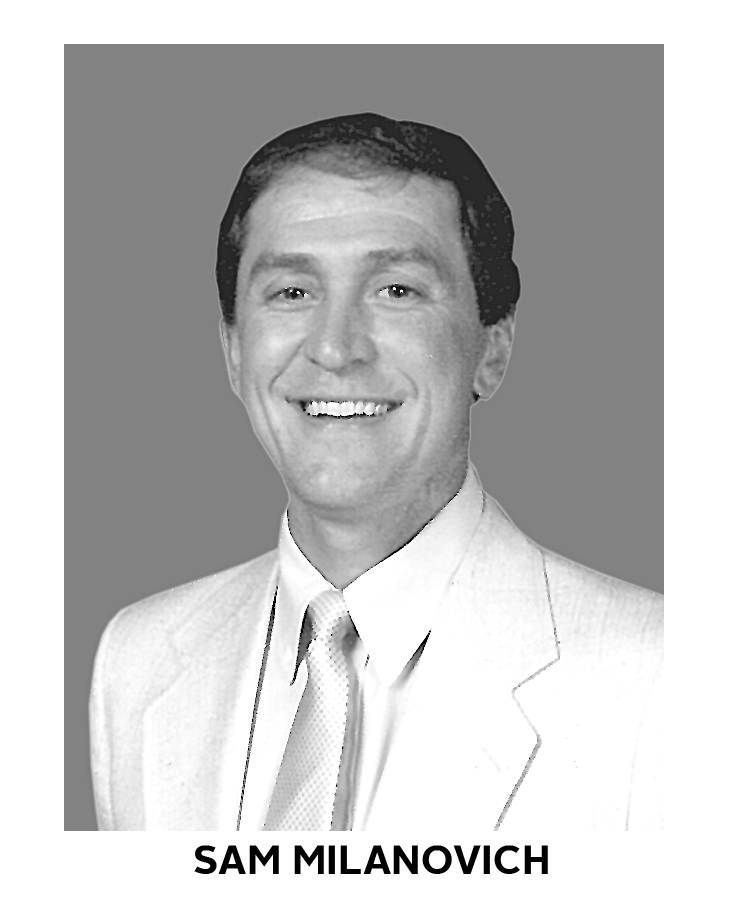 After graduation, Sam coached basketball at high schools in Lennox and Chamberlain, South Dakota, before moving on to coach at South Dakota State University. He later coached at John Carroll University in Cleveland, Ohio, and at Dickinson State University in Dickinson, North Dakota. 
In 1992, Sam passed away after a courageous battle with cancer. He left behind his wife, Chris; four children: Sam Jr. (Augustana class of 2002, who now serves as a research associate and assistant professor of pediatrics at Sanford Children's Hospital in Sioux Falls), Nick (Augustana class of 2005, who now serves as a radiologist in Minocqua, Wisconsin), Stacey, and Elizabeth; countless friends; and numerous family members, including his cousin, Fred, who has come to learn the special place Augustana held in Sam's heart.
The Fred Milanovich Story
A stand-out basketball player in high school, Fred Milanovich was accepted to Harvard University, but changed course during his senior year and made the decision to attend the United States Air Force Academy instead. 
While there, he developed problems with his vision that prevented him from flying, so he took up physics instead after a chance meeting with Edward Teller, the American nuclear physicist who led the development of the world's first hydrogen bomb.
"A professor had approached me to say that Edward Teller was coming to town and that he was going to talk to us about putting together a physics program," Milanovich said. "Up to that point, the Academy mostly had engineering programs. I decided that sounded like something I wanted to do. I ended up becoming one of the first students to pursue a physics major at the Air Force Academy."
After Milanovich graduated, Teller encouraged him to interview for a scholarship in applied science through the Hertz Foundation at the University of California, which he was ultimately awarded. 
He went on to study and work at the Lawrence Livermore National Laboratory (LLNL) in Livermore, California, where he earned his master's degree and Ph.D. From there, he began a 30-year-long career with LLNL where he developed new concepts and directed research and development in the areas of measurement science, specifically in support of biotechnology research. Along the way, he founded the Chemical and Biological National Security Program, an initiative that provided an integrated response to the emerging threats of chemical and biological terrorism post-9/11.
Interesting side note: Lawrence Livermore National Laboratory is named in part after Ernest Lawrence, a Nobel Prize winning nuclear scientist and a graduate of the Augustana Academy.
After retiring in 2008, he and a colleague, Bill Colston, founded QuantaLife, a bio-technology company that revolutionized biomolecule analysis with its Droplet Digital PCR system, a digital system designed to fight cancer and other diseases, along with drug-resistant viral infections, by precisely identifying specified molecules and mutations in the human genome. QuantaLife was acquired by Bio-Rad Laboratories in 2011 for more than $160 million.
In 2013, a new venture began to form.
"I was approached by several bright young scientists that formerly worked for QuantaLife. They had an exciting new idea and asked for my assistance in starting a new company. Later that year, 10xGenomics was born," Milanovich said.
With 115 employees and three products about to launch, 10xGenomics has a bright future.
"We just launched a product which is going to make a big difference in how the genome is analyzed in the future," he said.
Looking back on his career, Milanovich says he's grateful for the opportunities he's had.
"I wouldn't change anything. People ask me if I'm ever sorry that I didn't go to Harvard. I'm not."
And, at age 71, Milanovich is showing no signs of slowing down.
"When I mentor young people, I tell them, 'Life is going to come at you fast. You have one opportunity to prepare, so take every advantage of your time in school. Then it's off to the races!'"
Connections to Augustana
In 1993, Augustana hosted the first annual Augustana/Sam Milanovich Golf Tournament, now nicknamed "The Sammy," as a fundraiser for Viking athletics.
Over the years, the endowment from "The Sammy" golf tournament has grown to $228,000. Investment earnings from the endowment now provide $1,000 annual scholarships to Augustana student-athletes in 16 sports.
Fred Milanovich had never attended "The Sammy," until a few years ago.
"It wasn't until the 20th [annual tournament] that Sam's, sister, Milana, twisted my arm saying, 'They have this golf tournament every year for Sam – you've got to come out here,'" Milanovich said.
"So I came out and I really made a connection. I could see that Sam was alive here. The testimonials were amazing. I immediately had kind of a 'love at first sight' thing happen. It was very genuine. The golf tournament makes a nice amount of money – but I can see there's a bigger reason why this golf tournament happens every year."
Milanovich said his visit to campus, and the connection he felt, inspired him to invest in Augustana.
"I'd been doing a lot of thinking about philanthropy. Linda and I had the opportunity to build a school for an orphanage in Uganda with a friend of mine. That was immensely rewarding.
"So I started thinking about Augustana. I thought, 'Why don't I make an emphasis and put the exclamation behind Sammy's name?' So, I said, 'Let's do something for Sam that's going to be really permanent here.'"

– Dr. Fred Milanovich
Cousin to the late Sam Milanovich '73
Milanovich said he's excited about Augustana's future, particularly its new master's degree in genetic counseling, formed in connection with Sanford Imagenetics.
"Growing into a graduate program is not easy and, to obtain credibility, it takes a while. But, if you've got the kind of outstanding staff and administration that Augustana does, coupled with support from Sanford Health, you'll be doing cutting-edge research and attracting top students in no time."
Giving to Augustana, Milanovich said, has been a "wonderful experience. Augie's future is brighter than ever!"