Argus Leader: A Memorial Pilgrimage
Family members visit Sand Hills, commemorate deaths of Augustana debate team members 40 years later
Jill Callison, Argus Leader
Frayne Anderson, K. Don Tibbets, Joyce Estwick, Linda Heidemann, Al Jensen and James Houske.
Forty years ago, in a winter that pummeled the region with near-daily snowstorms, those names were as familiar to area residents as their own.
They were the six from Augustana College who were flying home from a Colorado Springs, Colo., debate tournament when, in an instant, their airplane disappeared.
For days professional and amateur rescuers searched for the airplane, seeking white metal in endless drifts of snow.
Almost from the start, family and friends gave up hope of the six's survival, although some bits of unquenchable hope still flickered intermittently.
That winter became a season of despair.
Then spring came, barely.
And the six names that had begun to blur in the public's consciousness were, once again, achingly familiar.
Frayne Anderson, K. Don Tibbets, Joyce Estwick, Linda Heidemann, Al Jensen and James Houske.
Finally found in the Sand Hills of central Nebraska. Finally mourned, for eternity.
On Saturday, their names will be spoken again, linked as they have been for 40 years.
Anderson's youngest daughter, Heidi Anderson Emanuel, has spent weeks arranging a memorial pilgrimage to the south slope where the plane came to rest, scattering the six bodies.
She will be joined by a family forged in tragedy - about 20 of her own relatives, Tibbets' widow and a daughter, and Augustana alumni who never forgot their friends.
IN MEMORIAM:
The stormy turbulence of Nature brought crashing down to Earth the bird in flight, and with it snuffed out tragically and mysteriously the promising careers of four students and two faculty, all members of our Augustana family.

They, individually and collectively, exemplified man's eternal search for the good, the true and the beautiful. Their happy laughter, their radiant exuberance, their compassion and eloquent dedication is now stilled, but their worthy aspirations are renewed in the hearts and minds of those who knew and admired them.

The legacy to be gained should not be expressed merely in terms of the worthy goals they yearned for — life, hope, fruitful achievement. Let the poetry of their vibrant living not be dimmed by the mysterious end to their careers, nor numbed by the fear that your and my life may not have had its true beginning. Their moments of joyful spontaneity and noble grace surely leave us not empty, but, instead, full of challenging opportunity as we remind ourselves that there is so much to do — accomplish — and so little time left in which to do it.

Life is a unique journey, measured not in length of years but in the depth of measurable deeds that illuminate its breadth and beauty. The worst sorrows are not the obvious tragedy and travail, but the uncertainty of what we are, or why not. May we establish our own quiet inner strength to face the uncertainties, the mysteries, the opportunities, and lift our eyes to clarity, fiedlity, and reality.

In the solemnity of their death, may we find the serenity of our future. Ask not why their death, but the why and what of your life.
— EDDA, 1969
Rescue workers
Included in that family will be Civil Air Patrol members who scoured the Sand Hills for a glimpse of the downed plane and descendants of the coyote hunters who were marked by the tragedy that awaited them over a rolling hill.
The group will travel to the crash site and lay biodegradable crosses, one for each person who died.
"It's going to be very emotional, but I want it to be very poignant and meaningful for people," Emanuel says.
"We'll bring our own pain to the table, and hopefully we'll lay it down with the crosses, and hopefully it will be better."
Emanuel was 11 years old on Jan. 11, 1969. That night the youngest of Frayne and Mitzi Anderson's four daughters rode with her mother to the airfield in Sioux Falls where the plane was to land.
Frayne Anderson had directed Augustana's Mikkelson Library since fall 1967 and had flown the debate team to several meets.
The plane wasn't there.
"The guy said, 'We haven't heard from them, but it is bad weather. Why don't you come back in an hour?,' " says Emanuel, now of Colorado.
When Mitzi and young Heidi returned, ominous news awaited them.
"He said, 'Mrs. Anderson, we've determined the plane is missing,' " Emanuel says.
"I remember Mother absolutely fell apart," Emanuel says. "Everything else was a blur."
Vivid memories
In 40 years, survivors' memories also have blurred, and some details are contradictory when they recall that weekend and the next 10 weeks.
But the vivid spirits of those people who died Jan. 11, 1969, remain clear to those who loved them.
Fellow student Dennis Hansen had lobbied Tibbets to go on that trip. He and Linda Heidemann had been debate partners for the first half of the season, but Tibbets had decided they would do better paired with others.
Hansen, now interim pastor at the Clear Lake Lutheran church, called friends on the debate squad Jan. 12, 1969, wondering if they'd heard how the Colorado Springs tourney had gone.
But no one knew.
Slowly, worry about their friends began seeping in.
By nightfall, worry had morphed into full-fledged fear.
"After a couple of days we knew that they were most likely dead, and it had probably happened very quickly," Hansen says.
"It was really hard to wait and know that your friends were out there, but we didn't know where."
Like Hansen, Dean Schueler was an Augie student that January. He and debater Les Miller helped coordinate a student search for the plane.
Dressed in tennis shoes and blue jeans, despite the drifts awaiting them, the students plowed through fields from one gravel road to another.
"You would find trees the wind had broken off, and you'd think, 'Oh, my goodness, I'm going to be the one to find this,' " Schueler says. "You had that hope that somebody would find it, and the fear that you would be the one to come on this and what do I do about it?"
Despite thorough searching, the crash site stayed hidden until March 25.
Coyote hunters
Leonard Christian and Marvin Hazen were hunting coyotes when their hunting dogs' unusual behavior attracted their attention. The rancid smell of death had upset the animals.
What they saw marked both men.
Mike Christian, now 63, was a college senior when his father came upon the wreckage. Four of the lives that ended abruptly were near his children's ages, and that impacted his father until he died in 1995.
"I think the first thing they saw, well, there were a lot of papers blowing around," Mike Christian says. "Dad never hardly talked about it at all."
Leonard Christian quit hunting after that.
Darlyne Lindly, Hazen's daughter, says that he, too, rarely spoke of that day.
"Dad was so upset he couldn't even sleep afterwards," says Lindly, 70.
Mike Christian and Lindly will take part in Saturday's memorial service. People first will meet Friday in Broken Bow, Neb., to gather over steaks and put faces to voices.
Jane Tibbets Rensch will be there. She remained in Sioux Falls after her husband Ken's death, completing the planned adoption of a fourth child. She remarried in 1973, becoming stepmother to eight.
"It's not a matter of healing. I think that's dumb," she says of her decision to travel to the Sand Hills. "I do think it's going to bring back some sad memories. If that's the right thing to do, I don't know."
Emanuel isn't sure either. She just knows it is something she has to do, and she is glad others are willing to do it with her.
Her mother sent her to Laura Wilder Elementary School on the Monday after the plane crash. Her classmates returned from lunch, buzzing about the missing plane.
At her desk, Emanuel burst into tears. When the teacher learned the girl's father was on the plane, she sent for principal Jack Hunt, who took the sixth-grader home.
"There were 100 people there," Emanuel says. That's what it seemed like to an 11-year-old.
Telling stories
In her preparation for Saturday, Emanuel has learned about her father.
"I get a sense of the kind of man he was and his sense of humor and his kind heart," she says. "It fills some of the void."
She also became familiar with the other five on the plane.
Joyce Estwick, she says, used arm braces that she called "her boys."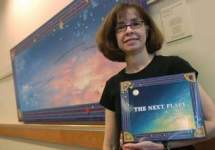 With the aid of current Mikkelson director Ronelle Thompson (shown right), Emanuel has sought other survivors. The parents of Linda Heidemann and Estwick have died, and James Houske's mother is too frail to travel. Al Jensen had five siblings, but Emanuel has not found any of them.
Emanuel also has learned from sixth-grade classmate Jim DeWitt that the plane crash had an unsuspected impact.
"He said, 'Heidi, you have no idea how that impacted the whole class. I'd go home and worry that could happen to my dad,' " she says.
That is why, Emanuel says, the trip to the Sand Hills is so much bigger than her own needs.
"Everyone has a story to tell," she says.
On Saturday, on a southern slope in central Nebraska, they will have a chance to tell it.
And to remember these six.
Frayne Anderson, K. Don Tibbets, Joyce Estwick, Linda Heidemann, Al Jensen and James Houske.