German and French Honor Societies Induct New Members
German Honor Society Welcomes Six New Members
SIOUX FALLS - The Augustana College chapter of Delta Phi Alpha, the national honor society for students of German, held a dinner at the Fellows' Presidential Residence on May 9. The following students joined the society as new members (shown below):
Andrew Erickson, Sioux Falls
Kylie Dummer, Minnetonka, MN
Heidi Rittenhouse, Richfield, MN
Nicholas Seliski, Saint Cloud, MN
Michael Swanson, Britton, SD
Stefan Szwarc, Canton, SD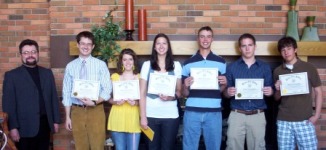 Other Delta Phi Alpha members who attended the event were Anndra Begay (Sioux Falls), Jennifer Falkenstein (Carver, MN), Alex George (Sisseton, SD), Marshall Goodge (Sioux Falls), Melanie Henry (Minneapolis, MN), and Dr. Michael Nitz, Associate Professor of Communications.
The dinner was followed by a senior project presentation by Alex George with the title, "Die deutsche Presse und Obama".
Eta Delta, the Augustana chapter of Delta Phi Alpha, honors its members and their successful study of the German language and German civilization with a dinner event every semester.
The advisor of Eta Delta is Dr. Stephan Lhotzky, Professor of German and Chairman of the Department of Modern Foreign Languages.
Seven Students Inducted into National French Honor Society
SIOUX FALLS – On May 13, seven Augustana students were inducted into Pi Delta Phi, the National French Honor Society.
The new members include (shown right):

Ashley Ballou-Bonnema (Hospers, IA)
Christopher Johnson (Sioux Falls)
Danielle Doran (Rapid City, SD)
Ihoby Rakotomalala (Cameroon)
Jorgen Lervick (Minnetonka, MN)
Kelsey Ott (Sioux Falls)
Margaret Olson (Plymouth, MN)
Professor Florence Thompsen was inducted as an honorary member.
Pi Delta Phi, established in 1906 at the University of California at Berkeley, is the French National Honor Society for undergraduate and graduate students at accredited public and private colleges and universities in the United States. The purpose of the Society is to recognize outstanding scholarship in the French language and its literatures, to increase the knowledge and appreciation of Americans for the cultural contributions of the French-speaking world, and to stimulate and to encourage French and francophone cultural activities.
There are currently more than 330 chapters of Pi Delta Phi in the United States and two representative chapters at the American Universities in Paris and Aix-en-Provence in France. The Society was admitted to membership in the Association of College Honor Societies in 1967.
Augustana College's chapter, Mu Alpha, was established in 1997 and is the only chapter of the Society in South Dakota. Dr. Scott Fish is the faculty advisor.