Augustana Students Receive Year-End Honors
Awards:
Senior Special Education Majors Recognized
Augustana Student Receives Outstanding Senior in French Award
Maggie Kaffar Recipient of Kaplan-Schweser CPA Review Award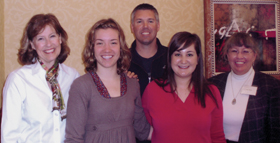 SIOUX FALLS – Augustana seniors Kelsey Erickson (Lakeville, MN) and Bailey Morris (Faribault, MN) received South Dakota Council for Exceptional Children Awards at the honors luncheon of the 2009 Statewide Special Education Conference "Advocating for Independence" in Sioux Falls.
Erickson, a senior majoring in Special Education/Elementary Education, received the Lila Hedlund Scholarship award. Academically outstanding, Erickson has been an Augustana Student Council for Exceptional Children (SCEC) officer since her freshman year and currently serves as chapter president. Influenced by her leadership, seven SCEC members are planning to attend the 2009 Council for Exceptional Children annual convention in Seattle.
Erickson serves as secretary of the Augustana College Education Association and sits on the Union Board of Governors Lecture Committee that brings exceptional speakers to campus. She helped plan a breakout presentation at last year's Statewide Special Education Conference in Pierre and recently co-authored an article in the special education journal Reclaiming Children and Youth. She is the daughter of Nancy and Brian Erickson.
Morris, a senior majoring in Special Education, is the recipient of the Outstanding Student Council for Exceptional Children member award. She has been a SCEC member since her freshman year, and for three years served as fundraising chair for the Survival Kit project that enables SCEC members to engage in outreach and professional development activities throughout the academic year.
Morris also served as the program director of FRIENDSLink, a new nonprofit organization building friendships between young adults with disabilities and college students. Currently, more than 70 Augustana students are participating in FRIENDSLink. She is also involved in a project connecting a special education school in Honduras with students with disabilities in a Sioux Falls middle school. Bailey is the daughter of Renee and Ron Morris.
(Pictured above, from left, are Dr. Julie Ashworth, assistant professor of Education; Bailey Morris; Matt Johnson, visiting instructor in the Education Department; Kelsey Erickson, and Dr. Joan Bacon, associate professor of Education.)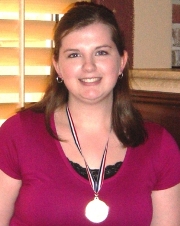 SIOUX FALLS – Augustana senior Linnea Thunselle (Rosemount, MN) is the recipient of the 2008-2009 Outstanding Senior in French Award from the American Association of Teachers of French (AATF).
This award is made annually to a graduating senior, who has demonstrated excellence in the study of French as well as exceptional commitment to the French language and the many cultures where it is spoken. Recipients must be senior majors in French and be non-native speakers of French.
Thunselle (shown right) is majoring in French and English and will graduate cum laude on May 24. She is the daughter of Nancy and Daniel Thunselle.
Linnea studied abroad in Grenoble, France, for one semester, and is a member of Pi Delta Phi, the French National Honor Society, and Le Cercle Français, Augie's French club. She has also been selected by the French Ministry of Education to serve as an English Teaching Assistant in Grenoble for the 2009-2010 academic year. She has studied French for four years and is the student of Dr. Scott Fish, Associate Professor of Modern Foreign Languages at Augustana.
The AATF was founded in 1927 and has as its mission the promotion of the study of French language and French-speaking literatures and cultures at all levels. We are proud to recognize the achievements of outstanding students and their teachers. We hope that this award will motivate students to continue their study of French either through a career in teaching or as a complement to any other profession.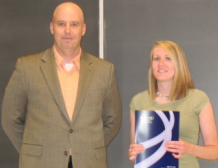 SIOUX FALLS – The Business Administration Department at Augustana announced senior Maggie Kaffar (Humboldt, SD) as the recipient of the Kaplan-Schweser CPA Review award. She received the award from Adam Peterman, Kaplan Schweser regional sales director.
Kaffar is majoring in Professional Accountancy and will graduate with magna cum laude distinction on May 24. She is the daughter of Belinda and Paul Kaffar.
The Kaplan-Schweser CPA Review award includes a certificate that can be redeemed for complimentary access to either Kaplan's Self-Study learning systems ($1,599 retail value) or enrollment in Kaplan's live, Online Review Course ($2,299 retail value) for all 4 sections of the CPA Exam.

Kaplan Schweser is a global provider of financial education solutions led by an enterprise of financial industry experts. Well known as a trusted leader in CPA (Certified Public Accountant), CFA(r) (Chartered Financial Analyst(r)) and FRM(r) (Financial Risk Manager(r)) Review, Schweser is also an emerging leader in CAIA (Chartered Alternative Investment Analyst) Review and Professional Development courses provided through self-study textbooks, software, audio/video, and live instruction.