Alumna Receives Fulbright to Study in Germany
SIOUX FALLS – Nora Johnson, who graduated from Augustana in 2005 and currently a graduate student in physics at Kansas State University, has been awarded a 2009 Fulbright Scholarship to study at the Max Planck Institute for Quantum Optics in Garching, Germany.
The Fulbright U.S. Student Program offers fellowships for study abroad, research abroad, or English teaching assistantships. The program aims to increase mutual understanding between the people of the United States and the people of other countries. Recipients are selected on the basis of academic or professional achievement as well as leadership potential. The Fulbright program was established under legislation introduced by the late Senator J. William Fulbright of Arkansas and is administered by the Institute of International Education.
Johnson graduated magna cum laude from Augustana with mathematics and chemistry majors and a minor in physics. She has studied atomic, molecular, and optical physics in graduate school.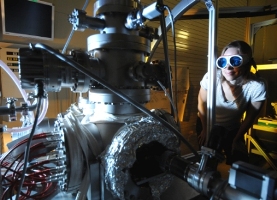 She works with Itzik Ben-Ithzak, K-State professor of physics, in a research group studying molecular physics. In Germany, she will use the Fulbright Scholarship to study laser-molecule interaction. She has co-authored numerous publications that have appeared in journals such as Physical Review Letters, Physical Review A, and the Review of Scientific Instruments.
Johnson, the recipient of the Timothy R. Donoghue Scholarship at K-State, would like a career in an academic setting with an equal workload of research and teaching duties. She is a member of the Manhattan Ultimate Summer League, the Graduate Physics Student Association, and the American Physics Society.
She graduated from Flandreau High School in 2001. She is the daughter of Diane and Lawrence Johnson of Dell Rapids.
In the above image, Johnson works with her experimental apparatus at the Max Planck Institute for Quantum Optics in Garching, Germany.
Photo courtesy of Thorsten Naeser.