Augustana Represented in International Day of Action
SIOUX FALLS – Members of Augustana Green will be participating in the 350 International Day of Action on Saturday, October 24.
Sioux Falls is hosting a global art action and party to celebrate the environment beginning at 3:50 p.m. at Falls Park. It is one of more than 4,000 events around the world promoting 350 ppm, the scientifically determined number of parts per million of carbon emissions that is the safe upper limit for maintaining a healthy atmosphere.
Scheduled events around the world include mountain climbers holding 350 banners on some of the world's tallest peaks, a 350-mile bike ride through Minnesota, and scuba divers holding 350 signs by the Great Barrier Reef.
In Sioux Falls, participants will gather at Fifth Street and Phillips Avenue at 3:30 p.m. and parade to the Horse Barn Arts Center in Falls Park. Inside there will be a giant banner for everyone to decorate with their environmental hopes for South Dakota and the world. The banner will be displayed at the United Nations Climate Change Conference in December.
The banner will also be included in a photograph to be taken at Falls Park where all participants will form a giant 350 across the park. The picture will be sent to South Dakota's congressional delegation in Washington, posted online, a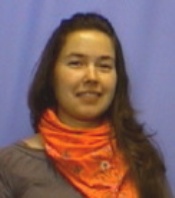 nd shown on the big screens of Times Square in New York City.
Jamie Horter (shown right), Augustana student from Bristol, SD, will be a delegate at the Climate change Conference in Copenhagen in December. She is also involved with a lobbying effort to promote reducing carbon dioxide levels to 350 ppm.
The 350 Day of Action is free and open to the public. For more information contact Jamie at jamie@siouxfallsgreenproject.org.
Saturday's event is sponsored by the Sioux Falls Green Project, Sioux Falls Green Drinks, the Horse Barn Arts Center, Falls Overlook Cafe, Repower America,1Sky, and the Will Steger Foundation.