Tennis Returns to Campus with Dedication of Huether Centre
SIOUX FALLS – Weather was less than ideal for tennis, but Tuesday's blustery conditions couldn't dampen the spirit of those gathered to welcome the sport back to campus.
"It's so nice to be able to practice on campus, and I would encourage everyone to come out and use these courts," said Marc Kurtz, Augustana's tennis coach at Tuesday's dedication of the Huether Tennis Centre. "I'm really thankful to all the donors who helped out."
The new facility at 33rd Street and Grange Avenue was completed last month. Mike and Cindy Huether of Sioux Falls (pictured below, right) provided the lead gift for the complex. Augustana Athletic Director Bill Gross announced the project has received $424,500 from 35 donors.
"What a great effort," said Gross. "With Mike and Cindy's leadership, and a team effort from Augustana and generous donors, we were able to pull this together."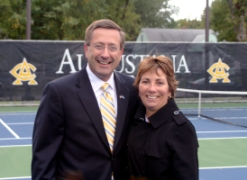 The Huether Tennis Centre is 16-feet wider than the former facility and has six championship, regulation-size courts. Included are lights, bleacher seating, and an entry area.
"This is a dream come true," Mike Huether said. "We've accomplished so much and we are so thankful to so many people. It was our dream to build a community tennis center for Sioux Falls and we found an incredible partner in Augustana."
Frank Hughes, Director of Facilities at Augustana served as the project's construction manager. Work on the new courts began in July.
"When vision and generosity come together, great things happen," said Augustana President Rob Oliver. "This is indeed a dream come true for our students, the student-athletes, the Augustana staff and faculty, and the people of Sioux Falls."