Alumnus is Noted Expert on Terrorism
As a senior consultant to the U.S. government, alumnus Dr. Jarret Brachman is a noted expert on terrorism.
Dr. Brachman studied government/international affairs at Augustana College and graduated magna cum laude from Augustana in 2000. He served as Director of Research in the Combating Terrorism Center at West Point prior to returning to his hometown of Fargo, N.D., and his current position at North Dakota State University.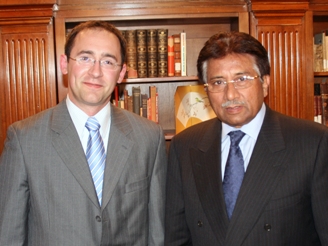 In 2006, Dr. Brachman received The Horizon Award from Augustana presented to young alumni who have quickly demonstrated outstanding vocational achievement. His book, "Global Jihadism: Theory and Practice," was released in May 2008, by Rutledge Press. In 2008, he participated in the Augustana Thought Leader Forum on Islam and the West, and in October 2009 met at Augustana with Pervez Musharraf, former President of Pakistan who was the speaker for The Boe Forum on Public Affairs.
Dr. Brachman's recent media appearances, including those in Time, Newsweek, PBS Newshour, CNN appearances, and NPR are now compiled on jarretbrachman.net
Recent coverage: