Argus Leader Features Augustana Student Defying Disability
Argus Leader: Augustana Student Has Defied Disability, Despair to Dazzle
Steve Young, Argus Reporter
Photos by Emily Spartz, Argus Photographer
This mass of flesh in the wheelchair—obese, constricted, imperfect—is Chris Johnson's body. It is, he says, "his monster." It's a cruel joke of Mother Nature, explained in words such as "cerebral palsy" and delivered in humorless punch lines that, instead of laughter, can leave him lonely, melancholy and despairing.
CHRIS JOHNSON FILE

Age: 30
Situation: Will graduate in May from Augustana College with majors in French and English
Grade-point average: 3.95
Family: Father, Gene; mother, Linda; siblings Gene Jr. and Paula
What's next: Johnson would like to enroll in graduate school to pursue a master's degree in French at the University of Montana. But he is also looking into the possibility of a Fullbright Scholarship to study overseas.
Chris Johnson knows them all. But know this about Johnson—the brain damage that he experienced at birth 30 years ago relegated his body to a wheelchair but did not limit the boundaries of his mind.
As proof, he will roll across the stage May 22 at Augustana College's commencement ceremony, a double major in French and English with a 3.95 grade-point average and a story of inspiration.
"There is a form of heroism there," said Johnson's friend and mentor, Michel Valentin, a French professor at the University of Montana.
It is a story told in the indelible love of a family that has walked virtually every step with Johnson, pushing his wheelchair to class, helping him to turn every page from kindergarten through college.
It is told in the stark, unfiltered honesty of a young man tortured at times by the social isolation that can come with a disability.
French language has 'always been a part of me'
Mostly, it is written in the admiration and awe of lives he has touched along the way with his intelligence and his brilliance. For example, Johnson has an uncanny grasp of the French language. A year ago, a poem he wrote in French and then turned into a longer essay about his life as a young handicapped man was published in a French journal.
"To have an undergraduate student like Chris have an article, written in another language and selected for a juried international journal ... juried by professionals in the field ... is unheard of," said Scott Fish, associate professor of French at Augustana College. "It's like a student from Augustana having an article published in the New York Times."
Johnson didn't come to French until he enrolled at the University of Montana in fall 1999 as an English major. He needed two semesters of a foreign language and always had been intrigued by French.
"The language just struck a chord in me," he said. "I feel like it's always been a part of me. It was a latent part of who I am, and I just didn't know it until I started studying."
An avowed perfectionist, the young man mastered the language to the point that his French professors, struggling at times in class to come up with the English equivalent of a French word, would solicit help from Johnson.
His professors say he speaks the language almost flawlessly. He translates as well—typing with a single finger on his left hand—and is translating the work of French feminist author Claire Legendre into English.
"It's like with the French language, he is liberated from his handicap," Valentin, his mentor at the University of Montana, said. "In French, his body is nonexistent. In French, he flies like a bird."
It is nice to soar, Johnson agrees, especially considering the depths to which he has plummeted in his lifetime.
Oxygen loss denied ability to walk
Born three months prematurely at the University of Minnesota Children's Hospital, Gene and Linda Johnson's third and youngest child suffered three bouts of oxygen loss at birth. The resulting damage in the left side of his brain claimed many of his motor skills, leaving him unable to walk and granting him little movement in his arms and head.
Still, the strength of his son's spirit was obvious, even by age 2, Gene Johnson said.
"I told him, 'You may never be able to walk, but we can already see you having a beautiful mind,' " the father said.
A recruiter for the Navy, Gene Johnson moved his family many times, from Newport News, Va., to Gaithersburg, Md., to Brandon. When Chris was 6, the family settled in Heron Lake, Minn.
His first-grade teacher refused to accept him into class at Heron Lake, Johnson recalled, "based on the knowledge that I had cerebral palsy. Wouldn't take me into her class."
That was the first of many difficult lessons the boy in the wheelchair learned as he moved through childhood.
"I pretty much felt ignored," Johnson said of his youth. "Everybody knew my name. They said 'hello' to me in passing. But I never had a group of friends that engaged me and included me in anything. I tried to inform people of my condition and what I had to live with. But I was socially ostracized."
At 12, he had surgery to remove the tops of his femurs to alleviate arthritis and bone-grinding pain. The boy with few friends now knew for certain that he never would walk or run in his lifetime.
The depression became almost overwhelming. One day, he decided to drink a bottle of cassette tape cleaner and end it all. As he prepared to ingest the fluid, the music playing around him, "Purple Rain" by Prince, seemed to begin speaking to him, Johnson said. It told him that he had family that loved him and would always be there for him. His music—he is an avid Prince fan—would always be there as well. Johnson set the cleaning fluid aside.
Depression would continue to haunt him, and he began therapy soon after the suicide attempt. But Johnson endured, eventually moving with his parents to be near a sister and her husband in Montana. He graduated in 1999 from Stevensville High School and that fall, he entered the University of Montana. He was intent on becoming a writer like Jack London, whose book, "White Fang," had inspired Johnson as a 10-year-old.
At Montana, academic highs—then depression
For two years, he thrived in Missoula's academic arena, his expanding mind wrapping itself around French syntax and Shakespeare, Freudian psychology and British literature, delivering nothing but "A's" after each course.
Then, at the end of his sophomore year, it all came crashing down.
Johnson blames his nervous breakdown on several things. He had developed pressure sores from spending too much time in his wheelchair. The increasing difficulty of his coursework strained his perfectionist nature. And the need to depend upon his family to bathe, dress and get to school often led to clashes.
And then there was the loneliness.
"Young people have their own life. They are active. They want to do things, so sometimes he is left behind. Sometimes there is compassion. But it is charity. Other times it feels like repulsion. It is not an easy place to be," Valentin said.
Valentin and Johnson's other friends had to work hard to draw him back in those times when he wandered too close to the abyss. It was even more difficult when he dropped out of school and spent his days in his bedroom, staring into a computer screen or playing video games.
His parents, who eventually divorced, argued about the course of their son's future. Linda Johnson thought school was too stressful on Chris. Gene Johnson thought that education was the only way to unlock Chris' future.
The father coaxed his son into taking one class at the University of Montana. That worked out, so he signed up for two more classes the following spring. But Johnson eventually relapsed and retreated again.
At Augustana, achieving and finding acceptance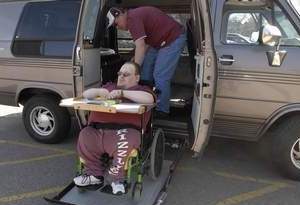 In time his mother, who had moved to Slayton, Minn., contracted a nearly fatal case of Legionnaires' disease, and Chris came back to be closer to her. At his father's urging, he agreed to look into Augustana College, eventually returning to the classroom in January 2009.
What his professors at Augustana discovered, said assistant English professor Mitch Harris, was a young man with "a voracious appetite for the life of the mind."
Whether it was French or films, delving into literature or psychology, Johnson revealed an IQ that was brilliant but not arrogant. But more impressive, Harris said, was his desire to listen and learn.
"I would say with Chris, even when you put him among his elite peers, he seems to outperform them," Harris said.
Jeffrey Miller, Johnson's adviser and one of his English professors at Augustana, said he wouldn't put Johnson in the top 1 or 2 percent of all the students he's ever taught at the college, "but the top one or two students, period."
Susan Bies, director of student academic support services at Augustana, is convinced that Johnson thrives under acceptance at the school from fellow students who have grown up around disabled peers because of mainstreaming efforts in K-12 education.
"They grow up with it more these days, so I think they get beyond the disabilities very quickly," Bies said. "They can see Chris has an incredible mind. They don't really focus on the wheelchair and disability."
The professors still see glimpses of the struggle in the young man frustrated by his physical limitations. "He is very attracted to the Frankenstein mythos," Miller said. "I'm sure Chris has a dark side. I'm sure there are moments where he goes places most of the rest of us don't and can't."
But more often, Johnson's countenance is that of the student eager to learn. And what equally impresses his instructors is the image of a father helping his son every step along the way.
Gene Johnson, a 68-year-old who did five tours of duty in Vietnam, gets his son ready every day, cleans him, dresses him and takes him to his classes. He turns his son three times in bed every night to keep him from developing sores. He turns the page when Chris needs it, too.
He always has needed that help, whether it was from his mother, his older brother, Gene Jr., or his sister, Paula. He can't do it on his own, Johnson said—a reality that is a constant psychological struggle for a young man who yearns to be more autonomous but understands he always will be dependent on somebody else for his care.
"I struggle with being protected versus being independent," he said. "I wish I could do more on my own. But how can I be more independent without losing the safety and security I need?"
There is stress and strain in that dependency, Gene Johnson agreed. But for him, the alternative of leaving his son's care to someone else, or placing him in a home, "is something I couldn't live with."
For Harris, the Augustana English professor, watching Gene Johnson's dedication to his son is to experience a remarkable expression of love.
"I think if every father could be half the father that Eugene is," Harris said, "the world would be a much different place."
After graduation, Chris Johnson plans to return to Montana, where he will seek additional physical therapy to improve movement in his hands and fingers. He's hoping to pursue his master's degree in French at the University of Montana, though he's also looking into the possibility of a Fulbright Scholarship to study overseas.
A French filmmaker has told him there is a movie to be made in the essay he wrote for the French journal, the one he called "Blue Fish, or Fragments of a Young Handicapped Man." The film would explore the sexual desires of someone whose body is paralyzed.
Johnson smiled and said he still might pursue that. But his focus now is on teaching French someday and maybe pursuing research as well.
Nor has he given up quite yet on what he calls his monster, this cruel joke of Mother Nature that is the body in the chair.
"Right now, my focus is my education," he said. "Hopefully, at some point in the future, I can have a family and a life as a teacher, and maybe go live in France. Maybe someday. We'll see."
Reach reporter Steve Young at 605.331.2306.
View the video (below) of Augustana College's Chris Johnson sharing life of his cerebral palsy, his life in a wheelchair and his continuing successes: