Augustana Commencement May 22 at Sioux Falls Arena
SIOUX FALLS, SD – Augustana's commencement, held on Sunday for many years, is switching to Saturday for 2010.
Registrar Joni Krueger says 329 students will participate in the ceremony beginning at 2:00 p.m. Saturday, May 22, at the Sioux Falls Arena. Doors will open at 1:00 p.m. for seating.
In addition to the conferring of degrees, four faculty awards will be presented. They are The Jane and Charles Zaloudek Faculty Research Fellowship, The Frederick C. Kohlmeyer Distinguished Teaching Professorship, The Stanley L. Olsen Chair of Moral Values, and the Orin M. Lofthus Distinguished Professorship.
Commencement Speakers

Dr. Sandra Looney, professor of English, will deliver the commencement address. Dr. Looney, whose passion for teaching is legendary, was honored at the College's 2010 service recognition celebration in April for 45 years as a faculty member. She majored in English and drama at Augustana, graduating magna cum laude in 1962. She received her MA and PhD from the University of Arkansas and in 1972 was awarded the Educational Professional Development Act (EPDA) Fellowship.
She began teaching at Augustana in 1964, was tenured in 1969, and promoted to full professor in 1983. She is a past holder of the Stanley L. Olsen Chair of Moral Values, and was director of Augustana's Capstone Courses from 1993-1996. She is a noted regional speaker, lecturer, and symposium leader.
Dr. Looney's classroom performance is exemplary. She is the recipient of the Burlington Northern Excellence in Teaching Award, the Frederick C. Kohlmeyer Distinguished Teaching Professorship, and the Vernon and Mildred Niebuhr Faculty Excellence Award (the first faculty member to receive the award twice).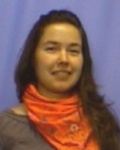 Jamie Horter, a chemistry and art major from Bristol, SD, will speak on behalf of the Class of 2010. She is the recipient of the Augustana Covenant Award for Liberal Arts, and recently was recognized as Tomorrow's Leader at the Sioux Falls YWCA's 37th annual Tribute to Women.
She has served as president of Augie Green, the environmental student group on campus, and was a member of the Will Steger Foundation delegation to attend the United Nations Climate Change Conference in Copenhagen.