Argus Leader: Augustana Women's Rugby Club
Women in the Scrum
Area college teams embrace physical, full-contact nature of sport
Mick Garry, Argus Leader
As an advocate for the rough-and-tumble sport of rugby, Krista Froke (shown right) has accomplished a lot in a short period of time.
The Augustana student was introduced to rugby during a semester at the University of Minnesota. When she switched schools and saw there was no team at Augustana, she decided to start her own.
"It took a lot of patience, because a lot of the (potential players) are already on athletic scholarships of some kind," said Froke, a Vermillion High graduate who will be a junior at Augie in the fall.
"But we found some athletes and convinced them to play. There were some hurdles to get over - you tackle people without pads and get thrown to the ground a lot - but we found ourselves a core group and had a super season."
Rugby for women has been around since the 19th century, though official leagues didn't start until the early 1980s in Europe. The women's U.S. national team began in 1987 and, similar to soccer, is held in higher regard on the world stage than the U.S. men's squad.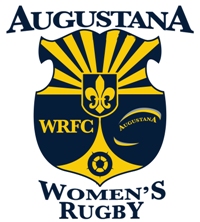 Locally, the University of South Dakota and South Dakota State have fielded women's club teams for years. SDSU, USD and Augie are members of the Great Plains Rugby Football Union and maintain club status at their schools.
What the three share in common - in addition to having to pay most of their own bills - are the sales pitches used to educate and persuade prospective players.
"Some of the people are a little taken aback," USD team captain Mallory Zweber said. "They say, 'Well, I don't know if I could do that.' But we get them to come to a practice, and then we rope them in."
Getting hooked
Among those roped in was Sarah Brandt, an Augustana player from Eyota, Minn. She points out that she enjoys rugby not in spite of the sport's physical nature, but because of it.
Put simply, knocking people down can be fun.
"The best part of this game is the tackling," Brandt says. "I don't think my folks quite understood why I was interested in playing at first - you just can't understand this game until you watch it or play it - but I think they like seeing the games now. Maybe not my mom so much, but they know how I am."
SDSU club president Ema Althoff heard about rugby through Facebook, went to a practice and got hooked right away. She became the club's vice president the first year and has been one of the team's leaders ever since.
"I made a tackle and it was like, 'Oh my God - I want to do that again,' " Althoff said. "But nobody is out to hurt anybody. The next day I had some awesome bruises on my legs, so that was pretty wicked. Wicked in a good way."
USD's Zweber was encouraged to check the Internet for rugby footage, the thought being that it would help her get a feel for the game.
"It was a good idea," she says. "But if you watch rugby on the Internet, pretty soon you see something like 'Worst Rugby Tackles Ever' and click on that. Then you start wondering what you're getting into."
Full contact
Of course, rugby is a sport that a lot of men - men who played a collision sport like football for years - wouldn't even think of playing. So recruiting for women's teams definitely has its challenges.
"We hand out a bunch of flyers and set up tables around where the students hang out," Zweber said. "Sometimes we'll just see somebody walking by who we think might be a good player and tell them about rugby."
It's not always an easy sell. Some of the sport's realities can be harsh, especially for athletes accustomed to non-contact sports.
"I was in volleyball, cross country and track in high school, and rugby is the most fun of any of sport I've played," said SDSU's Althoff, a Webster native. "Everyone gets to play, you get to play different positions and there is contact and running. If you want to play rugby, there is going to be a spot for you."
Building tradition
Both Zweber and Althoff were effusive in their praise of Froke's efforts to put an Augustana team together. The Augie women took third place in a tournament at Wayne State in their first-ever organized games.
"Last year we absolutely killed them," Althoff said of the Augustana team. "This year it was a real good game. Krista has built it up and done a great job getting them going."
Five of Augustana's present players had played rugby prior to the team's first tournament. One was Tina Nagel, who played on a club team in Faribault, Minn., in high school.
Though her inclinations as a freshman were to keep quiet, Nagel realized quickly she could help pass along some knowledge.
"There are a lot of things you can teach on the practice field, but no one is going to understand why or when to do them until you get into a real game," Nagel says.
"It's a crazy different sport from anything else most of us have played, so you have to trust the advice you get and not have apprehensions about going for it."
Augustana was called "a pretty team" by an opponent last spring, a remark brought up again recently as the women lined up for a team photograph. It was time to live up to that reputation for the photo, though originally it was meant as a put-down.
"The other teams have discovered we aren't afraid to hit hard and get down and dirty," Froke said. "Let's face it, the teams we play do not have a lot of small ladies. We might be going up against a chick who goes 6-foot-3, 270. It has happened. We get called pretty a lot, which means we're sort of small. But we're good at beating them down the field on the outside."
More than a game
The culture of college rugby does not revolve solely around revelry, but it's undeniably part of the appeal. The partying, like the games themselves, can get pretty intense. Players will tell you it's primarily about having a good time with friends - not necessarily drinking.
"We have a lot of players on the team who don't drink at all," Althoff says. "It's not like everyone on the team is drinking and acting ridiculous all the time."
Well, not all the time.
"Every year we go to Wayne State for a tournament and that is a really good time," Althoff adds. "There are a lot of parties and everyone comes home with bruises on their legs, a lot of stories and a lot of new friends - whether you remember their names or not."
Opportunities to get involved in sports that do not demand varsity-level commitment are limited for college-age women.
Though most of the players are being introduced to rugby for the first time, a great percentage were two- or three-sport athletes in high school who saw it all come to a halt when they got to college.
For them, rugby came along at just the right time.
"I had no idea what it was - I didn't even know they played it in America," says Augie's Kelsie Pace, a former four-sport athlete at Elk Point-Jefferson.
"I went to practice not knowing one thing about it. You learn as you go, but the big thing is that you remember how much fun it is to be on a team again."