Augustana Professor Authors Book on 'Economic Dysfunction'
Augustana College today announced that Dr. Robert W. Wright, Nef Family chair of political economy, has authored a new book entitled, "Fubarnomics: A Lighthearted, Serious Look at America's Economic Ills."
The book tackles FUBAR (fouled up beyond all recognition) conditions like bailouts, financial bubbles and collapses, construction, higher education, healthcare and insurance, retirement savings, and slavery and probes the dark recesses of economic dysfunction.
"Every year many billions, perhaps trillions, of dollars are wasted as if used as toilet paper because politicos prefer scoring ideological points over finding and fixing the root causes of FUBAR economic conditions," said Wright. "America's economic ills are not the product of market failures, as those on the Left insist, nor of government failures, as those on the Right proclaim. Rather, they are caused by hybrid failures, or combinations of government and market failures allowed to fester for decades. This book carefully unravels those failures and points to new, fresh policy alternatives that could help to solve some of the nation's deepest economic problems."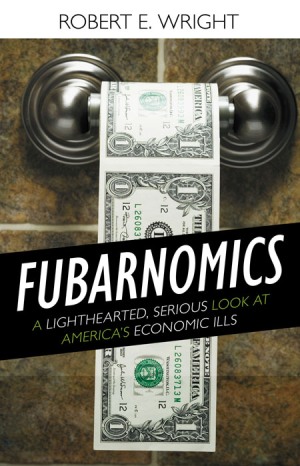 Dr. Wright received his bachelor's degree in history from Buffalo State College in 1990, his master's degree in history from State University of New York at Buffalo in 1994, and his PhD from SUNY at Buffalo in 1997. Before coming to Augustana, Dr. Wright served as Clinical Associate Professor of Economics at the Stern School of Business, New York University. He was also a guest curator for the Museum of American Finance. Dr. Wright has written for Barron's, The Chronicle of Higher Education, Forbes.com, and has authored numerous books. He has appeared on National Public Radio, C-SPAN, and BBC.
Read more about Dr. Wright's views on the economy at The Daily Caller, All Financial Matters and the Argus Leader.