Rob Oliver Editorial Says No Need to Go Away to Do Research
No need to go away to do research
Rob C. Oliver, Augustana College
Published in Argus Leader July 11, 2010
I would like to commend the Argus Leader for its recent thoughtful and informative series of articles on the state of scientific research initiatives in Sioux Falls and throughout South Dakota.
I agree with the overall message provided by economic experts: As a state, we must do more to encourage research activities here. Doing so will add the competitive, high-paying jobs we need to power and grow our local economies.
The articles referenced activities at many of the state's publicly funded state universities. However, I feel compelled to inform readers about the extensive research initiatives that also take place at Augustana College. These projects are choreographed by faculty members, conducted by students with oversight by mentors and have a tremendous impact on our state.
Augustana has been active in research for more than 40 years, and since 2005, the number of undergraduate students participating in scientific research has almost doubled. In 2009, more than 60 Augustana students contributed to biology, chemistry, biomedical and physics-focused research projects led by our faculty members and mentors at partner institutions and funded by institutional grants from agencies such as the South Dakota Biomedical Research Infrastructure Network program, which is funded by the National Institutes of Health through the Sanford School of Medicine at the University of South Dakota.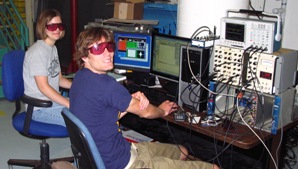 In addition, our students have participated in research initiatives supported by the South Dakota Space Grant, which has funded research at the Sanford Underground Science and Engineering Lab in Lead; the Northern Plains Undergraduate Research Center; the National Science Foundation; the United States Department of Agriculture; NASA; and many others.
This summer, a number of Augustana students will partake in research projects in conjunction with the Sanford Program for Undergraduate Research, a medical scientific exploration conducted on behalf of the Sanford Children's Hospital in Sioux Falls. Our students also participate in research programs mentored specifically by scientists at the Avera Research Institute and Sanford Research.
Augustana is a net importer of intellectual capital to South Dakota. While the majority of Augustana students come from out of state, most of our graduates stay here, adding to the talented reservoir of professionals who contribute to South Dakota's economy. Many students from outside the state come to Augustana because of the extensive research opportunities available to our undergraduates. Thanks to our exceptional faculty and low student-to-professor ratios, our students have the chance to conduct research alongside our faculty scientists as early as their freshman year.
One example of research success is Mike Amolins, a 2003 Lincoln High School graduate who came to Augustana after taking AP chemistry from Gene Erickson, a retired LHS science teacher and 1955 Augustana graduate. While here, Amolins conducted environmental and medical research each year as an undergraduate, presenting his findings at scientific seminars from San Diego to Venice, Italy. As a sophomore, he was accepted into the research program at Argonne National Labs, where he helped to develop hydrogen-powered fuel cells for the auto industry. He went on to the University of Kansas and received his master's degree in medicinal chemistry.
Then, he came back to South Dakota. After receiving his teaching certificate, Amolins took a job teaching chemistry and physics at Harrisburg High School. He says he came back because Sioux Falls, and Augustana, are offering him the best of both worlds: the chance to inspire students and conduct research. This summer, Amolins is researching cancer chemotherapeutics at Augustana through an initiative funded by the South Dakota Biomedical Research Infrastructure Network.
As parents, mentors, educators and fellow citizens, we need to do all we can to convey to the young people of our region that they don't need to go away to go far in scientific research. The possibilities right here are numerous.