Riddle, Brooks Win Augie Pride Awards
Associate Dean of Students Tracy Riddle and Office of Admission Coordinator Marsha Brooks received "Augie Pride" awards at the Augustana Service Awards Presentation and Celebration yesterday.
The "Augie Pride" award recognizes exceptional service. Since 1999, 16 "Augie Pride" awards have been presented.
Since assuming her position in 1990, Riddle has been charged with leading the College's residence life program. She also works with Dining Services, Volunteer Services and Campus Safety (security) programs.
Brooks joined Augustana in 1986 and is responsible for coordinating documents and correspondence for students and parents related to the college admission process.

The event also honored members of the Augustana community who will retire after this academic year:
Dr. Joan Bacon, associate professor of Education
Dr. Margot Nelson, professor of Nursing
Dr. Michael Nedelsky, associate professor of Psychology
Dr. Val Olness, associate professor of Biology and Science Education
Peg Jorgensen, Buildings and Grounds
Bob Lewis, Telecommunications
Carole Jensen, Student Services
Milestone service awards were also presented: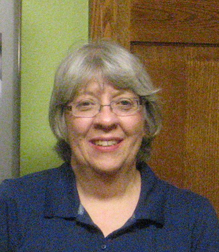 10 YEARS

Beth Boyens, English/Jounalism
Patty Eiesland, Business Office
Patty Grinsell, Student Services
Adam Heinitz Admission
Gene Klein, Buildings and Grounds
Mary Toso, Development
Jaci Vande Kamp, Campus Safety
15 YEARS
Kathy Castle, Madsen Center Division Office
Kathleen Christensen, Library,
Dr. Scott Fish, Modern Foreign Languages
Joy Griesse, Performing and Visual Arts
Dale Iverson, Buildings and Grounds
Belinda Kaffar, Education
Gene Lambert, Buildings and Grounds
Dr. Reynold Nesiba, Economics
John Peters, Performing and Visual Arts
Bob Preloger, Marketing & Communications
Carol Spillum, Business Office
Dr. Dan Swets, Computer Science
20 YEARS
Jon Eng, Athletic Development
Dr. Marcia Entwistle, Business Administration
Dr. Ann Pederson, Religion/Philosophy/Classics
Dr. Tim Sorenson, Mathematics
Cheryl Swanson, Information Technology Services
Dr. Richard Swanson, Religion/Philosophy/Classics
25 YEARS
Ron Andersh, Natural Sciences
Dr. Jim Bies, Student Services
Susan Bies, Academic Support Services
Marsha Brooks, Admission
Deb Hagemeier, Library
Dr. Steve Shum, Computer Science
Jay Smith, Mathematics
30 YEARS

Dr. Richard Bowman, Religion/Philosophy/Classics
Cheryl Holzapfel, Natural Science Division
Otto Schneider, Central Services
40 YEARS
Dr. Michael Nedelsky, Psychology
Dr. Margot Nelson, Nursing
Gerrie Sneller, Business Office
50 YEARS
Sharon Neish, Registrar's Office