In the News: Alumna Mary Hart Signs Off From 'Entertainment Tonight'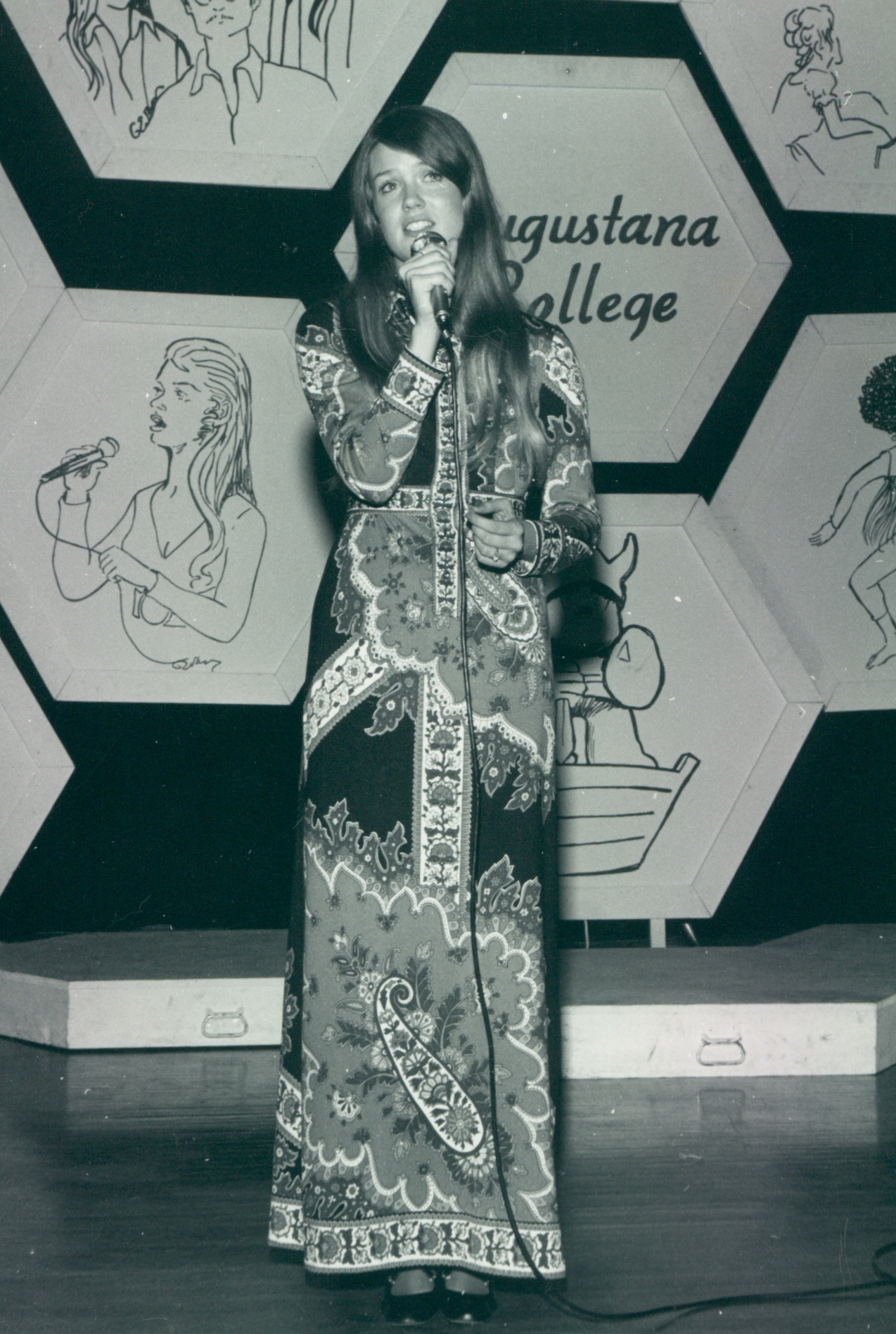 Mary Hart, Augustana class of 1972, is best known for interviewing thousands of actors during her 29 years as co-host of "Entertainment Tonight."
Hart goes on air for the last time on Friday, May 20.
The following story chronicling Hart's life and career appears in the Thursday, May 19, issue of the Argus Leader:
End of era for Mary Hart: S.D. girl turned TV host
By Jill Callison, Argus Leader
Jan Grevlos and her older sister were playing with a friend one day in Sioux Falls when the trio began speculating on what the future might hold.
More than 50 years later, Grevlos - now Jan Noer of Aberdeen - still remembers her 8-year-old friend's goals.
"Mary said, 'I'm going to be an actress,' " Noer recalled this week. "That was the world she wanted and she loved."
As a college student, that girl did go on to act in "The Rainmaker" at the Sioux Falls Community Playhouse.
But today Mary Hart is better known for the thousands of actors she has interviewed during her 29 years as co-host of "Entertainment Tonight."
Hart, who joined the show in 1982 as a correspondent, goes on air for the last time today. Her show airs at 6:30 p.m. on KELO. The Argus Leader requested an interview with Hart, but her staff said she didn't have time in her schedule.
"E.T." was the first weekday syndicated show devoted solely to entertainment news and has remained at the top of the ratings as similar shows have come along.
Weighing the future
Hart, 60, has worked with five male co-hosts, most notably John Tesh and currently Mark Steines. Nancy O'Dell will replace her.
"I'd been thinking about this for a very long time knowing it would be difficult, and it is difficult," Hart told David Baude of The Associated Press. "It's a very strange feeling knowing that I'm doing a final show and actually saying goodbye on the air. It makes me very emotional at times."
Hart said she never intended to be on the show that long but liked the job and the people with whom she worked.
Now, she said, "If I want to do something else, I have to do it now. I can't wait." She's not sure what she'll do – it might include television, it might not.
"When I look back and see the preponderance of reality TV and all these types of shows, it makes me think I don't want to be in television anymore," she said.
Two of the stories that stuck with Hart through the years would have been perfect fodder for "Entertainment Tonight:" her million-dollar legs and the odd 1991 incident where a medical journal reported that Hart's voice triggered seizures in an epileptic woman, which inspired a "Seinfeld" episode.
Hart apparently last visited Sioux Falls in 2005 when the Canaries baseball team gave out 1,000 bobbleheads with her image.
But her ties to Sioux Falls and South Dakota are strong. Hart graduated from Augustana College in 1972, taught at Washington High School for two years and started a show on local television.
Augustana ties
Her parents, Robert and Dorothy Harum, also attended Augustana, and although Robert Harum's job with a farm machinery company took him overseas, they returned to the state often.
That's how Noer first met Hart.
"They lived overseas, but they'd always come back to Sioux Falls, and we'd get together for picnics," Noer says.
"We grew up being friends, then we got to be really good friends at Augie. When she was Miss South Dakota, I got to go with her to several places."
In real life, Hart is the person you see on television, Noer says: self-confident, friendly, charismatic.
"People just wanted to be around her," Noer says.
Jean (Murphy) Colon met Hart when they lived in Augustana's Tuve Hall their freshman year.
"We would just enjoy goofing around and talking," said Colon of Sioux Falls.
"Sometimes if her roommate was gone, we'd get together and just enjoy a Friday night or whatever. Then the next day, we'd get up on a Saturday morning, and she'd look just gorgeous."
Hart's success never surprised Colon, who also is retiring this month after teaching middle school.
"She was motivated, and she was smart," Colon says.
Colon watched a recent episode of "Entertainment Tonight" when actor Mark Harmon presented Hart with a pair of baseball pants he had worn the first time they met.
"It's kind of funny comparing our retirements," Colon says. "She's been among the stars, and I've been teaching kids to reach for them. She's a great girl, and I just wish her to have as much fun as she's had the past 29 years."
Meeting Mary
Pam Miller met Hart in 2003. At the time, Miller worked as Augustana's development director, and she traveled to the "E.T." set.
"Meeting Mary was one of the best experiences of my time at Augie," Miller says.
"What impressed me right away was her warmth and her crazy enthusiasm for everything she's involved in, whether it be the show or (her son) AJ's activities or a local charity she was helping out or her affection for Augustana."
Miller calls Hart "the epitome of the South Dakota girl."
Robert and Dorothy Harum now live in California near their daughter, Miller says. It is a close family, one that enjoys traveling together.
Miller also was impressed by the love that Hart's staff and the "E.T." crew showed for her.
"The way she interacts with them, she knows their families, where they've recently been on vacation, she knows these people and they all love her," Miller says.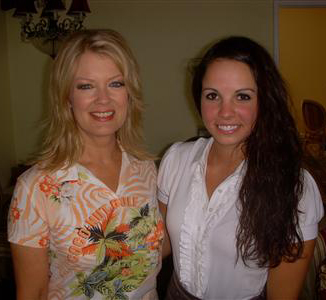 'The nicest lady'
Kelly Nyberg (pictured at right) met Hart in 2009 when Nyberg finished her coursework at Augustana and headed to Los Angeles for a three-month internship at "E.T."
Hart invited Nyberg to her office to answer questions about the entertainment news industry.
Nyberg, who is involved in acting, hopes someday to have a job like Hart's.
"I was an intern, and she was taking an hour to sit there and speak with me and give advice on how to get my career started," Nyberg said. "It was awesome of her."
Nyberg, a Sioux Falls native, started watching "Entertainment Tonight" in high school. Knowing Hart had attended Augustana created a connection between co-host and fan.
"She's the nicest lady and provided so much help and advice," Nyberg says.
In a 2009 blog entry, Nyberg wrote about meeting Hart for the first time:
"Okay....so I have been waiting all summer to meet Mary Hart and today was the day! Finally!"
"I got to meet with her for about 20-30 minutes in her bungalow! Just her and I. She is SO nice. She said it was really too bad I wasn't able to meet her earlier in the summer, since my internship was about done. She mentioned I should have just stopped by to say hello, but in my intern packet it strictly says not to approach the talent. She also said that she would have loved to have met with my family as well as they were here. I wish I could have met her earlier to have more chances to interact with her!"
"Mary gave me advice on my career goals - getting a job on-camera in the entertainment news industry. She recommended going somewhere like Sioux Falls to begin, not Los Angeles. We discussed Augie a little bit and I was able to get a good picture with her. It was just so easy to talk to her! She is such a sweetheart."