$900,000 Renovation of Granskou Hall Nearly Complete
As summer break draws to a close, a $900,000 project to renovate and refurbish rooms inside Augustana's Granskou Residence Hall is nearly complete.
Named for Rev. Dr. Clemens Granskou, Augustana's 14th president, the eight-story residence hall houses primarily sophomores and juniors and was originally dedicated in 1969. Its sister facility, Stavig Hall, named for Dr. Lawrence Stavig, the College's 15th president, is slated for renovation in 2012.
When students return to Granskou Hall in the fall, they'll find freshly painted rooms with new carpet and drapes. Each room also features a new, modern modular furniture design that includes two loft-style beds, two desks, double dressers, wardrobe closets and two upholstered chairs. Designed by RT London, the flexible and easy-to-use design allows for more than 50 different configurations.
"We're excited to welcome our students back into a renovated residence hall and we're looking forward to seeing their excitement at the improvements we've made," said Dr. Jim Bies, Augustana's vice president for student services and dean of students. "From resting to studying to visiting with roommates and friends, students spend a significant amount of time in their rooms. At Augustana, we're committed to making those rooms as comfortable as possible."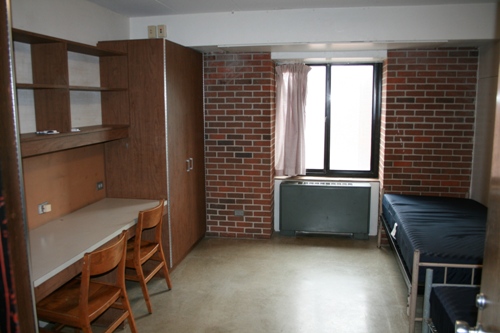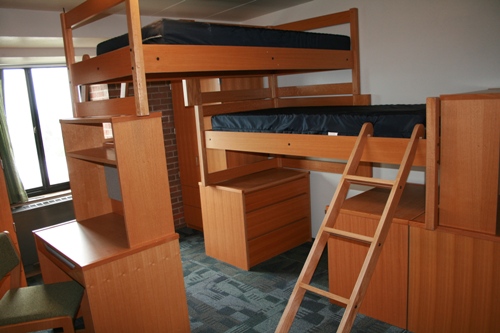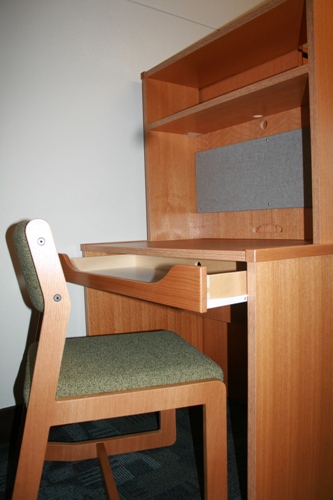 Pre-renovation.                                                   One configuration.                                     A student desk.