Students, Colleagues Pay Tribute to Dr. Daniel Swets
At a memorial service on Wednesday, Dr. Daniel Swets, associate professor and chair of computer science and mathematics, was remembered as a talented scientist and revered teacher who cared deeply about his students, his colleagues and, most of all, his family.
He was the kind of guy who judiciously brought orange juice, donut holes and bananas to every test he gave; a quiet guy who didn't seek recognition for the countless grants he secured; or, for the complex scientific endeavors and research he managed with students at his side.
Dan Swets, his colleagues and friends said, was a professor who was much more than a scholar – he was a teacher who took the time to listen and provide counsel to his students and was committed to helping young people discover the wonder of science.
As president of the South Dakota Robotics Association and a partner at the South Dakota FIRST LEGO League, Swets played a key role in developing the FIRST LEGO League competition in Sioux Falls, part of a larger program called For Inspiration and Recognition of Science and Technology (FIRST). The competition allows middle school students (ages 9-14) to design, build, and program an autonomous robot to earn points for accomplishing prescribed missions on a 4x8 playing field. They also give presentations on research projects where they have tackled a problem and proposed a novel solution.
Funeral Services
11 a.m. on Friday, Dec. 16, at Our Savior's Lutheran Church with burial to follow at Woodlawn Cemetery.

Visitation will be held from Noon to 8 p.m. on Thursday, Dec. 15, with the family present from 6-8 p.m. at Heritage Funeral Home.
Participants must work as a team and be able to articulate what they did and how they accomplished it. The national organization calls it "Sport for the mind."
Swets agreed with that description.
"The basic premise is that if what our culture values and emulates is movie stars and sports heroes, why can't we make science just as cool? That's our basic philosophy. We encourage kids to explore science and engineering through fun, hands-on learning that's driven by competition. It gives kids something to work for, and the tournaments make them feel like rock stars," he said earlier this year.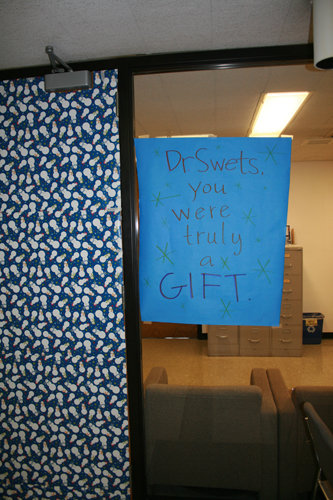 Swets was killed in a plane crash Friday, Dec. 9, near the Sioux Falls Regional Airport. He was 47. Kevin Anderson, Augustana class of 1987; Joshua Lambrecht; and Brian Blake were among the other victims.
Funeral services will begin at 11 a.m. on Friday, Dec. 16, at at Our Savior's Lutheran Church with burial to follow at Woodlawn Cemetery. Visitation will be held from Noon to 8 p.m. on Thursday, Dec. 15, with the family present from 6-8 p.m. at Heritage Funeral Home.
Prior to yesterday's service at the Chapel of Reconciliation, students, friends and colleagues hung tributes near Swets' office inside GSC and shared memories of him via Augustana's Facebook page and by email:
Dr. Ivan Fuller, former chair of the Augustana Performing and Visual Arts Department:
Dan was one of the kindest and most gentle souls I knew at Augustana. When I served with him on the Curriculum Council he made the meetings a place we wanted to be and inspired me to model the same calm in the storm of life's challenges. I ...already missed you, Dan, by my own departure from Augie. I grieve the loss that everyone else now knows and can only hope that others will share the inspiration that was a life well-lived.
Ian Malloy:
I began working with Dr. Swets my last semester at Augie. The inspiration he gave me through his encouragement and praise led to funding from NASA to design AI. Without Dr. Swets, I wouldn't have had the courage to found my company, Malloy Labs Llc., or work in software development. I lost a great friend, mentor, and adviser and I will miss him incredibly.
 
Dr. Mike Nitz, associate professor of Communication Studies:
Dan was a great colleague and friend. He was a blast to teach Capstone with. He really had great ideas to share and we had I thought a good joking relationship. Science was important to him but so was the communication of it. He was immeasurable in his help as Fulbright advisor as well, going above and beyond to give student applicants extra help. More recently, we saw each other a lot at Brandon events.
 
Erin Mangen:
Although I did not know Dan very well, I did have the opportunity to interview him and Kevin for a story I was working on about a week ago during a LEGO league practice round. He was very enthusiastic and excited about the tournament in February. But, most of all, I remember how kind and genuine he was. Augustana, the community and his family lost a great guy.
Joe Murphy, class of 2013:
I'm currently in two classes taught by Dr. Swets, and I can say with utmost certainty that going to class on Tuesday and not having him there will be one of the hardest things I've ever done in my life. Dr. Swets hired me for research this ...summer in the field of satellite imaging and I was in constant contact with him throughout the summer, and continued to talk to him about the research throughout this semester. Not only was he a truly outstanding professor, but after spending a lot of the last six months of my life with him, I can say he was a dear friend that I will miss for the rest of my life.
 
Kayla Vogelsang:
I had Dr. Swets for a geography class last year and I would not have wanted to take that class with anyone else. He never raised his voice when he got frustrated and he was truly interested in helping us learn. He was so passionate about ...what he taught and he gave everything that he had to those classes. Although I only had him for one class, from that one class I learned the importance of patience and what caring about your students really means. He will be very missed at Augustana.
 
Dr. Sherry Feinstein, professor of Education:
Dan was a sweet and gentle man, he was one of the nicest people I ever worked with. When I was trying to get a Fulbright, Dan spent a great deal of time revising my attempts and giving me direct, no non-sense suggestions for improvement - he made the difference. He was a wonderful friend to the education department, he never let anything throw him, always remained calm - what a loss. He will be greatly missed.
 
Tyler Schultz, class of 2013:
Dr. Swets was an incredible man, and an amazing professor. The courses that he taught were not easy, but he knew every bit of information like the back of his hand. If there was a concept or a certain piece of material that was challenging,... he would go above and beyond to make sure that each and every student understood it. Whether it was in class, or outside of class, you could ask a question anytime, and he would always be there to give an answer. I had the opportunity to help Dr. Swets by volunteering at the FIRST Lego League last year, and am planning on volunteering again. He was extremely passionate about this event, because it really helps to foster science and technology in younger children, and because he had a blast working with the kids as well. He was passionate about everything he did, and his passion and kindness will be missed by everyone who was lucky enough to have known him.
 
Catherine Meredyk:
Without Dr. Swets I would have never fallen into the field of Computer Science. He mentored me extensively through most of my time at Augie and got me interested in the field of statistical computing, pushing the boundaries of what a machin...e could "know" about very large data sets at the time. He became a dear friend during those years as well. His quiet passion for technology and his ability to push me exactly in the direction I never knew I always wanted to go while being supportive changed my life; I wouldn't be where I am today without his encouragement and friendship during that time. To say I will miss him is an understatement.
 
Renee Poirier, class of 2012:
I never realized how much I was capable of learning until I had a course with Dr. Swets. That man knew how to exercise our minds when it came to topics of computer science. If he was as physically fit as his brain was mentally fit, he would... put David Beckham to shame. I admired his love for the classes he taught and the people he was teaching it to. Who else would be kind enough to bring donut holes, bananas, and juice to EVERY SINGLE test he ever gave. It will be a challenge to be in his classroom without seeing that bearded smile as he would explain to us the pumping lemma for context-free languages. Dr. Swets, I promise to never reinvent the wheel.
 
Aaron Cusher (and family):
Dr. Swets advised me on my first research project during my senior year at Augie, 2002. I was a computer science major without a lot of direction, and Dr. Swets used his experience to broaden my perspective. He taught me that learning about computers was more than basic activities like programming, and showed me how the skills we learned could be applied on different technical areas. Our research project was invited to be displayed at an event in Washington DC, and Dr. Swets and I attended together. That experience exposed me to a wealth of options I never considered when sitting in the Gilbert Science Center. After college I finished a Ph.D. in engineering and currently work for a research based national laboratory. So much of my progress is because of his inspiration. Dr. Swets was passionate about teaching and developing students, and I'm only one example of many who owe him a great debt of gratitude. God Bless his family and friends who have suffered such a loss. He will be greatly missed.
 
FIRST® – the nonprofit organization that developed and manages the FIRST® LEGO® League (FLL®) program globally:
On behalf of FIRST and FLL, we will truly miss Dan, who took the helm as the official Operational Partner this summer. He was a kind and thoughtful man who helped grow the FLL program in South Dakota since its inception there three years ago. We also know Kevin and Josh were instrumental to Dan's success, and there are now 62 teams in the state thanks largely to their dedication. Although the SD FLL community is reeling from the shock and depth of this loss, it is also determined to carry on the work of these three men to honor their memory.

As we mourn, we will also fondly remember Dan for his passion for sharing his knowledge about science, technology and programming, as well as his outstanding commitment to the children of South Dakota. Our hearts and sympathies go out to his wife and family, to the Anderson and Lambrecht families, and to the FLL community in South Dakota, as well as the family of the pilot who also lost his life in the crash

We greatly appreciate the support you provided to Dan and FLL, and now to his family, colleagues and students who will long remember this kind and giving man.
 
Paul Marshall, class of 2006:
I feel very fortunate that I got to know Dr. Swets over the years I spent at Augustana. One thing that I will always remember is the large collection of books and journals he lent to students as well as the massive amount of computers and devices he kept in his lab. Dr. Swets didn't just encourage students to pursue their own interests, he tried to make sure that he was able to help them with virtually any project, whether it was building robots or clusters, researching artificial intelligence techniques or writing software to process satellite images. His support and enthusiasm is a major reason why I am pursuing a Ph.D. in computer science. He was a remarkable teacher, mentor, and friend who always made time for me and went out of his way to help me achieve my goals; he will be greatly missed.
 
Jonathan Runyan, class of 2008:
Dan Swets and I actually met in the Augustana College Community Band. I played trombone and he was sitting right by me since he played tuba. There was never a rehearsal when we weren't joking back and forth and sharing a laugh. Robyn, Dan, Glenda (Robyn's mom) and I were members of the College Community Band Tour that went to Germany, Poland, and the Czech Republic. As a group we had a great time performing and touring. I really appreciate getting to know Dan through music as well as through computer science. I was a student of Dan's my senior year at Augustana, and he was both personable and knowledgeable. I want to thank Dan for being a mentor to me, and more importantly, for being a great friend.
 
Matthew Stoker:
Dr. Swets was an incredible professor who always went above and beyond the call of duty for his students. The impact Dr. Swets has made on my life is what I can only assume he would do for any student in need. I was on the verge of leaving Augustana College but after going in and talking with Dr. Swets, my faculty advisor, he convinced me that he would make it worth my while to stay. In the summer of 2010 I participated in a summer research project with Dr. Swets.

The experience I gained with Dr. Swets and the recommendation he wrote for me are a direct credit to the successful career I am enjoying today. His strong recommendation and intriguing research project has caught the eye of every potential employer I've had. Dr. Swets helped me get my foot in the door anywhere I've wanted.

My life would be drastically different if I didn't stay at Augustana College. I credit Daniel Swets with being the solution to one of the biggest problems in my young life. My prayers go out to his family, to the Augustana community, and anyone who is suffering due to this loss.
 
Laura (Pfeifer) Vardoulakis, class of 2002:
I am extremely saddened to hear about the loss of Dr. Swets. Dan was my mentor at Augie and a huge influence on my life. I remember my first class that I had with him, Computer Organization (CS 235). It was a notoriously difficult course, but Dan still managed to make it a little fun. I'll never forget a particular assignment for which we needed to draw a complex circuit. Our assignments were done on pencil and paper (back in the day), and the assignment required around 50 logic gates crammed onto the paper, all connected with squiggly, criss-crossing lines. There was no possible way anyone could have made sense of that circuit! I chuckled when I handed it in, and I'm sure Dan chuckled trying to decipher it.

It was Dan's encouragement that led me to explore scientific research. He funded me to work on a research project, invited me out to EROS data center to meet other scientists, and even brought me and other students along to the scientists' monthly happy hours. These events seemed small to me at the time, but they weren't. He opened up the world of research to his students. His encouragement made me realize that a scientific career wasn't something out of my reach, on the contrary, he showed me that it was something I could enjoy and even be a career where I could thrive.

This summer, I will be completing my PhD in Computer Science. I was already thinking about the email that I would send to Dan and the other CS faculty, with my dissertation attached, thanking them for all of their support and expressing how it was really their encouragement during the early years that got me to where I am today. I'm so saddened that I'll never be able to send that email to Dan and express how much he influenced me. I only hope that I can provide the same level of encouragement to young students.

Dan, you will be missed.
PS: Dan, I installed a new graphics card in my computer today and it took me about 60 seconds - I knew what I was doing because of you.
 
Dr. Mark Hallenbeck, associate professor of education:
Dan Swets was a wonderful friend and dedicated colleague. What more could anyone ask to be said of him? He was the kind of guy who would roll up his sleeves and work on whatever needed to be done, with no need for fanfare. But I think I will most remember – and miss – Dan's quick, dry wit. His understated asides were always welcome during committee reports at faculty meetings. As a dedicated Michigan State Spartan football fan, he coined a phrase that continues to resonate during our annual Michigan State-Notre Dame game watch parties whenever an MSU defensive back is called for pass interference: "Aw, he was just trying to get better acquainted!" Many of our elementary education majors were fortunate to have Dan in class. Today I shared two tributes to Dan in all my classes because, for me, they articulate much more eloquently than I possibly could his dedication to his work and his humble commitment to his fellow man: Jackson Browne's "Alive in the World" ("I want to live in the world, not inside my head; I want to live in the world, I want to stand and be counted with the hopeful and the willing, with the open and the strong... I want to live in the world, not behind some wall; I want to live in the world, where I will hear if another voice should call...") and the poem "To Be of Use," by Marge Piercy ("The people I love the best jump into work head first without dallying in the shallows and swim off with sure strokes almost out of sight... I want to be with people who submerge in the task, who go into the fields to harvest and work in a row and pass the bags along, who stand in the line and haul in their places, who are not parlor generals and field deserters but move in a common rhythm when the food must come in or the fire be put out..."). From now on, when I think of the Core Values of Augustana College, I will think of my friend and colleague Dan Swets. It won't be the same without you, Dan.
Dr. Robert E. Wright, Nef Family chair of political economy:
Dan was my tenure mentor ... very generous with his time and advice. He will be missed for a very, very long time.
 
Laura Mullen:
Dan Swets and Kevin Anderson gave my 12 year old son the gift of self confidence and the opportunity to be a part of a team. I will always be grateful to them for their efforts with First Lego League. They truly made a difference in our lives and they will be greatly missed.
Jared Soundy, class of 2012, eulogized Swets at the Augustana memorial service. His message follows:
Before I begin, I have a short announcement. Dr. Swets brought orange juice, donut holes, and bananas to every test. So in honor of him, there will be orange juice, donut holes, bananas, and a mandatory theory of computation final in the foyer after the service.
I first heard of the accident while on a double date last Friday night at Grille 26. Since then the second to last line of George MacDonald's book, Phantastes, has been steadily repeating in my head. It has continually brought me comfort, and I'd like to share it with you:
"Yet I know that good is coming to me – that good is always coming; though few have at all times the simplicity and the courage to believe it."
I find this line fitting, because as I look back on Dr. Swet's life, I see not only all of the good that he has done, but the countless seeds that he has planted and the good that will be coming from those seeds. This speech is not so much about the overwhelming impact that Dr. Swets made when he was alive, but rather it is about the much greater impact that he will continue to make through us: his students, both middle-schoolers and Vikings; his colleagues and his friends; and most importantly his family.
There is an article on Keloland about the South Dakota Lego robotics league continuing with events as planned last Saturday. I know that this is exactly what Dr. Swets would want. Dr. Swets strived to make us innovators, those who would use technology to change the world. Every class was filled with a life lesson and a fantastic story, such as how the software went buggy while the space shuttle was in orbit and they wrote a patch for it in 30 minutes. "And that's why you always clean up the cache after you're done using it," he would say.
Circuits and algorithms were only a fraction of what he imparted to his students. He was a genuinely loving and caring man, and he brought those qualities out in those around him as well. I made some of my closest friendships while in his Computer Organization class. Even though I had taken multiple classes with these individuals before, it was not until his class that we bonded over circuits and really bad-tasting coffee.
The Lego robotic league in many ways characterizes Dr. Swet's personal philosophy of not just using what we have been gifted with for our own success, but investing our gifts in something that will make a difference. I remember talking to him about career choices, and he said to me, "Jared you have a gift. Now you could use that gift to do what is comfortable, and you'd probably do well at it. Or you go down a path that nobody has walked down before, and then others could follow you."
When I think of what Dr. Swets has done I know that good is coming – that good is always coming; though few have at all times the simplicity and the courage to believe it.
Fellow students, faculty, and staff, family and friends, I ask that in memory of Dr. Swets we make a difference, that's what he would want.
Dr. Daniel Lee Swets
Dr. Swets was born Sept. 1, 1964, in Chicago Ill., to Kenneth and Rosemary (Engbers) Swets. He grew up and attended school in Holland, Michigan, graduating from Holland Christian School in 1982.
He received his bachelor's degree in com­puter science from Calvin College, Grand Rapids, Mich., in 1986. He received the M.S. and Ph.D. degrees in computer sci­ence from Michigan State University, East Lansing, Mich., in 1991 and 1996, respectively.
Since 1983, he had been a computer consul­tant to the small business community. From 1986-1987, he was employed as a software engineer at Rockwell International, Downey, Calif., on the Space Shuttle Orbiter Backup Flight System. From 1987-1992, he was an aerospace soft­ware engineer at Smiths Industries, Grand Rapids, working on embedded software for flight systems and ground station soft­ware. From 1990-1991, he was an instructor at the Grand Rapids Community College and at Grand Valley State University, Allendale, Mich. He was an Ameritech Fellow at Michigan State University, East Lansing, from 1994-1995, while pursuing his Ph.D. degree.
His graduate research encompassed facial rec­ognition software, insti­gating a new approach to image processing, a project that eventually led to a real-time face recognition program in use after the attacks on 9/11. Throughout his career, Dan worked on a variety of projects. His most notable successes were his work with the defense depart­ment and NASA, working on the guidance system of Marine One as well as the braking system of the Space Shuttle Orbiter.
He served as the as­sociate director for the NASA South Dakota Space Grant Consortium and was chair of the NASA EPSCoR Steering Committee in South Dakota.
At Augustana, where he was a computer science professor for 16 years, Swets taught the hardware sequence for computer science majors and was responsible for many of the upper-level electives in the department, such as Graphics, Networks, and Parallel Processing. His current research interests included algorithm development for remote sensing, computer vision, content-based image retrieval, computer graphics, virtual reality and robotics. His passion for education
A true renaissance man, Swets also loved music, playing in the Augustana College Community Band for six years.
He is survived by his wife Robyn; children Joseph, 20; Kira, 18; Megan, 14; and Benjamin, 1; his parents, Kenneth and Rosemary Swets; and siblings Keith, Paul, Lynn, Mark, and Beth.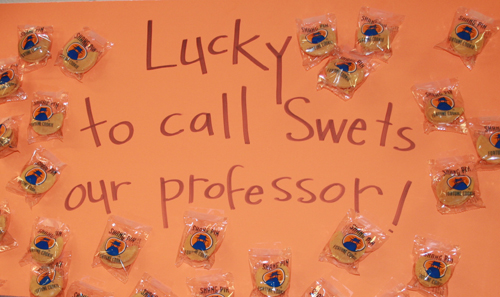 ---
Kelly Sprecher
Communications & Media Relations
605.274.5526