Augustana Baseball Field Project Receives Naming Gift From Alumnus
A major gift from Augustana alumnus Don Karras and his wife Donna will name the soon-to-be renovated baseball stadium on campus, Augustana President Rob Oliver and Director of Athletics Bill Gross announced Tuesday.
Karras Park will feature a new grandstand, press box, dugouts, suite, back stop and netting system.  The addition of field lighting is also under evaluation.
The playing surface of the facility will retain the original Ronken Field namesake.
"The great poet and writer Walt Whitman once said, 'I see great things in baseball. It's our game – the American game.' Whether it's the smell of the grass or the feel of a worn leather glove, we all remember those magical moments that can only happen at the ballpark; baseball is the quintessential American game, indeed,'" said Rob Oliver, president. "We will be forever grateful to Don Karras and his family for this generous investment in Augustana's baseball program and we look forward to gathering with the campus and greater Sioux Falls community to watch the first pitch at the new Karras Park."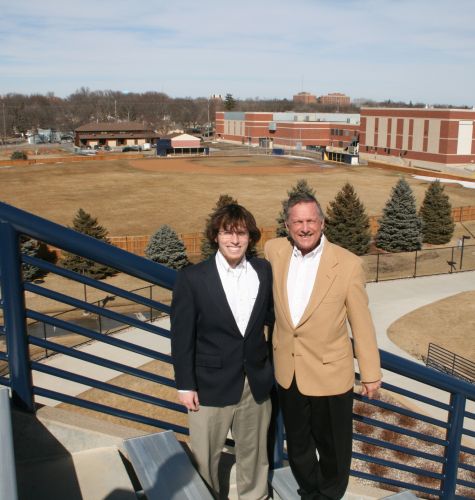 The gift is part of the baseball program's "Step Up to the Plate" field renovation project, which was sparked by a lead gift from Lee "Goldy" Goldammer in October.  Goldammer's contribution will provide a synthetic turf surface for the infield of the venue.
Karras, a business administration and economics major, is a 1976 graduate of Augustana.  He went on to earn a master's of business administration degree and law degree from the University of South Dakota in 1980 and 1981, respectively.
A native of Sioux Falls, Karras pulled double duty in athletics and the arts while a student at Augustana.  He was on the baseball team in 1973 and 1975 and was a member of The Augustana Choir from 1972 to 1976 during semesters in which he wasn't playing baseball.
Karras served as vice president of Newmont Mining Corporation from 1992 until his retirement in 2006.  He is currently active in men's senior baseball in Colorado and South Dakota.
Said Karras: "I am very pleased to help Augustana with this exciting renovation and expansion of Ronken Field. I have fond memories of my undergraduate years and playing days as a Viking. Baseball has always been the quintessential American pastime and still is among my life's great passions. I am thrilled to know that Karras Park will offer past and present Vikings, new prospects and baseball junkies everywhere an unequalled playing venue and new baseball home. It's a great day to be a Viking!"
Karras resides in Denver, Colo., and Keystone, S.D., with his wife, Donna.  They have two sons, Dane, 26, and Dillon, 23.
Dillon was a member of the Augustana baseball team in 2007 before joining the tennis team from 2008 to 2010.  He graduated from Augustana in 2010 with majors in business administration and sports management and is currently a student at the USD School of Law.
"This is another magnificent gift to Augustana from the Karras family," Gross said.  "Don, Donna and their family are making a major impact in providing improved facilities which will benefit our Augustana baseball student-athletes, fans and the Sioux Falls community for years to come. We extend a sincere thank you from the bottom of our hearts to the Karras family for this outstanding contribution."
The dedication of Ronken Field on April 17, 1993, provided Augustana with its first, on-campus baseball diamond.  An estate gift from Maurus and Anna Ronken in June 1992 provided the lead gift for construction of the facility.
"Don is a great baseball guy and yet another example of the excellent support we have received for this project," said head baseball coach Tim Huber. "With Goldy kicking us off and now Don stepping up in a major way, we are getting much closer to where we hope to be at the end of this project.  I'd like to extend a thank you to all the alumni, parents and friends of the program who have contributed so far."
Pictured Above: Dillon Karras (Augustana, 2010) and Don Karras (Augustana, 1976) both spent time on the Augustana baseball team as students at the College.