Henke Receives Harold Spitznagel Medal for Achievement in Art
Senior art major Allison Henke (Luverne, Minn.) has been awarded the prestigious Harold Spitznagel Medal for Achievement in Art, the highest award presented by the Augustana Art Department to student-artists who demonstrate the highest standards of excellence in all their artistic endeavors throughout their Augustana careers. The award, which was presented earlier tonight during the opening reception for the 2012 Senior Art Show in the Eide/Dalrymple Gallery, is only bestowed occasionally and has not been given since 2007. 
During her time at Augustana, Henke, an art major and psychology minor, completed a 350-hour art therapy internship at Sanford Health. As an artist-in-residence, she interviewed patients and caregivers at the Sanford Cancer Center and collected their "Victory Words and Stories" for the first-ever Sanford patient-artist collaboration titled "What Words Can Say."
In December 2011, patients, caregivers and the public were invited to watch artists-in-residence create art inspired from an assigned "Victory Word" in an attempt to reveal the beauty of each personal journey.
Henke is also involved with the "Bottles of Hope" program at the Sanford Cancer Center and assists in the creation of bottles with patients and public volunteer at Sanford Health.
During her Augustana career, she also competed on the Augustana track team, earning Academic All Conference honors in 2010. She also worked for several years at the Eide/Dalrymple Gallery, where she impressed faculty members by always being upbeat and willing to take on any tasks given.  
"Allison has progressed light years from her freshman to her senior year in understanding and executing complex formal relationships. The spatial effects and movement of her more recent paintings achieved, in part, through her overlapping of shapes, is outstanding. However, what makes her work truly exceptional is its emotional content. Her work elicits a gut, visceral response. Allison literally throws herself into her paintings – after only a few minutes of beginning a work, her hands are covered in paint. This abandoned manner of working is very courageous. Allison's growth as an artist has been marked by her willingness to take risks. Even as a beginning painter she would impress with her ability to work spontaneously," said Tom Shields, Augustana Painting professor.
"I am continually impressed with her insights and how she can articulate the principles of organization in visual art. Through her dedicated work ethic and willingness to try different approaches, she has turned into a very fine artist."
The members of the Art Department count Henke's internship at Sanford Health as an experience that helped transform her artwork: heightening its emotional qualities and deepening her formal investigations. In addition, the internship led her to take new risks in her style and techniques. But, more importantly, the Department said, her artwork has transformed others. 
Henke wrote the following after working with a patient:
"Ona is a little girl diagnosed with cancer. She receives radiation at the Cancer Center regularly; Ona sits silently in the lobby with wide eyes and a numbed expression. I am an artist in residence at the hospital. I am working in the lobby and invite Ona to paint. She hides behind her mother's leg. I make a big stroke on the canvas; showing her it doesn't have to be perfect. Ona takes a paint brush and holds her mother's hand as she paints her name. I ask what she would like to draw. She wants a yellow castle with a horse that eats lollypops. I give her yellow paint and she lets go of her mother's hand. She wants more colors and bigger brushes. Ona begins to laugh as her story unfolds on canvas. Now, her name is hidden beneath layers of paint. She is transformed just like the white canvas."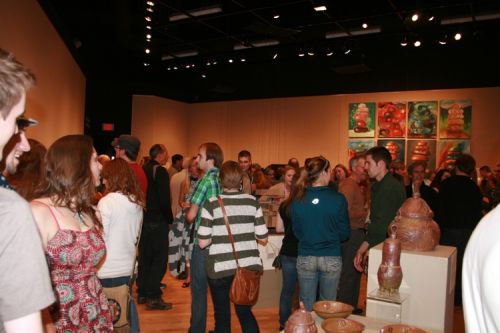 The opening reception for the 2012 Senior Art Show in the Eide/Dalrymple Gallery.