Augustana Students Conduct Scientific Research Nationwide
This summer, senior Kelly Wong, a biology and modern foreign languages major from Custer, S.D., is completing an internship related to neuro-imaging in multiple sclerosis (MS) at Massachusetts General Hospital in conjunction with Harvard Medical School. Working alongside Dr. Eric Klawiter, Augustana class of 2000 and an assistant neurologist who specializes in MS and related diseases, she's investigating multiple sclerosis' effect on the relationship between white matter pathways and functional connectivity in the brain. In addition to working in the lab, Wong also helps set up and observe MRIs for clinical trials, is helping populate a database for MS, and is receiving training to help administer neuropsych tests to subjects.
Nineteen-hundred miles away, another Augustana student, senior Carl Hjelmen, a biology major from Garretson, S.D., is working on biomedical research related to genome sizes at Texas A&M University in College Station, Texas.

Wong and Hjelmen are just two of 69 Augustana students who are spending the summer conducting scientific and biomedical research and/or completing internships or volunteer positions at facilities throughout the U.S. as part of the College's Summer Research Program, an initiative that places undergraduates in the field at laboratories, hospitals and study tanks throughout the U.S.
"Without question, students learn through classroom discussion, reading, papers and exams," said Rob Oliver, president. "Yet, at Augustana, we believe in another type of learning — one where students immerse themselves in their subject matter, engage in hands-on practice, explore, discover and learn for themselves. Such is the case with our Undergraduate Summer Research Program, an initiative that enables our students to work in real time alongside faculty mentors, health professionals and research scientists and offers invaluable personal, intellectual and professional experience."
Following is a list of the participating students and, where available, their mentor/advisor, project funding,  location and description of the research:
Learn More

Listen to Dr. Mark Larson, associate professor of Biology, discuss Augustana's Summer Research Program on South Dakota Public Broadcasting's "Innovation."
Upcoming Summer Research Presentations

July 18: Presentations on "Blood Vessel Stenting" by Jessie Huff, class of 2013 (mentor Karen Munger), and "Fatty Acid Interactions Leading to Potential Heart-Renal Failure" by Miranda Lommen, class of 2014 (mentor Greg Shearer).
July 25: Presentations on "Cancer and Immune System Cell Interactions" by Jessica Johnson, class of 2014 (mentor Jenny Gubbels), and "Protein Interactions Involved in Neurodevelopment" by Samuel Evenson, class of 2013 (mentor Jill Weimer).
Aug 1: Presentations on "Plant Stress Responses to Methane" by Dane Rasmussen, class of 2013 (mentor Steve Matzner), and "Oxidative Regulation in Lung Development" by Chanesse Schaefer, class of 2013 (mentor Pete Vitiello).

Presentations begin at Noon in room 100 of the Gilbert Science Center.
Internships and Volunteer Positions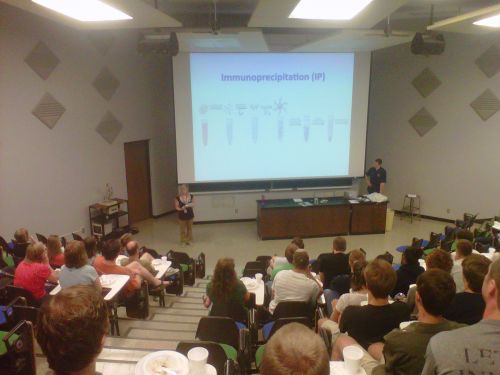 RESEARCH LUNCHEONS: Throughout the summer, undergraduate researchers have presented their findings over lunch inside Augustana's Gilbert Science Center. College officials estimate each luncheon's attendance at 80-100 students, faculty members, area scientists and health professionals. In this photo, junior Emily Grandprey (left) and junior Brennan Olson (right) discuss their research on "Novel Protein Interactions in Cancer Cells" during a lunch-time presentation on Wednesday, July 11, 2012.