Vice Admiral Lyle Bien to Grads: 'Nurture Your Conscience'
It was a Saturday afternoon and my almost four-year-old son was in his Batman costume, pretending to fly from one room to another, when I asked him to tell me about superheroes.
"Superheroes are strong, and brave," he said, holding his arms up. "They wear uniforms with capes so they can fight the bad guys and save people. And they have special names, like Batman," he said pointing at the yellow and black "bat" emblem on his chest.
"Superheroes are the good guys," he said, thinking for a minute.  "And most of them can fly."
So then it's true, I thought to myself.
* * *
This is the story of a kid from the tiny town of Veblen, S.D., who went to college thinking he might want to be a pastor. Instead, after graduation, he answered America's call to serve and spent the next three decades protecting and defending her from the bad guys.
Commencement Remarks

Read the transcript of Vice Admiral Lyle Bien's remarks at the 2012 Commencement ceremony.
His uniform is decorated with distinguished stars and stripes. He goes by a special name, too. He doesn't have a cape but he can fly. And he is, without question, one of the good guys.
This is the story of Lyle Bien, class of 1967, a real-life superhero.
1967
Bien grew up as one of seven kids on a cattle ranch outside of Veblen in northeastern South Dakota. After his father died during Bien's sophomore year in high school, he helped his mother and siblings run the ranch before coming to Augustana intent on becoming a pastor.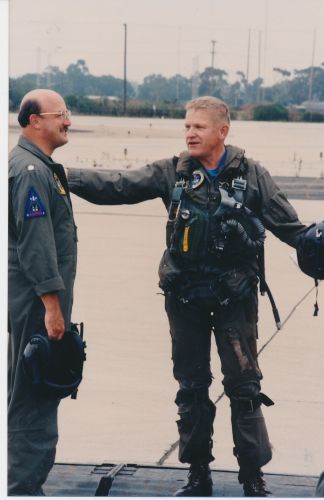 With his studies underway, Bien ended up changing course and switched his major to biology. His plan was to learn all he could about plants and animals in order to return to his family's ranch and make the operation even better. He also had thoughts of becoming a veterinarian.
Six months before graduation, with the Vietnam War raging overseas, he received a letter. The letter. He'd been drafted.
He wasn't surprised. And, he wasn't scared, either.
"The reality was, the nation was at war. In 1967, it wasn't such an unpopular war yet. America was asking her young men to help. If you were able-bodied, it was nearly a certainty that you were going to end up in Vietnam. And really, when you're 22 and single, you're bullet proof, right? The prospects of war – the horrors of war – they didn't factor in that much. [In my mind] that was happening to someone else."
What happened next would shape the rest of his life.
"I always had a fascination with airplanes so I thought well, maybe I could do that – fly an airplane."
He went to the military recruitment office in Sioux Falls and quickly noticed a very large poster of an F-4 Phantom hanging on the wall – at the time the U.S. Navy's premier fighter aircraft. Bien pointed to the poster and told the recruiter, "I want to do that."
The recruiter looked skeptical.
"He looked at me and said, 'well, that's great, but flight training isn't a guarantee. Of those that make it, only a small percentage get jets. Of those who get jets, only a fraction will get to fly the Phantom.'"
Bien thought for a second, then said, "Sign me up."
From there, Bien flew to Minneapolis, met with a U.S. Navy recruiter, took his physical and signed up to become a naval aviator.
Twenty months later, he was flying combat missions in Vietnam in the F-4 Phantom under his official superhero call sign, "Ho Chi," a name given to him by his comrades based on the similarity of his last name and that of Ho Chi Minh, the then North Vietnamese president.
"I always think back to that day when I hear people say, 'I'm just not sure I have what it takes.' I'm a living example of that old cliché that says 'you just never know unless you try.'"
The Aviator
Bien didn't plan on a career in the military. As he says, one thing led to another and it just sort of happened.
"I planned on staying in for three years and, at the end of my three years, I was in the process of getting out. At the same time, the Navy was building the F-14 Tomcat. At the end of a combat tour, an official came up to me and said the Navy had singled me out to fly this new aircraft. I agreed, thinking that, eventually, I would go back to the ranch. Then I got married and decided to stay in longer. I ended up doing it for 31 years – and it was the most wonderful thing I could've ever done."
Over those next 31 years, Bien would go on to become the highest ranking naval officer in South Dakota history. Before he retired in 1999 at the rank of Vice Admiral, Bien had logged an astounding 5,500 hours in fighter aircraft, completed 1,300 aircraft carrier landings, and flew in 225 combat missions over North and South Vietnam. 
In the 1980s, he served as a "Top Gun" flight instructor at the Navy Fighter Weapons School in Miramar, Calif. During that time, his squadron flew some of the jets shown in the blockbuster film "Top Gun" starring Tom Cruise.
He has commanded an F-14 Fighter Squadron, two Carrier Airwings, the Nimitz Carrier Battle Group and the Naval Space Command, Dahlgren, Va. From October 1990 to March 1991, he was the senior Navy striker planner for Operations DESERT SHIELD and DESERT STORM. He was also in command of the Nimitz Battle Group throughout her response to the Taiwan Missile Crisis in 1996.
He served in the J-3 on the Joint Staff, and was the Deputy Commander-in-Chief for United States Space Command, where he chaired the Senior Warfighter Forum (SWarF) that led to the Wideband Global Satellite (WGS) program.
He has been a member of the Missile Defense Agency (MDA) Graybeard Panel on National Missile Defense since its inception in 1999. He works extensively in the related areas of space-based Communications, C4ISR (Command, Control, Communications, Computers, Intelligence, Surveillance and Reconnaissance), and Global Missile Defense. He was a member of the Air Force Scientific Advisory Board, National Security Space Architect Board and the U.S. Naval Space Panel on FORCEnet and Naval Space and Communications. He was appointed to a year-long Congressionally directed study of the future of National Security Space Launch and is a member of the U.S. Strategic Command's Strategic Advisory Group (SAG).  He was also a member of the Congressional Independent Assessment Panel on Space (Allard Commission).
He is the recipient of 23 medals and citations in recognition of his military service. In 1995 he was honored with an Alumni Achievement Award and, in 1997, he was inducted into the South Dakota Hall of Fame. He served on the Augustana Board of Trustees from 1998-2009; received the President's Award in 2000; and received the Trustee's Award in 2004.
Looking back on his early days in the Navy, Bien speaks with sincere fondness about the gifts of military service.
"The military teaches you an immense level of responsibility. You can be an 18-year-old fresh out of high school and, after 13 weeks of boot camp, you assume huge responsibilities for yourself and for the people around you. It's pretty heady. I don't know any other occupation in America that imposes that level of performance on young people. The military is proof that if you give people the tools and the opportunity to excel, more often than not, they will. The military has mastered the art of extracting the best and the most from people."
Bien also credits his South Dakota roots and Midwestern work ethic with much of his success as an officer.
"Naval aviation is about grit and a willingness to work until there's nothing left of you to give, at least in the early days. I figured, if you grew up where hard work and near constant labor was the norm, why not do that in your profession, too."
"I believe there's a sense of independence and self-sufficiency that's true of people in our part of the country. When it's all on your shoulders – ships, fleets, and airplanes – it's probably a good thing if that isn't the first time something major has been on those shoulders. When you grow up in the middle of nowhere – with no father, with no corner store to buy milk at – you have to be responsible, independent and self-sufficient."
"I think in South Dakota, folks have an innate sense of decency. That old Norwegian work ethic is still alive and well and it gives way to people who kind of know who they are early in life and end up as self-assured and compassionate adults. When those folks are asked to lead others who need leading and mentoring, they're most often successful."
So, in 225 combat missions, was he ever scared?
Yes, he says, but not of death.
"I saw people die. I saw the bullets and, philosophically, I imagined there could be one with my name on it. I just always hoped that wasn't the case. Navy aviators suffered significant fatalities. We also had prisoners of war who suffered horrific torture. Knowing those kinds of things, we knew we were living on the edge. My greatest fears, however, were of screwing up or becoming a prisoner. I most often avoided the former and thankfully avoided the latter"
Emotions aside, Bien says the non-stop training he endured as a naval aviator made it easier to weather the physical rigors of combat missions.
"There's this saying: 'train like you fight; fight like you train.' We go through our whole military careers training and being focused. At some point, invariability, you use those skills in combat or in direct support of combat. It was a continuation of what most of us had done for a lot of our adult lives. There is similarity between peace and war because you're so well trained. The only difference between Navy flying and combat is the addition of bullets. I don't want to lessen the rigors or emotions of combat but, as far as employing your skills, [the Navy tries to] make training as close to combat as there is and we've been pretty successful."
And, what's it like to maneuver a multi-million dollar airplane on and off an aircraft carrier in the middle of the ocean?
In a word, difficult.
"I believe it's about the most difficult thing you can ask an ordinary human being to do. There are very few things that you do so repetitively, where the dangers are so high and well-known, and which demand such an extraordinary level of precision on the part of the participant. Naval aviators know they're living on the edge. They live with fear. Every time I landed on a ship I felt a huge adrenaline rush and this marvelous sense of doing something that relatively few people have had the privilege of doing – it's really grand stuff." 
Compassion and Camaraderie
Far beyond his skill as an aviator and a leader, Bien is known by his comrades and colleagues for his sense of character and his compassion.
In 1999, at a ceremony in honor of his retirement aboard the USS Constellation, Chief of Naval Operations Adm. Jay L. Johnson said this about Bien:
"What has never changed ... is Ho Chi the man. As he rose through the ranks, he never lost his charm, good nature and concern for others that was born on the ranch lands of South Dakota. Ho Chi Bien is one of those rare individuals whose goodness is elemental. He's the most genuinely compassionate man I know, and I'm one of thousands who feel that way."
For Bien, it's simply a matter of fact. He sees compassion as part of his nature and, fundamental to his job.
"You cannot persevere in a people-dominated profession like the military unless you have a well-defined sense of compassion. I'm not talking about coddling people. I'm talking about compassion sufficient to be forgiving of human frailties. I was willing to let people fail so long as they were doing their best, and were committed to not repeating the same mistake."
"When I think of my 31 years as a sailor, I don't think of the number of landings I completed or the promotions I earned. I think about all the young sailors that were my responsibility. Some were disadvantaged kids from broken homes. In many cases, they were poorly educated, high school dropouts who had been in trouble with the law. Over months and years, they were put in positions of responsibility, were held accountable and received life experiences. I had the chance to watch them grow into patriotic, responsible people. That's a joy beyond measure. If Uncle Sam got his money out of me it wasn't because I was a great sailor or could fly an airplane or run a portion of a war. It was because I took thousands of people at a time and made them better people than they were before. Today, when sailors track me down as they prepare to leave the service or move to the next command and say 'you changed my life,' well, it brings tears to my eyes."
His Inspiration
Today, Bien and his wife, Cathy, divide their time between San Diego, Calif., and Veblen. They were married more than 39 years ago, after Cathy suffered a spinal cord injury that left her a quadriplegic.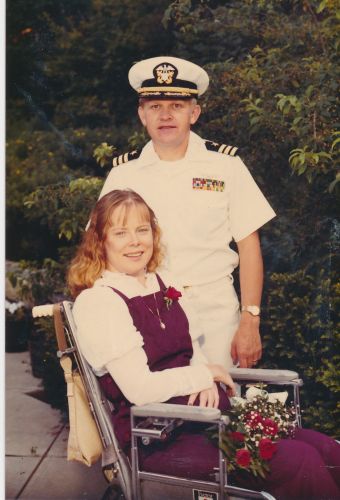 She is, he says, his inspiration.  
"What people view as adversity can also be a blessing. She and I, we have this really deep and serious bond. There's no other word I can think of to better describe her than grace. She endures. She tolerates her condition with absolute grace. People are hugely inspired by her. They look at how disabled she is and their first reaction is to pity her. Then they look at how cheerful she is, and they're inspired."
She's taught him, Bien says, that disability can even be a virtue.
"She would tell you – there are people in much worse shape than she is, many of them able-bodied. She's made herself well by her own sheer will. Sure, having people around you who care for you and love you helps, as does her personal faith. But in the end, you ask yourself, 'do you wish to be a happy and fulfilled person despite your challenges or not?' In Cathy's case, we know how she answered that question."
To the Class of 2012
At commencement earlier this spring, after he received his honorary doctorate of humane letters from Augustana, Bien addressed the 370 members of the class of 2012 by sharing with them "Things I believe."
"I believe that Scandinavian blood, even in small amounts, can make women beautiful; I believe that money and material things are a poor measure of a man's worth; I believe that the earth and her resources are very finite and that if we continue to abuse them as we have for the last couple centuries we will eventually make earth uninhabitable; I believe that of all human traits, humility is amongst the most endearing, in great demand, but in short supply; I believe that Government handouts and entitlements can destroy the self-sufficiency of societies just as surely as hand feeding can destroy the instincts of animals in the wild; I believe that a lifelong quest for knowledge is noble. But knowledge without courage and common sense loses its value; I believe that eternity is a long time. And if you are planning to spend yours in the bosom of a loving God, then shouldn't you get to know Him in this life?; I believe that a firm handshake, a genuine smile, and looking directly in someone's eye can often convey sentiments, messages and emotions far greater than words; I believe there are occupations that are as much about romance, awe, grandeur, inspiration, and imagination as they are about labor. I hope your life and your life's work are rich in those qualities?; I believe that cigarettes, tattoos, and piercings are bad … and that if you practice them to excess, you'll soon enough regret your choice; I believe that if you are American and can stand through our National Anthem and not get goose bumps then you need to go back and re-study the history of the American Civil War; I believe it takes many ills to foster a revolution, but just 140 characters to make it spread; I believe that bad things happen to good people ... and I don't know why. But I do know that enduring misfortunes with grace can build a reservoir of strength that cannot be exhausted; I believe the 536 national level elected officials currently in Washington, D.C. are failing your trust, and through self-serving partisanship and unstatesmanlike decorum are placing the future of this republic in peril. I hope those you elect will serve you better; I believe that most employers value those hard-to-teach qualities of loyalty, character, commitment and hard work over more trainable skills; I believe that when things go badly for you and it's your fault, failure to shoulder the blame is to invite reoccurrence; I believe there are a lot of evil people in the world, many in positions of leadership. Ignoring their motivations or potential for ruin is to be dangerously naive; I believe that luck and timing account for a lot of good fortune; I believe that adapting to change may be good for your business, but that preserving tradition is good for your culture; I believe there is magic in Augustana College and that it is indelibly imprinted in you and will advantage you every day of your life; I believe that the one word that best describes the people I cherish the most, the institutions I admire the most and the societies I root for the most is simply: goodness."
Well said, Ho Chi. Well said, indeed.
Return to The Augustana magazine.