2012 Graduate to be Commissioned as Air Force Officer
When class of 2012 graduate Lynae Fisher is commissioned as a second lieutenant in the United States Air Force later this week, she will become Augustana's first Air Force Reserve Officer Training Corps (ROTC) program graduate to be commissioned as an Air Force officer.
She will also follow in the footsteps of her mom, U.S. Air Force Reserve Major General (Ret.) Linda Hemminger Fisher, Augustana class of 1974, who served in the Air Force Reserve for 33 years as a nurse, commander, and deputy joint staff surgeon. Lynae's father, the Honorable Martin Fisher, is also an Augustana alumnus and a member of the class of 1974.
Fisher, an Exercise Science and Fitness Management major from Adair, Iowa, joined ROTC as a sophomore, the first year the Air Force ROTC Detachment 780 from South Dakota State University (SDSU) offered the cross-town program to Augustana. The program, offered at more than 1,000 colleges and universities nationwide, is designed to prepare participants to become Air Force officers. Courses for the program, which include classroom and lab work, are held once or twice a week at SDSU. In addition to classes, extra activities, and leadership positions within the detachment, she was required to be in Brookings several times a week. As an ROTC student, Fisher also participated in training sessions in Alabama and Mississippi.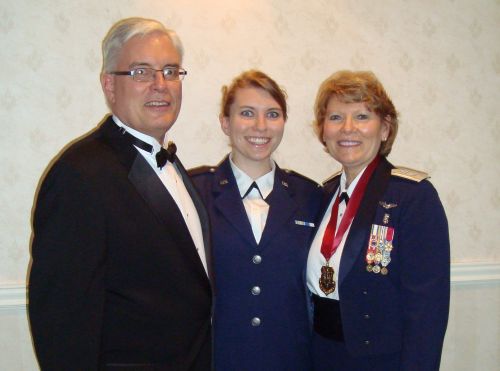 "I'm so happy that Augie offered this opportunity. I was looking for a way to establish and build a career within the Air Force and this program has provided me with that," Fisher said.
Following the commissioning ceremony, which will be held at the Tompkins Alumni Center in Brookings, Fisher will report to California for six months to train for her new role as a Space and Missile Operations Officer. Her permanent assignment will be at Malmstrom Air Force Base in Great Falls, Mont., where she'll serve for the next four years.
Martin '74, Lynae '12 and Linda (Hemminger) '74 Fisher.