International Students Learn About Local Industry, City Government
With Opening Convocation just over a week away, the countdown to the start of fall semester is officially on. For some Augustana students though, lessons and research are already under way – just not in the classroom.
For the past five days, a group of new international students have been studying local businesses and learning first-hand about American media organizations, city governments and U.S. healthcare. 
The students, from Pakistan, Belarus, Tajikistan, Uzbekistan and Kyrgyzstan, arrived in Sioux Falls earlier this month. Each is a member of the Global Undergraduate Exchange Program (UGRAD), an initiative administered by IREX on behalf of the U.S. State Department.
View Photos

View photos from the students' visits to Sanford Health, POET and the City of Sioux Falls.
Since their arrival, the students have toured:
"At Augustana, we believe that in order to really learn about something, you need to feel it, see it, experience it," said Donn Grinager, director of Augustana's International Programs Office. "These visits have allowed our new students to see and experience parts of the American culture that before this week, they had only read about or watched on a screen. It's an exceptional way to learn about the place they'll call home for the next semester and beyond."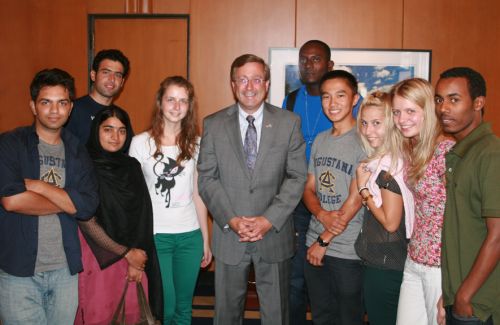 Augustana international students pose with Sioux Falls Mayor Mike Huether during a visit on Wednesday, Aug. 22.