Thompson Presents Paper at Futures and Illusions Conference
Senior English major Hal Thompson, a native of Sioux Falls and a member of Augustana's Civitas Program, presented his paper entitled "Finding Utopia Through the 'Satanic'" at the international Futures and Illusions conference last weekend at the University of Iowa. The conference, which encourages submissions from diverse areas of study including religious studies, theology, literature, and art history, featured papers from scholars at Iowa, Texas Christian, UC-Santa Barbara and Purdue, among others. Thompson was one of only a few undergraduate students to present at the conference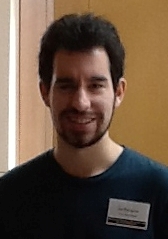 Thompson's paper endeavors to reveal how a specific interpretation of works by three authors, informed by a reading of Dietrich Bonhoeffer's essay "The Structure of a Responsible Life," can be used to arrive at a novel idea regarding utopia. 
"If humankind is to ever achieve a society of peace, it must first face every aspect of its nature — including the 'Satanic.' Only after understanding and eventually harnessing this ambitious and revolutionary portion of our being can we hope to reach a true utopia," Thompson wrote.  
"Popularized by the Romantics' interpretation of Milton's 'Paradise Lost,' the belief that the character of Satan is not simply the embodiment of pure evil, but a figure of undaunted will in the face of omniscient power, has become commonplace. Yet traces of this belief can be uncovered centuries before the Romantics in the writing of Dante in his Inferno. Here, Satan is depicted as the epitome of disappointment; however, he marks a crucial moment in the pilgrim's journey. After beholding Satan, Dante is finally ready to begin his ascent into Paradise. Milton also seems to recognize the duality of Satan's purpose as his version of the fallen archangel plays a key role in the redemptive process of humanity. 'Paradise Lost' presents a Satan similar to a conflicted antihero who, despite his and even Milton's efforts, is remembered as one of the most appealing characters in the epic because of his remarkably human flaws. Both these authors' latent ideas come to the forefront in Blake's 'The Marriage of Heaven and Hell,' in which Satan is loosed from the constraints of Christian tradition and left to revolutionize the world. Blake's Satan becomes the new messiah as he is depicted creating a new world through the destruction of the old one," Thompson wrote.