Newsmakers: 'Book Lovers Settle In to Read ... And Read'
On Saturday, 50 students gathered in the Siverson Lounge to read and enjoy F. Scott Fitzgerald's "The Great Gatsby" at Augustana's second annual Reading Marathon hosted by the Alpha Xi Mu chapter of Sigma Tau Delta (the international honors society for English majors and minors).
Read the story and watch the video by Argus Leader reporter Peter Harriman.
Book Lovers Settle In to Read ... and Read
By Peter Harriman, Argus Leader
Published on Sunday, Nov. 11, 2012
Sunk deep into a comfortable chair, sipping coffee on a damp, foggy day and reading aloud a classic novel — can there be a more fundamental expression of the English major experience?
It says literary life like a foaming laboratory beaker says Louis Pasteur.
Pursuit of a livelihood might take them away from the artistic written word after they graduate, but about 50 Augustana College students and fellow travelers Saturday reveled in the appreciation of a good book. Augustana's Alpha Xi Mu chapter of Sigma Tau Delta, the honors society for English majors, organized its second annual marathon reading Saturday in the Siverson Lounge of Morrison Commons.
Adobe Flash is required to view this video.
Last year, the students ambitiously tackled Miltons's "Paradise Lost," a 12-hour extravaganza in examining good and evil on a biblical scale. Saturday, their text was F. Scott Fitzgerald's "The Great Gatsby," where notions of worth and futility are more subtly shaded in the vacuous lives of the useless, indolent Eastern elite Tom, Nick and Daisy and the shadowy Gatsby.
But the readers were getting it, Mitchell Harris figured. The Augustana assistant professor introduced the college to marathon readings, and during a midmorning break, he noted the progress of Saturday's narrative.
"We're in a strange apartment. The second bottle of whiskey is open. People are beginning to say inappropriate things," he said of the story.
"They're getting sucked in," he said of students.
Becky Tesch was.
The senior was reading Gatsby for the first time as she took her place among a panel of four at a table in the front of the room.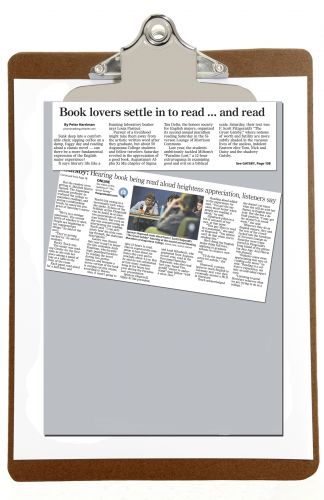 Each panel read aloud for a half-hour, and Tesch's leg swung in a metronomic kick when she spoke. Echoes of the brilliant stylist Fitzgerald can be heard in at least two generations of American writers. But even as she was concentrating on interpreting the reading, Tesch said, "I can definitely hear his style coming through, the elaborate descriptions."
Gatsby was chosen this year in part to honor the late comedian Andy Kaufman, who mystifyingly punished hecklers by reading the novel during live performances, and because a movie version of the book is coming out this winter, according to Harris.
Also, it wasn't going to take 12 hours to read. Harris expected the marathon to last about six hours this year and to conclude about 4 p.m. But he said he was astonished at how many students hung in for hours last year during the Paradise Lost presentation.
Spencer Hopewell, Alpha Xi Mu president, and Leah Hilsabeck, who graduated from Augustana last year, read in the first panel Saturday. Hopewell, who also read last year, found Fitzgerald "easier to understand" than Milton "with a nicer flow."
Reading aloud added to the experience, he said. "You get the sarcasm much better when people are reading it aloud," he said.
Hilsabeck piled on a bit of sarcasm of her own, at that point.
"This guy likes to read in a monotone," she said of Hopewell. "You almost can't do that when you're reading this."
She's doing the English major thing full bore, applying to graduate schools in creative writing.
"I'll do the starving artist bit awhile," she said.
Hopewell, a senior, hopes to teach English in Germany next year then eventually pursue a Ph.D. in literature.
Tesch acknowledged she doesn't yet know what she will do with her degree in English next year. But she has a default position. "I may get my master's in social work," she said.
Whatever they do as English majors, they and the rest of the crowd tucked into the furniture at Siverson Lounge on Saturday were transported to Fitzgerald's Long Island of the glittering Jazz Age. And Harris was pleased.
"Students come away appreciating this type of reading a bit more," he said. "Reading is a collective experience, not only an individual experience.
"Listening to great literature achieves what we are trying to do as a college."