Jerry Olszewski Announced as Augustana Football Coach
Augustana Director of Athletics Bill Gross announced today that Jerry Olszewski has been named the 21st head football coach in program history. Olszewski, a 19-year veteran in the coaching profession, previously served as head coach for St. Olaf College in Northfield, Minn.

Olszewski was announced as the new head coach at a press conference earlier today.

"I am honored to have the opportunity to lead the Augustana football program," Olszewski said. "My family is looking forward to becoming part of the Sioux Falls community and the Augustana family. Faith, Family and Football will be the cornerstone of our program. We look forward to meeting the alumni and engaging in the Sioux Falls community."
"To my future team: I just met a group of fine young men. They want to be great. They want to be successful. And we will. It'll be a process of success. We'll work tirelessly to be the best we can be. I've got an old adage … good, better, best. Our challenge is to take a good student-player and make him even better, and to take a better player and make him the best. We'll create a culture and a football program that changes lives and produces young men of faith, character and integrity," he said to audience members in Augustana's Kresge Recital Hall.

Olszewski (OH-sheski), completed his fifth season as head coach at St. Olaf College in 2012 guiding the Oles to a record of 7-3 overall, and a fourth-place finish in the Minnesota Intercollegiate Athletic Conference (MIAC) at 5-3. Olszewski compiled a record of 32-18 in five seasons at St. Olaf, leading all five teams to records of .500 or better. During his time at St. Olaf, Olszewski coached the school's all-time leading passer and the second all-time leading rusher.

Prior to St. Olaf, Olszewski spent two seasons as the defensive coordinator at his alma mater, Wisconsin-Stevens Point. During his two seasons as defensive coordinator, he coached three players that finished in the top 10 in the conference in tackles, including the WIAC leader in 2006 and the second-leading tackler in 2007.

"We are genuinely excited to have Jerry Olszewski join our Augustana family as head football coach," Gross said. "Coach O.J. brings a strong set of personal values and football knowledge to this position. His seven years of experience as an assistant coach at Minnesota State and his head coaching success at St. Olaf in the very competitive MIAC has prepared Jerry very well for the challenges the NSIC and NCAA Division II competition."

From 2002-06, Olszewski was the chief executive officer of the Mankato Family YMCA in Mankato, Minn., where he was responsible for a $3 million budget, including 32 departments and all employees and volunteers.

Before taking over as CEO of the Mankato YMCA, Olszewski spent a total of seven seasons (1993-97), 1999-02) as an assistant at Minnesota State University, Mankato where he coached linebackers, quarterbacks and running backs. From 1999-02, Olszewski was the assistant head coach at Minnesota State, where he was responsible for the defensive secondary. As an offensive coach at MSU, his teams ranked towards the top of the North Central Conference (NCC) and national rankings in total offense. In 1999, he was the offensive coordinator for the Green Bay Bombers of the Professional Indoor Football League.

Olszewski is a 1993 graduate of the University of Wisconsin-Stevens Point with a degree in physical education where he was a starting cornerback. He received his master's degree in sports administration from Minnesota State University, Mankato, in 1995.

Jerry and his wife, Deana, have three children, son Jett and daughters Jersey and J.J.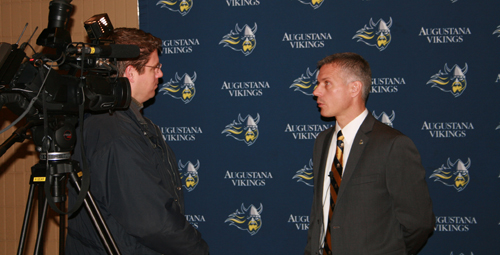 Coach Olszewski talks with KSFY-TV Sports Director Erik Thorstenson after the announcement on Wednesday, Dec. 12.