Augustana Alumnus Named Minnesota Supreme Court Justice
Augustana alumnus and Sioux Falls native David Lillehaug, class of 1976, a Minneapolis attorney and former U.S. attorney for Minnesota, was appointed by Minnesota Gov. Mark Dayton on Tuesday, March 26, to fill the upcoming vacancy on the Minnesota Supreme Court.
Lillehaug will replace Justice Paul Anderson, who will reach the mandatory retirement age of 70 in May.
In announcing the selection, Gov. Dayton, according to news reports, described Lillehaug as "one of the most brilliant minds I have ever encountered."
Read more from the Minneapolis Star Tribune.
Learn more about Lillehaug's career.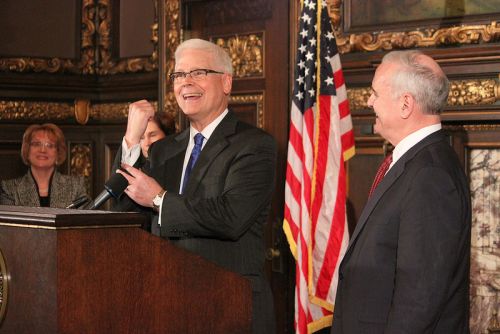 David Lillehaug, class of 1976, points at his Viking Ship cufflinks during the announcement by Minnesota Gov. Mark Dayton. The cufflinks belong to Lillehaug's father, Dr. Leland Lillehaug, Augustana class of 1951, professor emeritus of Music and longtime Augustana Band director.