The Augustana: Summer 2013
View from Summit Avenue
A Message from Rob Oliver, President of Augustana College
"You shall teach them to your children, speaking of them when you sit in your house, when you walk by the way, when you lie down, and when you rise up."
— Deuteronomy 11:19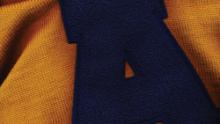 As I look back on my life, two moments shine above all others as my proudest and most important: the births of our daughters Andrea and Laura.

From the second they entered this world, Angie and I have put their best interests at the forefront of every decision we've made. We sacrificed and saved, tried hard to lead by example, and did the best we could to instill in them life's most significant lessons. And, most importantly, we taught them the power of prayer.

As young parents, Angie and I believed that teaching our children to pray, and to revere, respect and follow God's guiding principle's, as Deuteronomy 11:19 tells us of the Ten Commandments, would provide the cornerstone for a foundation that would support and guide them through their entire lives. Today, decades after we tucked them into bed each night and folded our hands with theirs in prayer, we know this to be true.
View the Digital Issue
As a parent, I also know that children are inclined to follow the examples we set. They grow up rooting for our favorite teams, the same teams our folks cheered for; favoring our favorite meals, the dishes our parents prepared for us; and loving the traditions we learned and loved from our parents.
By living out the lessons, beliefs and traditions we teach and emulate, our children carry on our legacies, and the legacies of our parents and grandparents who instilled those same lessons, beliefs and traditions in us.
In this issue of The Augustana, we're pleased to share the stories of "Augustana legacy families" – those whose ties to this great place have spanned generations. You'll meet the Rev. David Johnson, class of 1956, whose Augustana story first began in 1927 and continues on today in his grandchildren. And, for those of you who don't know him already, you'll meet Augustana Professor Emeritus of Music Dr. Leland Lillehaug, class of 1951, whose three children grew up on campus, earned their degrees here, and still hold fond memories of Augustana deep in their hearts.
We'll also introduce you to another Augustana legacy – Jeff Fylling '78, longtime "Voice of the Vikings," who has artfully chronicled the play-by-play stories of our Football and Basketball teams for nearly four decades.
Today at Augustana, we're busy planning for the return of students in the fall and preparing to welcome our alumni home for Viking Days 2013, set for Oct. 18-20. Viking Days is a time when we celebrate the history and traditions of our Augustana, when graduates return to their alma mater to reconnect with classmates and favorite professors, and when current students celebrate the joy of being on campus today.
This year, in honor of the 60th anniversary of the first Viking Varieties and in celebration of the progress we're making on our Science Center Project, we're hosting an All-Class Reunion at the historic Washington Pavilion in downtown Sioux Falls on Saturday, Oct. 19. Together, we'll recognize the milestone reunion classes ending in 3 and 8; we'll experience the tradition and see the future of the Performing and Visual Arts at Augustana in a "Like Never Before" Viking Varieties show, and we'll share important details about the planning for the Science Center Project. And, since it will be a party, we'll also eat, drink, dance and laugh.
On behalf of the Augustana Community, I sincerely hope you and your family will make plans to come home again and celebrate Viking Days with us. More details are found on pages 18-23 of this issue. I'm looking forward to seeing you!

* * *
I'm pleased to tell you that an architect team has been chosen, a builder has been identified and a faculty committee has been working to program the new $30 million Froiland Science Center and the $10 million renovation of the Gilbert Science Center. Local architect TSP of Sioux Falls has partnered with SmithGroupJJR, a national architectural firm that has designed some of the world's most technologically sophisticated science and research facilities. Local construction company Henry Carlson of Sioux Falls will be our builder.
Dr. Karen Younger, chair of the Natural Science Division, is leading an 11-member faculty committee that is planning for these new and upgraded science facilities. The committee is involved in deep discussion about the relationship of how spaces are created to enhance student learning, foster community and collaboration, and enhance the visibility of the College through excellence in academic programming. Planning meetings have also included the topic of new program development that would take advantage of faculty expertise, in collaboration with Sanford Health and Research initiatives, to address emerging fields of scientific discovery.
Faculty and staff in the Division express how immensely grateful they are for this opportunity and for the tangible encouragement of our alumni and donor community who are supporting this vitally important project. 
Enjoy this issue!
Yours, for Augustana,
Rob Oliver
President  
View Past Issues
Winter 2012
Fall 2011
Summer 2011
Winter 2011
Fall 2010