Augustana Freshmen Make an Impact
They say working together builds camaraderie. It's safe to say that for Augustana freshmen, that's definitely true.
In their first week on campus, members of the Class of 2017 worked together to pack 41,000 meals for Kids Against Hunger, a nonprofit organization dedicated to providing healthy meals to children in need. They also joined forces to break into the Guinness Book of World Records — officially sending 237 Augustana students consecutively down the "body slide" within one hour at the Wild Water West water amusement park. 
"Each year the New Student Orientation (NSO) committee creates opportunities for the incoming class to form bonds that will last their lifetimes," said Jeff Venekamp, director of student activities. Both the Kids Against Hunger pack and the Guinness World Record attempt demonstrate that as a group we are much more powerful than as an individual."
Venekamp said building meals for Kids Against Hunger was selected as an activity because of the organization's impact on world hunger.
Kids Against Hunger states that "every hour of every day, 10 children per minute die of starvation or malnutrition related diseases."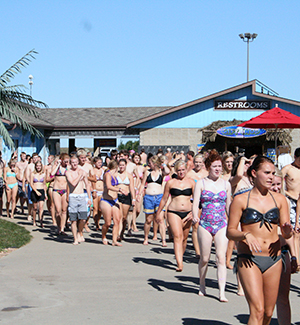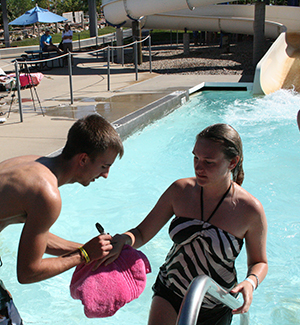 PHOTOS: Above top: Students packed meals at Kids Against Hunger. Above: Members of the Class of 2017 at Wild Water West.