Students Organize Food Drive to Benefit Feeding SD
Four Augustana juniors are hoping to turn a crosstown rivalry into a benefit for those in need.
In collaboration with the University of Sioux Falls, they have organized a food drive to benefit Feeding South Dakota, a nonprofit dedicated to providing food to local families in need. Organizers of the "Sioux Falls Showdown" are Augustana juniors Tim Weber (Hartford, S.D.), Zach Friederich (Lonsdale, Minn.), Garret Heiberger (Hartford, S.D.) and Lance Shaull (Sioux Falls) (pictured here, left to right).
"Augustana" and "USF" barrels will be placed inside Hy-Vee stores throughout the city of Sioux Falls from Friday, Jan. 17, through Friday, Jan. 24. Shoppers can make non-perishable food deposits in either barrel, based on their favorite team. 
The friendly competition, officials from Feeding South Dakota say, will make a big impact on those in need throughout the area.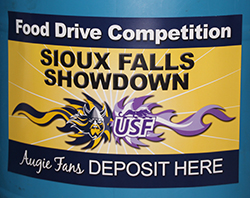 "It's great to be a part of such a giving community. With local food drives like the USF vs Augie matchup, we are able to continue providing meals for those in need in our community," said John Geyer of Feeding South Dakota.
Weber, Friederich, Heiberger and Shaull are members of the Wahl House, an Augustana Theme House committed to the concept of "Helping Hands, Reaching Out." Members of the house "look to recognize, acknowledge, and act on issues that need attention in our immediate community."
"Sioux Falls Showdown" collection barrels will be placed in the following Hy-Vee stores Jan. 17-24:
1900 S. Marion Road
1601 S. Sycamore Avenue
4101 S. Louise Avenue
3020 E. 10th Street
3000 S. Minnesota Avenue