Fisher, Herst Named 2014 Peace Scholars
Augustana today announced that juniors Aimée Fisher (Montgomery, Minn.) and Eric Herst (Weldon Spring, Mo.) have been named the 2014 Augustana Peace Scholars.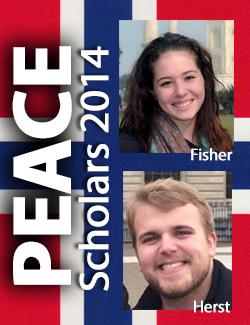 As Peace Scholars, Fisher and Herst will receive a seven-week academic experience in Norway designed to deepen their understanding of the central issues and theories related to peace, justice, democracy and human rights. The two will study at the Nansen Dialogue Network in Lillehammer and at the University of Oslo International Summer School June 15 - Aug. 1.
Junior Ellen Ferry (Underwood, Minn.) was named as the College's alternate. She will serve as Augustana's Peace Scholar if either Fisher or Herst are unable to participate.
Fisher, an Art and Education double major, is a member of the Civitas Honors Program, serves as director of communications for the Augustana Student Association, works as a Student Ambassador, and chairs committees for PRSSA and the Augustana Union Board of Governors. She also volunteers at the Bowden Youth Center and participates in the Augustana FRIENDSlink program, providing friendship and support to people with disabilities. She studied abroad in India in January 2013 and plans to pursue a career in K-12 art education.
"Aimée is developing a global perspective which will empower her to have an impact at Augustana, the local level and beyond. She greatly influences those around her and has the ability to transform the dynamics of a group because she has such a contagious joy for life and the intellectual prowess to develop successful endeavors," a recommendation letter said of Fisher.
Herst, a Government and International Affairs major, is currently studying abroad in Belgium. He has been an active member of the Augustana Democrats, the Augustana Committee of Undergraduate Political Scientists (COUPS), and has spent time tutoring refugees in preparation for the U.S. citizenship exam. He has extensive international experience, having studied abroad in India, Cuba and England. He plans to pursue a career in international law.
"[He will] be a particularly good ambassador for a program that seeks to foster international respect and cooperation among peoples and nation-states," a recommendation letter said of Herst.
Fisher and Herst will be introduced at the 2014 Nobel Peace Prize Forum, set for March 1 and March 7-9 at Augsburg College in Minneapolis, Minn. His Holiness the Dalai Lama will speak on March 1. The theme for the 2014 Forum is "Crossing Boundaries to Create Common Ground."
During the announcement, Augustana president Rob Oliver recognized each of the five Peace Scholar finalists, who, in addition to the three students listed above, also include:
Christian Einertson (class of 2016 and a native of Marietta, Georgia.)
Erin Williams (class of 2015 and a native of Watertown, South Dakota)
The Peace Scholars program is sponsored by a consortium of six colleges founded by Norwegian-American immigrants: Augustana College, Augsburg College, Concordia College (Moorhead), Luther College, Pacific Lutheran University and St. Olaf College. Two students from each of the participating colleges are selected as Peace Scholars each year.
As Peace Scholars, Fisher and Herst will embark on coursework that will include the causes of armed conflicts, peace building, peacemaking, humanitarian interventions and aid, peacekeeping operations, gender, civil society and nonviolence and peace movements. In conjunction with their studies, Peace Prize Scholars will also begin work on projects they will present on their home campuses.
The scholars will also visit a number of influential institutions including The International Peace Research Institute, Oslo (PRIO), Nobel Institute, Oslo Center for Peace and Human Rights and the Nobel Peace Center.
Upon returning to their respective campuses, the 10 scholars will continue to communicate and find ways to build on their Oslo experiences together. They will also be expected to play leadership roles in peace activities on their campuses, and assist with next year's Nobel Peace Prize Forum.