The Augustana Magazine: Spring 2014
View from Summit Avenue
A Message from Rob Oliver, President of Augustana College
Someone once said it's impossible to think about tomorrow without reflecting on yesterday.
I've been doing a lot of reflecting lately.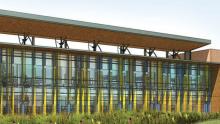 As you'll see in this issue, Augustana has finalized architectural plans for the new Froiland Science Complex, the most intricate building endeavor in our 153-year-history. This project, the pinnacle and final initiative of our $120 million Momentum Augustana campaign, will include a 41,000-square-foot addition to the existing Gilbert Science Center along with a complete renovation of the existing facility.
As you'll see from the renderings in the pages that follow, when it's complete, the Froiland Complex will be a state-of-the-art facility well-equipped to educate the next generation of students and beyond.
View the Digital Issue
Throughout this process, I've thought a lot about the men and women who formed the cornerstone for our Natural Science division – those who taught classes in Old Main, then in the Administration building and, after WWII, in a renovated Army barracks. Their passion for scientific discovery and commitment to teaching truly did build the culture of excellence that exists today. When the Gilbert Science Center opened in 1966 under the leadership of Dr. Sven Froiland, biology professor and chair of the division, it did so to great acclaim. To honor Dr. Froiland's legacy, we believe it's fitting that the newest science facility on campus be named in his honor.
Many of our emeriti scientists who taught alongside Dr. Froiland will be here on the day the new facility is officially complete – and I can't wait to see the joy on their faces.
Others, sadly, will not be with us. And so I'm left to wonder what their reactions would have been.What would Dr. Froiland think of the new biology department and its core research labs? What would Dr. V.R. Nelson think of the new physics department with its research space and open study areas? And our dear friend Dr. Dan Swets – taken from us far too soon – what would he think of the new computer science department and its ample space for student-faculty collaboration?
Would they be pleased?
I believe they would, knowing that throughout all of the planning, the principles they taught us have remained top of mind and close to heart.
It really is important to look back before you look ahead, which is why this issue features individuals who have the wisdom to reflect on the past and the present. Among others, we'll introduce you to Dr. Rayburn Skoglund, class of 1959, who spent his career working in pediatric neurology; Dr. Gene Hoyme, class of 1972, who is using genetics to pave new roads for primary care; and our own Bill Gross, class of 1973, who is preparing for a new role at Augustana after 28 years as athletic director.
Planning this project has been an immense task and I can't begin to thank our many faculty, staff and administrators who have spent countless hours thinking about what this new facility should be in order to serve students in the best ways possible.
It's a privilege to share their stories and, it's a pleasure, indeed, to share the renderings and plans for the Froiland Complex with you.
Finally, we are grateful for the growing list of generous donors who have provided $18.8 million toward the construction of this new facility – many of whom we are honoring once again in this issue.
Angie and I hope you'll make plans to come home again for Viking Days 2014, set for September 26-28. Along with an All-Class Reunion honoring the classes ending in 4 and 9, we're also planning a special open house inside the Gilbert Science Center before construction officially begins. I'm especially hopeful you'll join us for this special event so that together, we can look back one more time before we commence on the future of science at Augustana.
Enjoy this issue!.
Yours, for Augustana,
Rob Oliver
View Past Issues
Winter 2012
Fall 2011
Summer 2011
Winter 2011
Fall 2010