Behind the New Genetic Counseling Graduate Program
As members of the inaugural class for Augustana's Master of Science in Genetic Counseling, Austin Huber (Selby, South Dakota) and Maija Rannikko (Duluth, Minnesota) have the opportunity to help shape this groundbreaking program for South Dakota and the region through their work with professors and genetic counseling professionals via coursework, clinical work and research.
We caught up with Huber and Rannikko to see how their experiences have gone so far: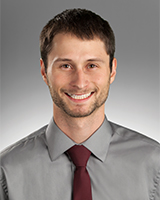 Q: Austin, you said you were in medical school before you decided to find a career that better fit you. What did you mean by that?
Huber: I completed my first year of medical school before deciding it was not my calling. During a shadowing experience in my summer break following that first year, I kind of had an epiphany. My wife and I were wanting to start a family, but the rigors of medical school didn't seem conducive to parenthood so we kept putting it off. Although many people are able to balance being a physician and father successfully, I realized that the future aspirations I had for my life didn't fit well with a heavily involved residency and hours of call even after my schooling, especially for the specialties I was interested in. It was difficult to walk away from something I had put so much effort into but it was for the best.
After med school, I knew I still wanted to be involved in patient-involved health care and found genetic counseling. I saw that Augie was starting a genetic counseling program and did a little more research on the profession. After meeting with several practicing genetic counselors including Quinn Stein (associate professor and director of the genetic counseling program), I was convinced it offered a better work-life balance than the life of an M.D. That has been reinforced as I've started the program.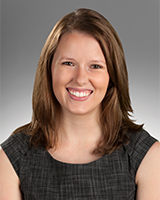 Q: Maija, you said you heard about genetic counseling in high school! How did that come about? Did you major in biology and minor in psychology as an undergrad with the intention of getting your master's in genetic counseling later on?
Rannikko: My mom works in health care and she heard about genetic counseling and thought it would be a good fit for me. I was able to shadow a genetic counselor and I instantly knew that's what I wanted to do for a career. Since I knew going into undergrad that I ultimately wanted to get my master's in genetic counseling, I majored in biology and minored in psychology — those were also what I was most interested in. So genetic counseling was clearly the perfect fit since it integrates the biology and genetics hard sciences with caring for the whole person.
Q: Austin, how did you first learn about the field of genetic counseling? When did you decide that it could be the right field for you?
Huber: I was introduced to it briefly during medical school. We had a morning presentation on a hereditary condition called Huntington's disease and part of that included a panel including one of the genetic counselors from Sanford (Dr. Lior Borovik). I was impressed with his take as he discussed many of the psychological issues of getting a genetic diagnosis and some of the patient variables to think about when helping them with their decision to undergo genetic testing for diagnosis. I loved how his role seemed largely to be about education and respectfully facilitating the patient through the medical experience involved.
When I started researching the profession more after medical school I shadowed a couple genetic counselors at Avera and saw a day in their life. I loved how they were a specialized resource for the health care team on an extremely complex topic and that they were able to take the time in the patient encounters to fully educate and equip their patients for success.
I was convinced through the shadowing experience, my meeting with Quinn Stein, and my online research that it offered a healthy work-life balance while still being a challenging and meaningful profession. It seemed a no-brainer to try my hand at it.
Q: How did you hear about Augustana's genetic counseling program?
Huber: I was looking into graduate programs at area universities when I stumbled on an article stating Augustana's intention of building a genetic counseling program with Sanford. This was a very pleasant surprise!
Rannikko: I found out about Augustana's genetic counseling program through the list of accredited programs found on the Accreditation Council for Genetic Counseling website. While I was going through the application process I was excited to find there was a new program in the Midwest.
Q: What drew you to this program at Augustana specifically?
Huber: For starters, it was in Sioux Falls. My wife and I had a house and friends here already and wouldn't have to move. That was definitely a strong draw for us. Second, after I met with Quinn while he was in the process of getting the program accredited, it was evident that they were building the program up for student success. They were offering a lot of clinical hours early on in the program and wanted to make sure that students would be able to apply their knowledge early and often. Finally, I liked the fact that this was a new program.
Rannikko: I was drawn to the genetic counseling program and Augustana for a couple different reasons. The first is that this program is in a Midwest setting and is in a smaller community compared to the locations of the other genetic counseling programs. I am from Minnesota and did my undergrad in a small town, so I knew I ultimately wanted to come back to the Midwest when I started my career. Doing my training in a community like one I hope to settle down in was a huge plus for me.
The second reason is the unique opportunities that this program offers. We are partnered with a world-class healthcare system in Sanford. The majority of our classes are held on the Augie campus where we have access to all of the resources from the University plus our amazing clinical sites at Sanford. It is also one of few programs housed on a small university campus.
Additionally, half of each class spends their second year in San Diego. This is an amazing opportunity for us to collaborate with genetic counselors from another part of the country and gain insight from those health care systems. Since we — I'm part of the San Diego crew — will still take class with those in Sioux Falls via video conferencing, we have the opportunity to learn from their experiences here while they learn about our experiences in California.
Q: How's it going so far?
Huber: It has been going great. [There are eight of us in the program and we] have meshed really well together and have found ways to be involved in each others' lives outside of class. The classes have been informative and extremely applicable to the clinical hours, as well.
Rannikko: I absolutely love it at Augie so far. Our class is great and we have really bonded. The Augie community has really embraced the program, welcomed us, made us feel supported and a valuable part of the community.
Q: Austin, how has the program been for you as you and your wife started your family?
Huber: To this point it has been very manageable. Professors and clinical instructors have both been extremely understanding of some of my limitations as a parent by being flexible. There have been a few times where I have had to rearrange my clinical schedule in order to ensure I could get my son to appointments or stay home with him when he was sick. Also, the course work hasn't been overwhelming, which was a major concern coming into graduate school. They don't just hand out busy work; the assignments we do get are usually based on applicable scenarios we are likely to face in the future.
Q: What is the best part of this program?
Huber: The genetic counselors and geneticists that are a part of our program either as professors or clinical instructors have been fantastic teachers and practitioners. Sioux Falls is very blessed to have this many great genetics professionals in its midst with real passion for patient care and education. I am honored every day to get to learn from them.
Rannikko: The best part of the program is who we are learning from. Our instructors are extremely knowledgeable and passionate about the field plus they bring in guest lecturers from Sanford, Augie, and around the country (via video conferencing) to make sure we are learning about various topics from the best of the best. On top of that, our instructors truly care about us and are dedicated to our success. They want us to be great genetic counselors and do well in the program.
Q: How do you hope to impact the field of genetic counseling either through research during the program or afterward?
Huber: We have begun to formulate our research questions for our graduate projects this first semester already. I have not officially developed mine as of yet but I am looking to use data to determine the relevance of finding germline (hereditary) cancer mutations in tumor genomic profiles. I want to see what the chances are that the hereditary mutations found in the tumor are actually present in that individual as a whole, as that would mean that other members of their family could be at an increased risk of developing certain types of cancer.
If we find that, there is actually a fairly high incidence of finding these mutations in the tumor and in the individual's germline, then genetic counseling may be warranted for those undergoing tumor genomic profiling.
As far as research goes after the program, I am interested in psychiatric genetics. This isn't really a field with much utility for genetic counselors at the moment, but I believe as more and more is learned about genetics and its links to our health and behavior that it will become more relevant in the realms of risk assessment and treatment protocols. I am also interested in rural health disparities, specifically with how they relate to genetic health care. As most genetic counselors practice in metropolitan areas, many rural areas of the state and around the world have limited, if any, access to genetic resources. I would like to undertake some research looking for answers to this issue in the future as well.
Rannikko: The goal of our research during the program is to produce something that can be published. I think all of us are working on some great ideas right now that will ultimately have some impact on the field.
One thing I have already learned from our instructors in the program is if you want to have an impact on the field or take on a leadership role, just go for it. Get involved, stay up-to-date on current issues in the profession, and if you see something or somewhere you could be a positive influence, whether it's through research, in the professional organizations, or within your health system, do it.
Q: Where do you hope to be/what do you hope to do after graduation?
Huber: I want to be in a clinical genetic counseling role that allows me to meet with patients daily. I have not decided which specific field(s) would be the best for me yet, but I am interested in both adult and cancer genetics at this point in time. I accepted a scholarship from Avera upon starting the program that is contingent on me working for them for the first three years following graduation so I am happy to say I get to stay in this area as I practice my trade in the future.
Rannikko: After graduation I would love to come back to the Midwest and work in a smaller community or go to a part of the country where there are very few genetic counselors. I think it's important that everyone have access to great health care and it starts by getting providers to those places.