Centennial Viking Days Queen and King Announced
In celebration of Augustana's 100 years in Sioux Falls, the Augustana Alumni Association sought nominations to help in selecting a Centennial King and Queen to serve as honorary grand marshals in this year's Viking Days parade.
We are pleased to announce that, following a robust slate of nominations, Ramona (Ode) Watson '51 and Pastor Dave Johnson '56 will reign over Viking Days as our Centennial Queen and King.
---
Ramona (Ode) Watson '51 is a long-time resident of Brandon, South Dakota. Our Queen graduated from Brandon High School in 1947 and attended Augustana from 1947-51. Royal blood and the weight of a glittering crown is not unfamiliar territory for Ramona as she was the Augustana Viking Days Homecoming Queen in the fall of 1950.


Watson taught at Beresford, South Dakota, and Larchwood, Iowa. She was the Business Manager at Brandon Valley Schools for 27 years and was very active in her church, where she participated in choir, WELCA, Sunday School, confirmation and church council.

 Watson and her late husband, Wayne "Doc," raised three children, all of whom are AU grads: Paul Watson '79; Mary Watson Rath '82 and Barbara (Watson) Kjose '84. Watson's granddaughter, Sara Rath, is currently a sophomore at Augustana. There are seven additional grandchildren and "1 2/3 great-grandchildren."
Hardanger embroidery, quilting, reading and working her iPad keep Ramona quite busy.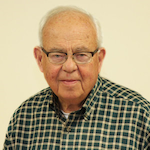 Pastor Dave Johnson '56 is part of an Augustana legacy family with his parents, siblings, all four of his children and nine grandchildren graduating from Augie in a nearly 100-year timespan (1922 to 2019). During his time at Augie, our King lettered in basketball and baseball, and was involved in the Lutheran Student Association and the Gladstonians.
Johnson has distinguished himself as a pastor, historian, author and artist. He has served congregations in Colorado, Watertown, and Sioux Falls, and was a campus pastor at the University of Kansas and the University of South Dakota. He is Senior Pastor Emeritus at First Lutheran and continues to lead a weekly Bible Study there.
Johnson is the author of Prairie Parables, The Road Once Traveled, The Wild Rose and Other Prairie Parables, and Above All Others. In addition, his realistic carvings of song birds are popular at the annual Augustana Athletic Club auction. He and his wife, Glenice, live in Sioux Falls.
Johnson received the Augustana Alumni Achievement Award in 2009 and served for many years on the Board of Directors at the Center for Western Studies. In his spare time, he enjoys hunting, fishing, going for walks with his dog, wildlife wood carving, collecting Teddy Roosevelt in South Dakota memorabilia, collecting antique wooden decoys, and most of all collecting Augustana items, especially past Viking Days buttons. He also can be found at Augustana athletic events where he is a proud member of the Augustana A-Club.